AN INSIDER'S LOOK AT THE WORLD OF MARKET DISTRICT
Author: Julia Buchanan, Sr. Recruitment Marketing Specialist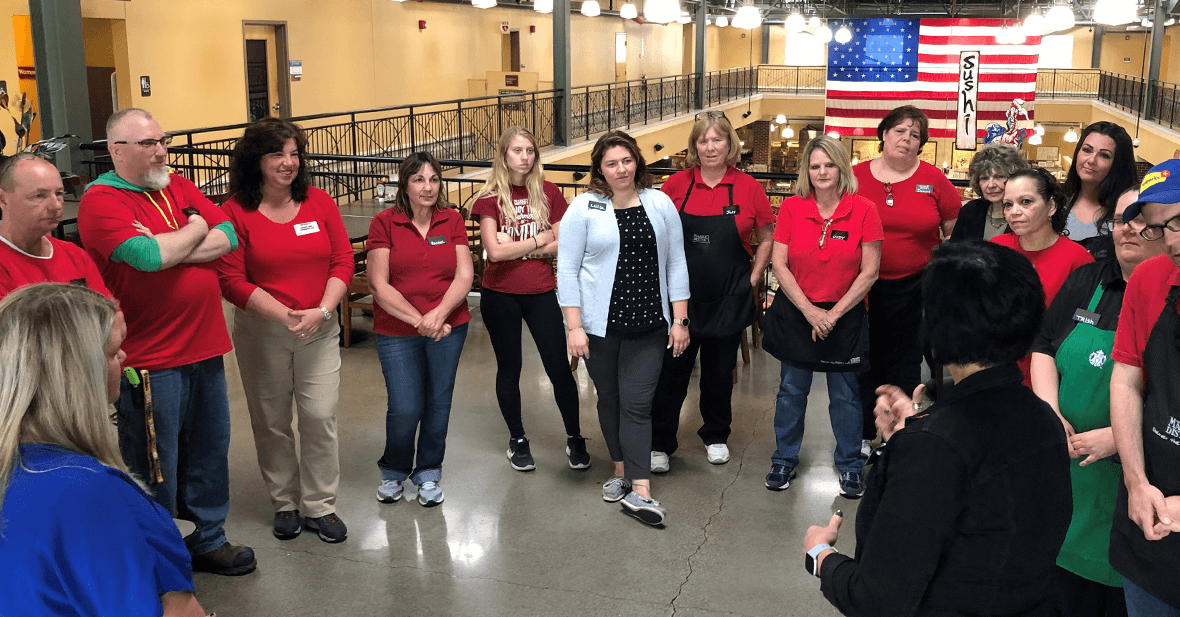 At Market District, we celebrate a passion for amazing food and food expertise by combining the best of everyday grocery shopping with foods, ingredients and services rarely found in traditional supermarkets. I recently had the unique opportunity to tour our Robinson Market District in Pittsburgh with Kim, Health, Beauty & Wellness (HBW) Team Leader. It was an interesting experience to see what it takes to keep an operation like this running while keeping guests happy. I'm excited to give you a behind-the-scenes look at what truly makes this location so fantastic.
When I arrived shortly after 10:00am, the team was getting ready for their weekly team huddle. This was something special to witness. A Team Member from each department joined the huddle led by Kim and Jessica, Sr. Store Leader to share stories of exceptional customer service, any concerns they might have, new store initiatives and something that made them happy within the last 24 hours. The team was engaged and more than willing to learn from each other and share their own unique experiences. It didn't take me long to realize why this store is so exceptional… it's because of the Team Members. The Robinson Market District is home to over 440 Team Members and Leaders, who keep the more than 20 departments running each and every day. Without each of them, we wouldn't be able to provide the experience that is promised by Market District.
There are a few things you'll find here you won't find at your everyday grocery store, including:
Cooking School that offers classes for chefs of all levels! You can learn more about this here.
Full-service beverage bar and Beer, Wine & Liquor Department
Candy Shop
Prepared Foods Department equipped with made-to-order pizza, sushi, subs, and wok station, in addition to our cold and hot foods bar
Starbucks (who doesn't want to get their morning or afternoon caffeine fix?!)
Curbside Express

AND

Home Delivery
Catering and Event Planning services
And so much more!
As Kim took me around to the various departments, it was difficult not to be awe-struck by the seemingly limitless options and products. It seems that just about anything you could want, or need, could be found at the Robinson Market District. On an ordinary day the store carries over 38,000 different products.
Something else that makes our Market District location stand out from the rest is the signage throughout the store. Every Market District has a Graphic Artist on staff that creates all the unique signs you'll see on displays, promotions, departments, etc. I was thrilled to meet Jessica, Graphic Artist at the Robinson Market District. She explained what a highly sought-after position this is and how she loves being able to let her creativity shine in her artwork throughout the store.
I could go on and on about all the things that make Market District so remarkable, but I don't think I could ever fully explain the magic of Market District. It's something you need to see to believe and once you do, chances are you'll be back. As I've described it to my friends and family, grocery shopping at Market District is an experience – it's not your average grocery store to get bread, milk and eggs (although they have all those essentials too!). Stop by a Market District location near you and take a stroll through the store – you'll quickly see why it makes such an impression!
Fun Facts:
This Market District is our largest store at 130,000 square feet and carries approximately 38,000 products on any given day.
This location is home to our Cooking School, led by Chef Janice, Food Marketing Team Leader.
The Robinson Market District is a Master Trainer Store, which means all our Team Leaders throughout the Pittsburgh-region either train at this location or at our Irwin Giant Eagle, which is also a Master Trainer Store, before they are placed in their permanent location.
Our Bakery makes all the pizza dough and rolls for subs in our Prepared Foods department.
This location employs approximately 440 Team Members.
Learn More About the Robinson Market District HERE!
Interested in working at one of our Market Districts?
Click Here for Market District Jobs!
What our Robinson Market District Team Members are saying: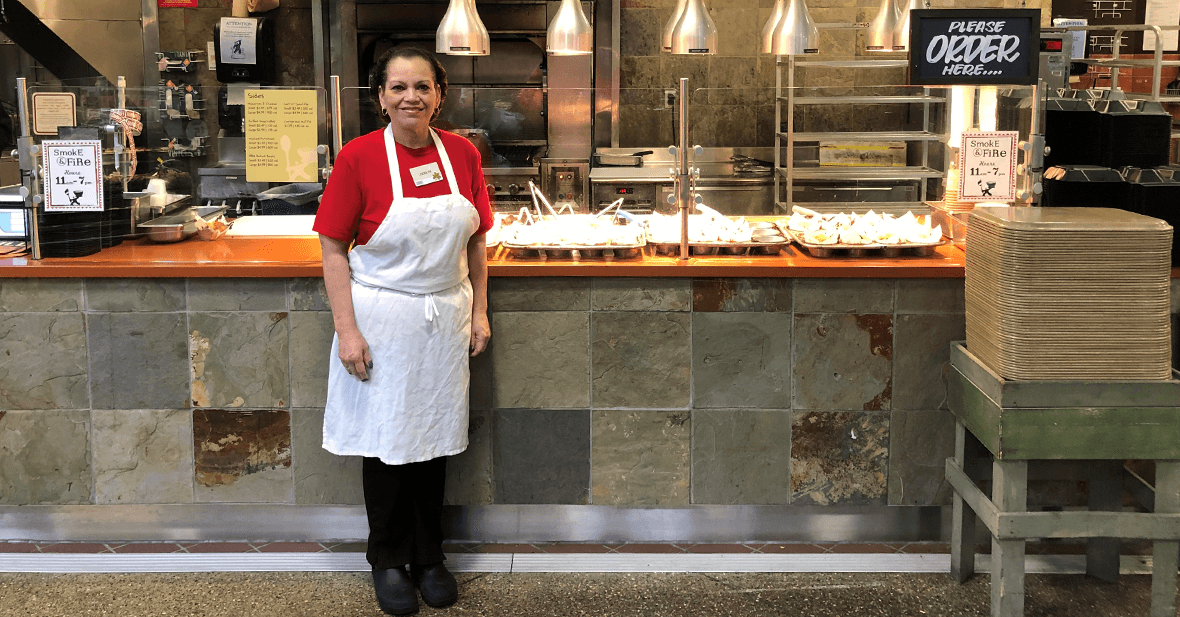 "When I moved here from Texas, I had always loved working in customer service and retail, so my daughter told me about the Market District. I came here a couple of times to check it out and I loved the way the Team Members were working with the customers and decided to apply."
- Jocelyn, Prepared Foods Gourmet Chef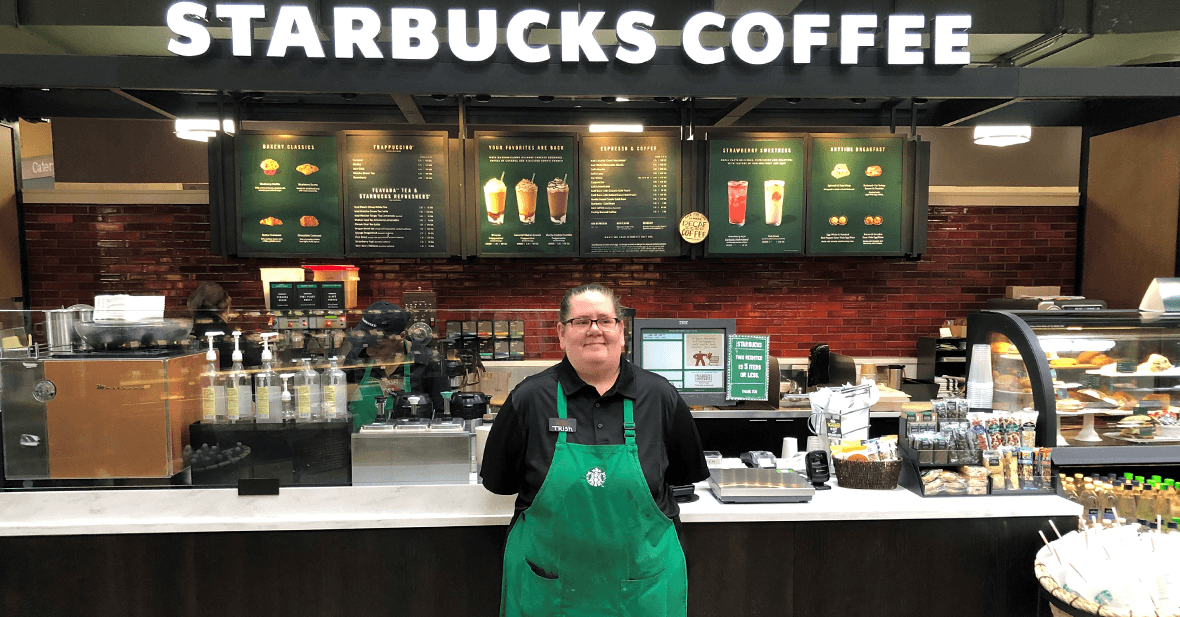 "My favorite thing about working for Market District is that it feels like a family. I've been here almost 10 years and there are people that I know from every department. I can count on my fellow Team Members and talk to them if I'm having a rough day. We are all very family oriented. We have a great time at work."
- Trish, Barista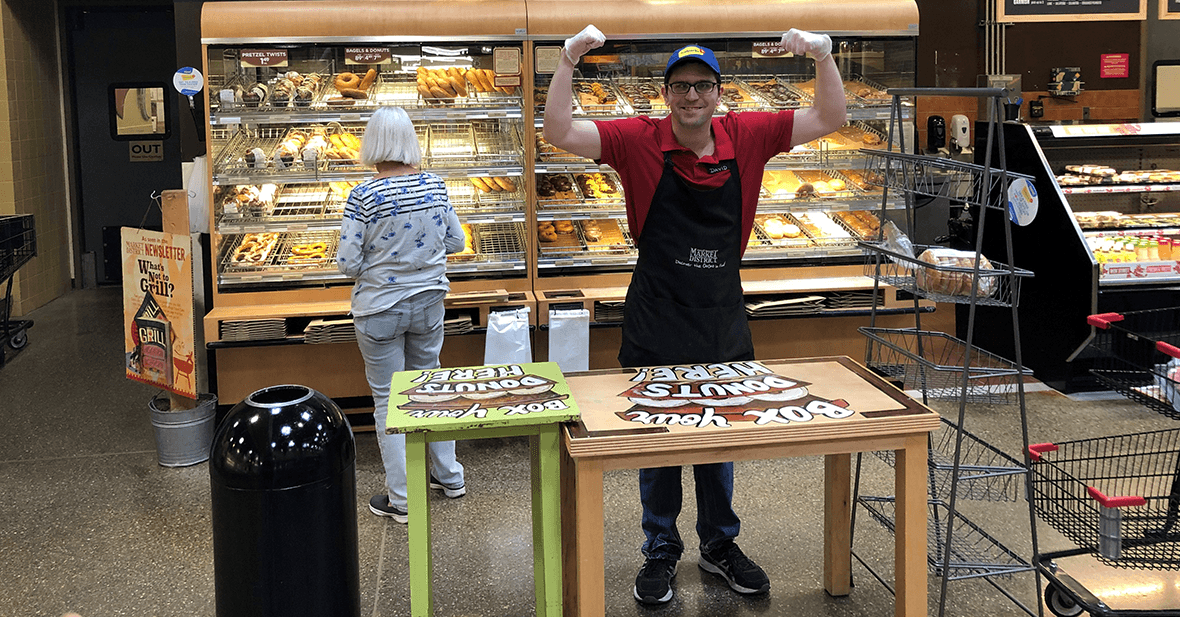 "My favorite thing about working in the Bakery is the sweets!"
- David, Bakery Clerk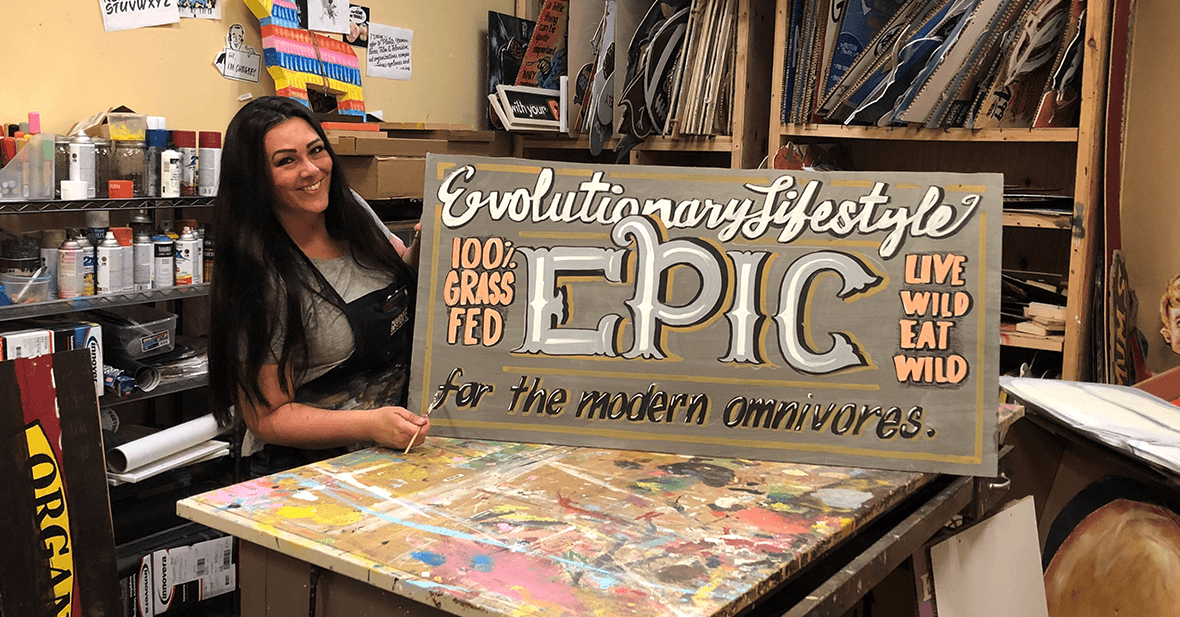 "This is a job that every artist in Pittsburgh would love to have. They are very hard to come by. It's an honor to be a Graphic Artist for Market District."
- Jessica, Graphic Artist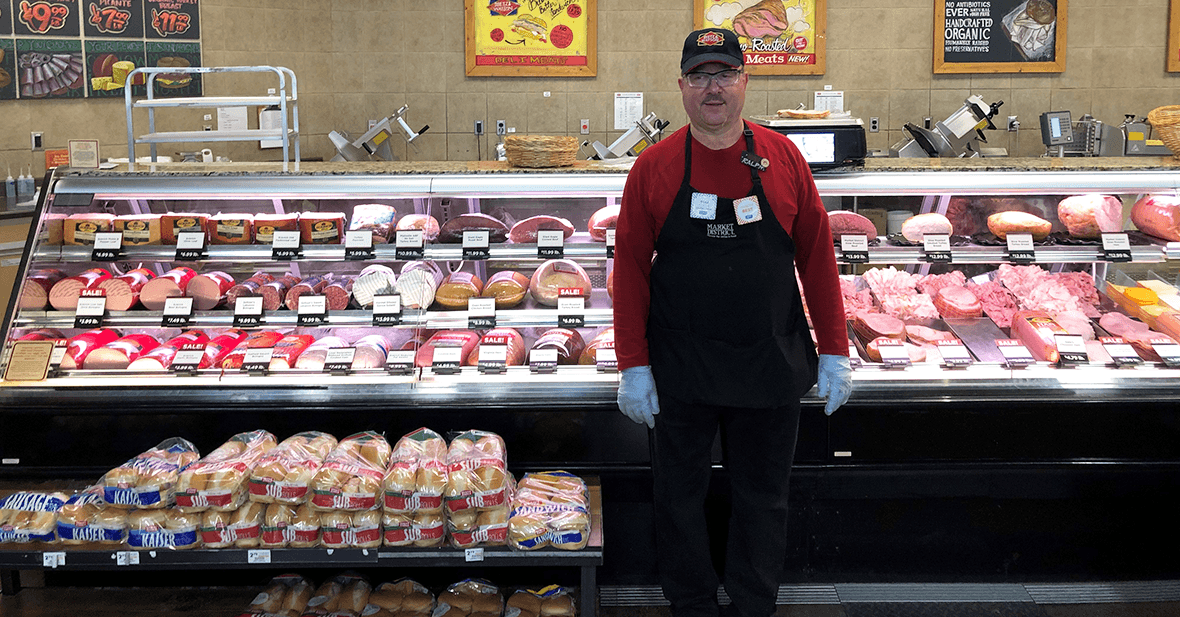 "I love when kids come up to the Deli counter and pull the number. I tell the mom or dad that the rule is whoever pulls the number must place the order. It's really cute because now the parents tell the kids what they want."
- Ralph, Deli Clerk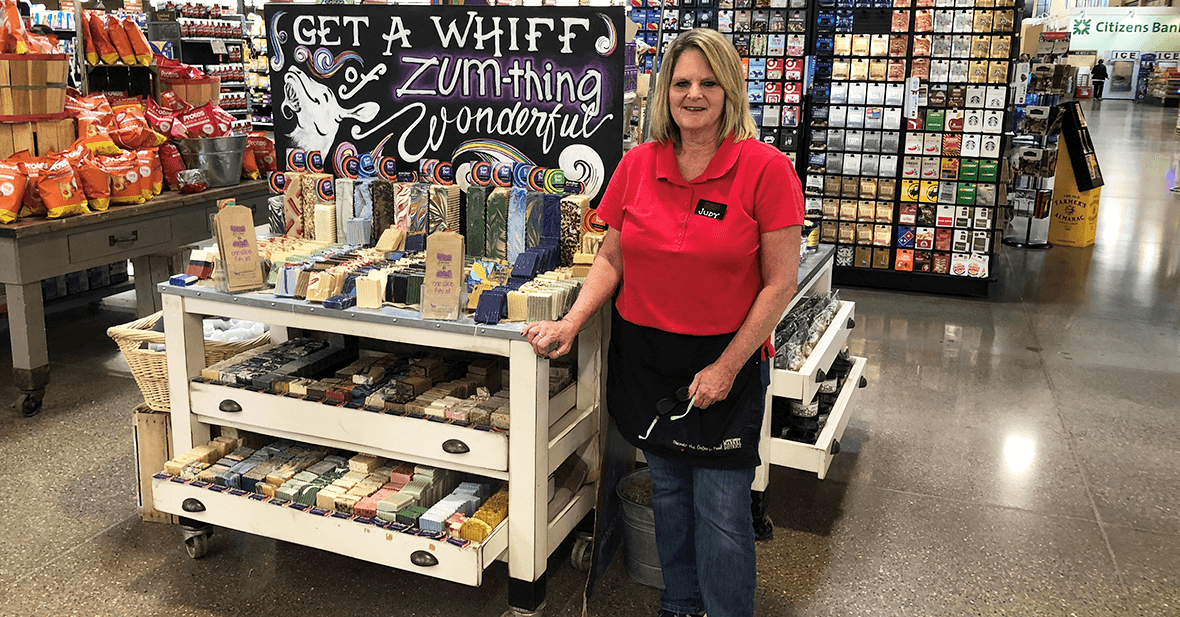 "I've been in this department for 36 years with the Company. My favorite things about working here are the customers and the Team Members. "
- Judy, HBW Lead
Additional photos from our store walk: