IT'S #TECHTHURSDAY! MEET ZACK, SENIOR BUSINESS ANALYST AT GIANT EAGLE!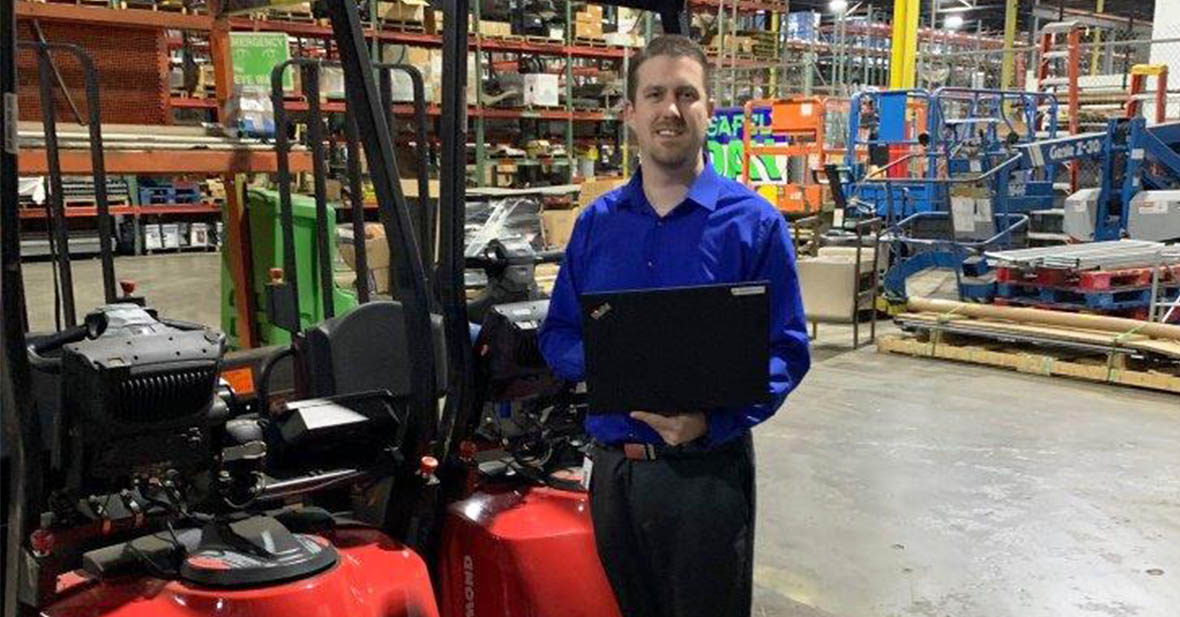 We are thrilled to be launching our #TechThursday initiative which will give us an opportunity to highlight our incredible Information Technology and eCommerce teams, as well as the exciting projects they are working on, our digital transformation as a Company, and our investment in eCommerce offerings to improve our guests' experiences.
This week we are featuring Zack, Senior Business Analyst with Giant Eagle's Supply Chain Technology team. Zack has been with the Company for 13 years and started out auditing store orders on the warehouse floor before working his way up to our Information Technology team. Zack's drive to constantly learn something new and his willingness to work closely with our many stakeholders make him an undeniable asset to the team. Learn more about Zack here.
What has been your career path within Giant Eagle?
I have been with Giant Eagle since 2007. While I was in high school, I started in the warehouse auditing store orders. I was able to learn the technology from the end user point of view and became interested in learning more. I turned my focus to supply chain and learning as much as I could. I held multiple positions in the warehouse learning all aspects of distribution until 2012. It was at that time I joined an internal mentor program, which eventually led me to be selected to join the Supply Chain Technology team.
Giant Eagle has helped me grow in the Business Analyst role over the years by providing training, allowing me to attend seminars, and giving me opportunities to learn what I want to learn. They have supported me through two college degrees and continue to support me now while I'm working on my Master's program. There are plenty of career paths available at Giant Eagle and each one is different. As I continue to develop, I hope to work my way into management.
Can you describe some recent projects you've been a part of and how they've impacted the business?
My focus is distribution systems for our warehouses. All our warehouses run on Manhattan's Warehouse Management System, which is housed on an Oracle database. We work closely with operations to modify and configure the system using store procedures, triggers and packages to implement efficient cost saving processes. Some of the projects I have worked on in the past, included standing up a new warehouse, implementing robotics at multiple warehouses, and implementing a labor management system.
What led you to a career in IT?
Problem solving. I love to solve everyday problems using technology. As a Sr. Business Analyst at Giant Eagle, we get to do much more than your typical IT Analyst role of gathering and documenting requirements. We work with our business partners every day to help solve problems, create efficient processes and get the work done. I'm often on the warehouse floor working with Team Members and seeing our changes and the impact they have first-hand. At a lot of other companies, true Business Analysts never leave the office and that's one of the reasons I love what I do.
Do you frequently attend or participate in any industry specific groups or organizations?
Currently, I do not belong to any IT networking groups or organizations because I have chosen to go back to school to earn my Master's degree in Business Analytics. Giant Eagle has supported me throughout the years while I have earned my Associates, Bachelors and now Master's degree. The Company has allowed me to work a flexible schedule or remotely when needed so I can attend class and work on my school work.
Do you do any mentoring inside or outside of Giant Eagle?
As a Sr. Business Analyst, part of my role is mentoring fellow Analysts within the Company. We work together to sharpen any of the skills they want to improve on, and I do what I can to help them succeed in their role.
What is your favorite thing about working in IT/eCommerce?
The people I work with. The Team Members at Giant Eagle are truly passionate about their work. Anyone here would be willing to go above and beyond to help one another. Being in the IT field at Giant Eagle and working on large multi-team projects frequently gives me the opportunity to work with and meet new people from across all areas of the Company.
A "Fun Fact" about Zack:
I never thought I would go back to college after high school, but here I am, 13 years later working on my Master's degree. When I was growing up, I thought I would end up working as a mechanic or being a laborer of some sort. I still love to work on cars, and I do it from time to time, but it's funny how your views can change. All you need is a little bit of motivation and dedication to see things through.
"Giant Eagle has helped me grow in the Business Analyst role over the years by providing training, allowing me to attend seminars, and giving me opportunities to learn what I want to learn."
- Zack, Senior Business Analyst
Click for Opportunities to Join Our IT Team
Check out some more photos from our visit with Zack: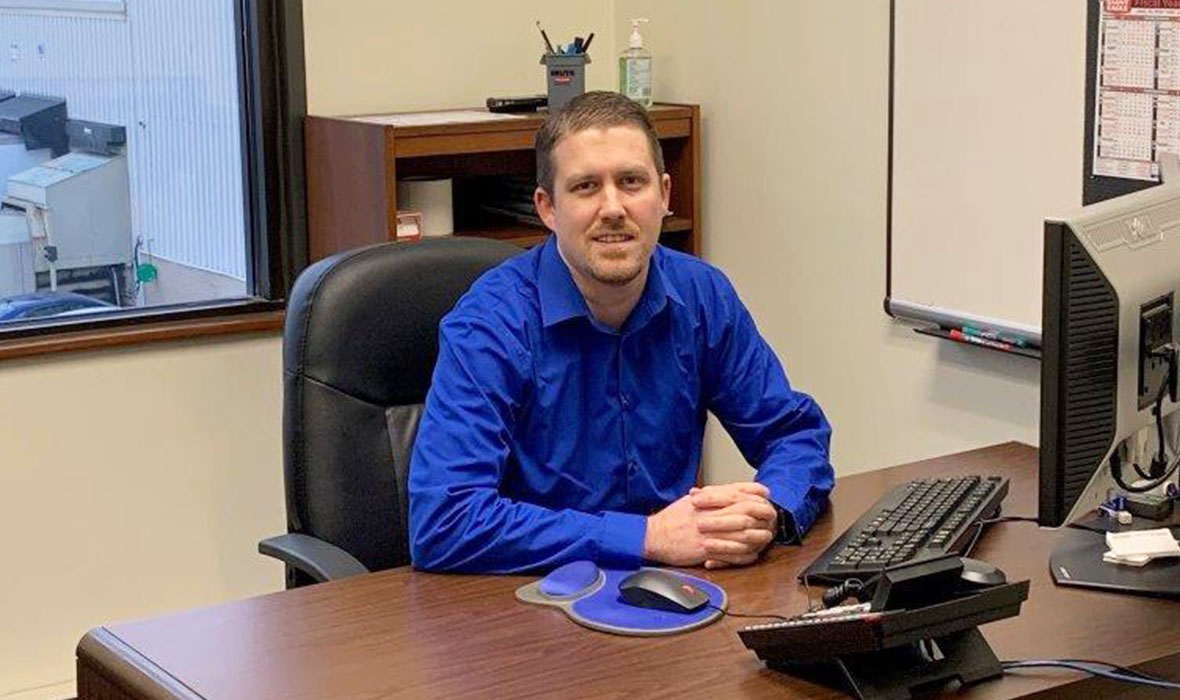 Zack, Sr. Business Analyst in his office at American Seaway Foods, Giant Eagle's warehouse and distribution center in Bedford Heights, OH.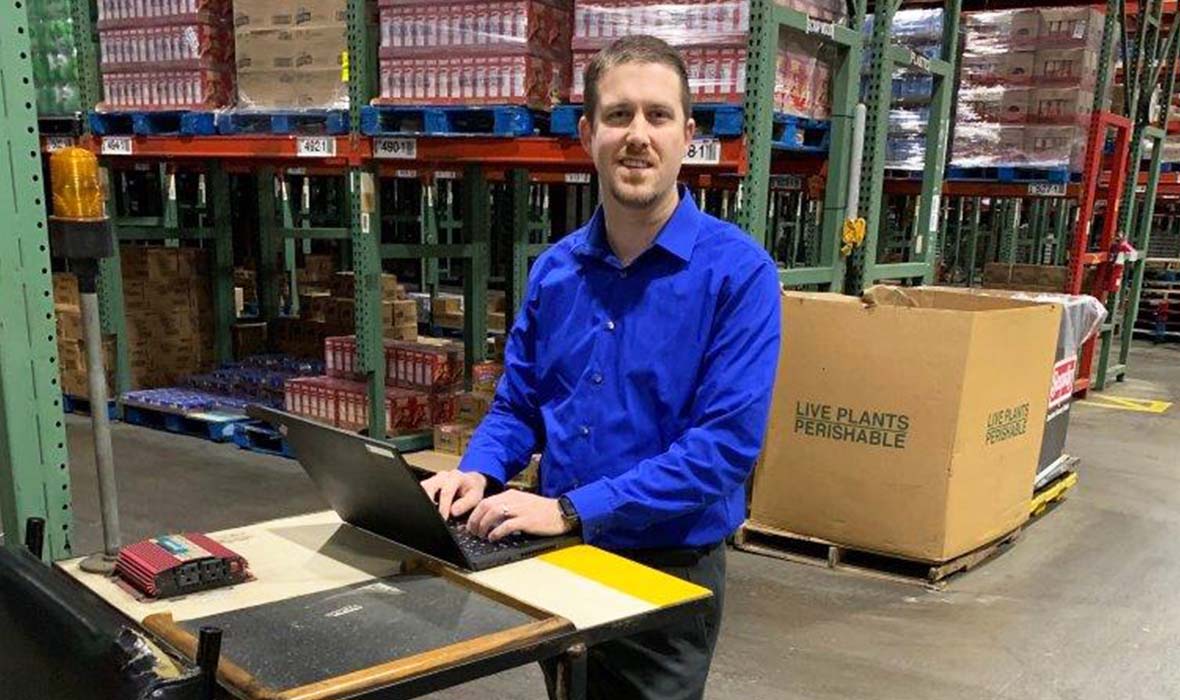 Zack, Sr. Business Analyst on the warehouse floor at American Seaway Foods, Giant Eagle's warehouse and distribution center in Bedford Heights, OH