MEET RUG, GETGO'S CHIEF OF STAFF AND SENIOR DIRECTOR OF MARKETING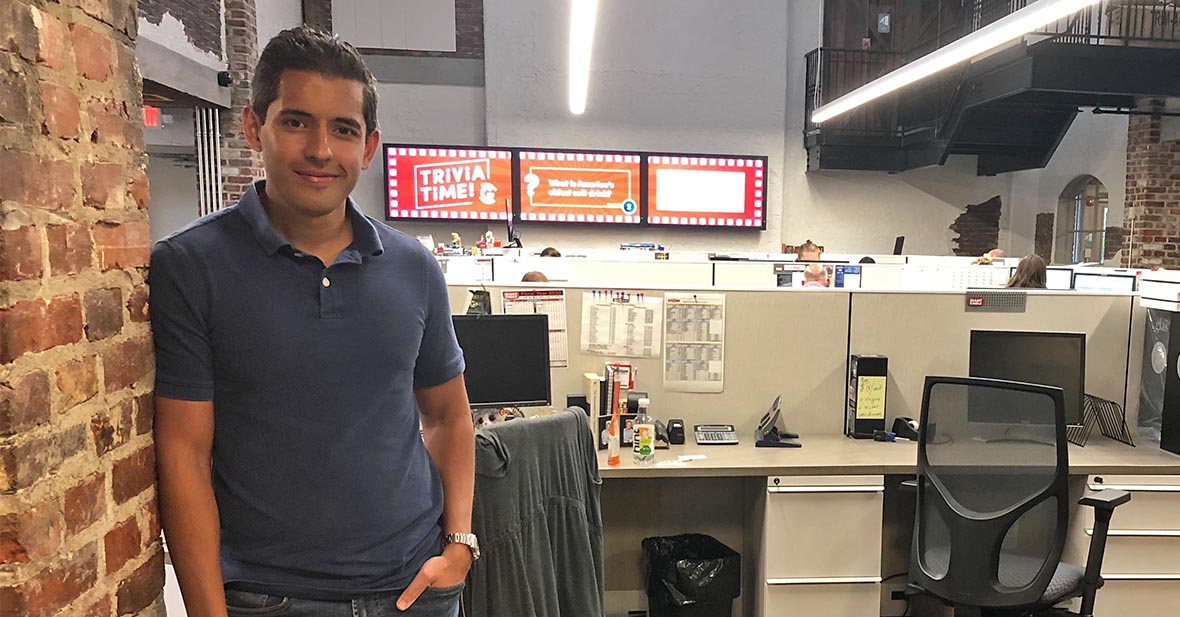 This week's #TeamMemberTuesday is featuring Rug, GetGo's Chief of Staff and Senior Director of Marketing. In 2005, Rug started his career with Giant Eagle as an Intern in our marketing department, where he worked for about six years before he transitioned to the GetGo team. His passion for growth and development has made him a valuable member of the team! Learn more about Rug here.
How did you come to work for GetGo?
I started interning at Giant Eagle while I was in graduate school at the University of Pittsburgh working toward my MBA. I started interning here in 2005 in the Marketing Department and worked on the Market District rebrand. I have been here ever since. I worked at Market District for about six years, and then I transitioned to GetGo for the last eight years.
What made you think of Giant Eagle as a possible place of employment?
I am from Pittsburgh so Giant Eagle and GetGo had a really strong reputation in the community and in Pittsburgh. When I was growing up, my family was in the food industry, so I've been familiar with grocery and the ins and outs of grocery all my life. It was an industry I was already familiar with, and it resonated with me as a strong, family-owned, blue collar kind of Company. It was just a natural fit, so I applied. I had a lot of folks supporting me on the Recruiting team and Giant Eagle took a chance on me. I liked Giant Eagle's community commitment and their "roll up your sleeve's kind of place" appealed to me.
What do you love most about your current role?
In this Chief of Staff capacity, I get to see a lot of things I wouldn't in my normal marketing capacity so I'm learning a lot about the fuel business, real estate, operations, and what makes the stores tick. I am a continuous learner and I get bored if I am not learning and growing, so this role opens doors for my continued learning and growth. Adding value as well, but for me personally, it's the growth. And as I said, I'm still the Senior Director of Marketing, so I oversee the marketing and basically anything that touches the GetGo customer onsite or offsite, on TV, radio, or billboards. My team manages all that, so I lead those efforts. I continue to grow and learn in that as well. It's an exciting time with digital marketing and all the targeted marketing. I am continuing to learn a lot there, too.
What's something that happened that can only happen here?
Fuelperks, that only happens here, and that loyalty program and being able to expand that with fuelperks+ now. One other thing is the entrepreneurial spirit. We are a big organization, but I know in the last 18 months of people getting together and saying, "Hey guys, let's get together a small team, a sprint team, and try this or try that." That spirit of just trying it and not worrying about making mistakes all the time. I think that's a really important part of being here.
What makes GetGo a great place to work?
The people. It starts and ends with the people. They are caring people, they care about their communities, their Team Members, and supporting one another. They will give you their shirt off their back and go above and beyond for each other, whether it's customers or Team Members. I think that generous spirit comes from the top. We are still a business, and it's a hard business and we work really hard, but I think it all starts and ends with people.
Is there anything else you would like people to know about GetGo?
It is a really good place to work! I find that I have a lot of flexibility. I have two small kids, and my wife works, so I have always been lucky that the people here that I have worked for are flexible and understanding to the flows of life. There's a lot of trust given to me, and I give my team that same trust. There are a lot of bright spots in the future with GetGo!
"We are still a business, and it's a hard business and we work really hard, but I think it all starts and ends with people."
- Rug, Chief of Staff and Senior Director of Marketing at GetGo
Check Out Opportunities with GetGo Here
Thank you, Rug, for everything you do!