MEET ROBIN, ASSISTANT BUYER AT GIANT EAGLE & AFRICAN AMERICAN BUSINESS RESOURCE GROUP MEMBER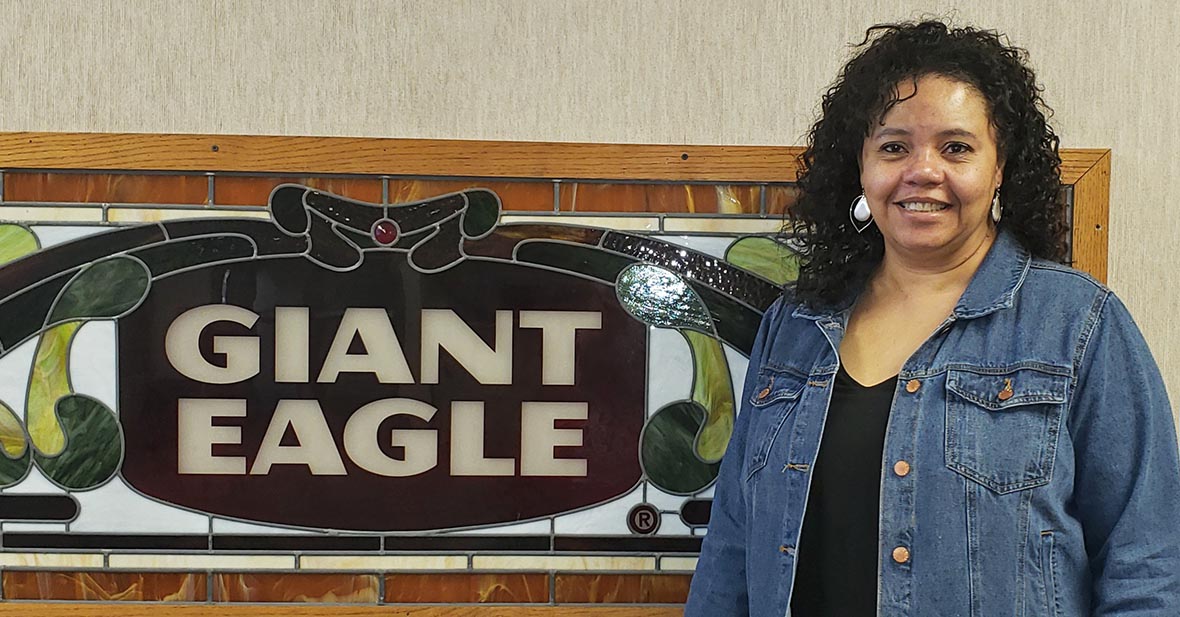 In honor of Black History Month, Giant Eagle's African American Business Resource Group (AABRG) will be leading a number of efforts to celebrate the many achievements and contributions that African Americans have made in our country, our history, and within our very own Giant Eagle family. As part of these efforts, we'll be showcasing the talents and accomplishments of some of our African American Team Members throughout the month of February. This week's #TeamMemberTuesday is featuring Robin, Assistant Buyer on our merchandising team!
What do you like best about your work at Giant Eagle?
I like a little bit of everything – the planning of my day to accomplish tasks, my relationships and communication with vendors, and the relationships I have developed over the years with my Team Members. The purpose and personal meaning I get from contributing to my line of business is fulfilling to me.
How do you see the African American Business Resource Group (AABRG) helping Team Members and Giant Eagle? How might you also make an impact on the AABRG and our Company?
Employees make or break an organization. You want to keep them fulfilled and happy because our Team Members interact directly with customers and are responsible for our level and quality of output. I envision the future of the AABRG growing and becoming a stronger, positive mentorship and support group for our African American Team Members.
What does it mean today to be African American? And what are you most proud of about your heritage?
Being proud of who you are and being the best person you can be; that's what African American means to me. We are smart. We are educated. We have hopes, goals and dreams. Today, we can be Black in any way we can imagine: Astronaut, Teacher, Scientist and even President. There are no limitations for us.
How do you seek to educate and promote inclusion and diversity in your professional and personal life?
One way I've sought to promote inclusion and diversity is by participating in department Team Member Point of View (TMPOV) activities. Recently, I joined the committee and it has immensely helped educate and promote inclusion and diversity at work by taking the lead on planning several activities to recognize Black History Month. For example, volunteers from my department worked together to decorate a tri-fold poster board to commemorate the 2020 Black History Month theme: "African Americans – The Vote"; which will be on display in our cafeteria for the entire month of February. Not only was it a great team-building activity with my peers, it was fun and educational at the same time.
What is something about your own family traditions and/or culture that you honor and value?
Born and raised in a small town in PA (Aliquippa), anyone who grew up there would tell you it's a town of strong appreciation of family values. One value that I truly appreciate is our yearly family reunion. It is a tradition on my Dad's side of the family in which each year the reunion is held in a different city and always on the third weekend in July. There is a formal family dinner served in one of the ballrooms at the hotel. It's always a lot of good food, good music, laughs, time to pray for the family we lost and a time to celebrate and share our accomplishments. Then, collectively we vote on the location of next year's reunion.
What are your hobbies?
I'm a very proud mother, supporter and biggest fan of my daughter, Camille! My 15 year-old daughter, Camille, has been playing tennis since she was in the 7th grade. Currently, she is a sophomore in high school and plays 2nd Singles position on the Padua Franciscan High School Varsity Tennis Team. Also, I enjoy writing and I recently took up the sport of tennis myself.