MEET PAMELA, STORE LEADER II AT THE STOW GETGO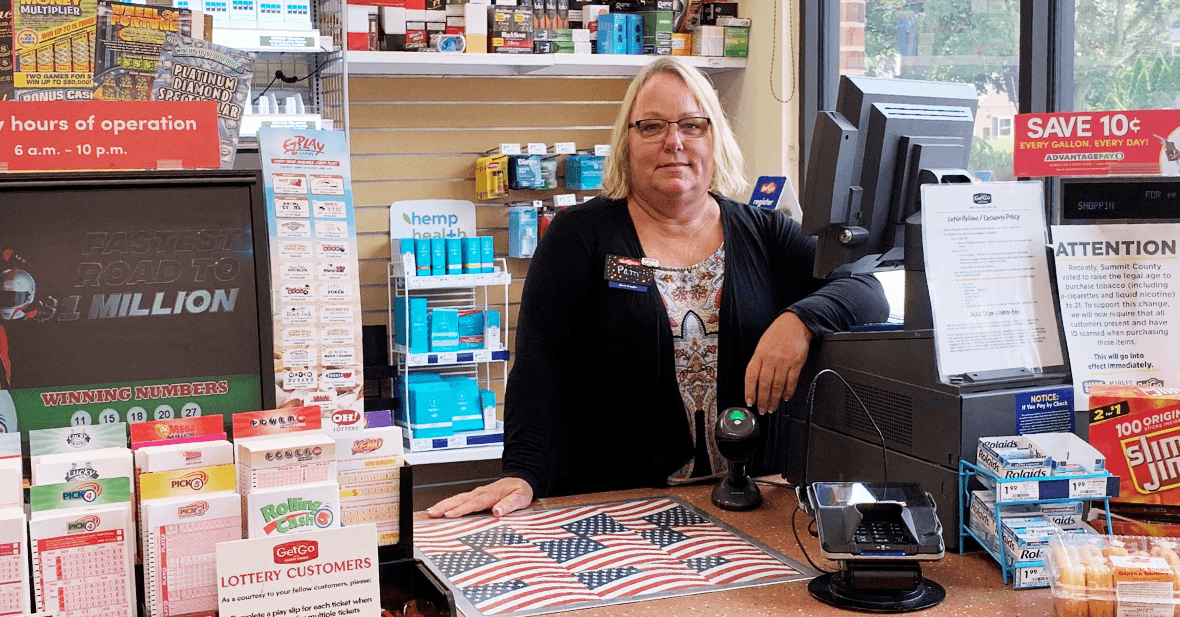 This week's #TeamMemberTuesday is featuring Pamela, Store Leader II at the Stow GetGo! Pamela has been with Giant Eagle for almost 30 years! She spent her first 14 years working in our Supermarkets, and the last 16 years working in our GetGo locations. We'd like to congratulate her for her years of service! Get to know more about Pamela here.
How did you come to work for GetGo?
I started working inside the grocery store; it will be my 30th year in October. I was a Front-End Coordinator and did the cash office in the store at the time and really liked it. One of GetGo District Leaders said, "You need to be a Store Leader for GetGo!" I had no idea what all that entailed, and then he gave me a synopsis of what a Leader in GetGo was and set up an interview for me. One month later, I was an Assistant Store Leader at Twinsburg, and opened that store. I have spent 16 years at GetGo and the other 14 working in the Supermarkets.
What made you think of GetGo as a possible place of employment?
There are so many opportunities at GetGo! That's what I try to tell candidates as I'm interviewing or hiring them. If you are thinking of a career path, once you work at GetGo for six months, you can apply for different positions within GetGo or Giant Eagle. If you want to become part of a great company, this is a great Company to work for. Some want to be a Team Member and not a manager, and that's fine, but if you're looking for a career, this is also a great opportunity!
What do you love most about your current role?
I love my Team Members. I love being able to help them through their career path. I also love the customer interactions. We are a family here, not just a work place, they are my second family. We all work together to make our store work. Store Leaders cannot run a store by ourselves. Our Team Members also get a portion of the bonus and I think that is the best thing we ever did! Our Team is what makes our store, not the Store Leader, personally. Since I have arrived, my team and I have increased our sales. I have not done it single-handedly; if I didn't have my team, I couldn't do it. I also enjoy the customers. We have regulars that come in, sometimes three times a day.
What was the moment you knew you'd made the right decision to work here?
I had a Team Leader that listened to things I would say and was open to my feedback, which included proposing better ways to do things. A lot of places you tell employers that you can only work a specific schedule because of kids, but they will still schedule you, crazy hours. At Giant Eagle, they have always respected my scheduling needs. They also consider the ideas you propose.
What was your best day at work?
It isn't one specific day. It involves when I see my peers get a promotion they really want. For example, when Rob Saunders was promoted, he was so excited, and I was so happy for him. I like seeing peers excel.
What's something that happened that can only happen here?
I volunteer for Habitat for Humanity, and the Golf Outing for Akron Children's Hospital. Not every company helps outside organizations. For Habitat for Humanity, we can give our hours of service to someone who needs it. With Akron Children's Hospital, we raise so much money every year, and that is near and dear to my heart. Not all companies do that.
Have you had anyone you consider to be a mentor play a role in your career? How have they influenced you?
Rob Saunders is a great mentor. He helped me to look at where I was and where I needed to be. He pushed me in a better direction than where I was heading.
Do you actively participate in any Business Resource Groups? If yes, can you speak to your experiences and how the BRG improve the workplace?
I participate in the Women's Business Resource Group. I think its great to bring all the women together. That is where I do some of the Habitat for Humanity volunteer work. When women are in a group, we are stronger in numbers, and it is great to be recognized and to get more accomplished.
What makes GetGo a great place to work?
I don't think a lot of places give benefits to Team Members anymore, whether it's a bonus or medical insurance, a lot of places don't offer that anymore. Additionally, my Team Members and customers keep me here!
What values are important to you at a job? How do you experience those values here?
Integrity and trust are my most important values in the workplace, as well as gratitude.
What work are you most proud of?
I am a Master Trainer with GetGo and am most proud of that. I have helped other Team Members on-board as a Store Leader, and I feel like they trust me. They call me afterwards and ask me questions about how to do things. I enjoy training in new roles. I also help opening new stores and training the team.
Is there anything else you would like people to know about GetGo?
It's a great place to work if people give it a try. A lot of people say "Oh, you work at a gas station?" I don't think we need to look at it like a gas station; it is a career path. I always say, "It's a place to enjoy fresh food, a convenience store and a fuel station." Giant Eagle has been good to me all these years. Our store is very near Kent State University, so we have a lot of students working here. If someone is looking for a career path, they could find that here at GetGo!
"I love my Team Members. I love being able to help them through their career path. I also love the customer interactions. We are a family here, not just a work place, they are my second family."
- Pamela, Store Leader II at the Stow GetGo