Meet Muriel, Grocery Clerk at our Sheffield Village Giant Eagle
In honor of National Differently Abled Employment Awareness Month, our Abilities Business Resource Group (BRG) is excited to highlight just a few of our Team Members who are differently abled throughout the month of October. This week's #TeamMemberTuesday is featuring Muriel, Grocery Clerk at our Sheffield Village Giant Eagle!
Scroll down to learn more about our Abilities BRG.
"Muriel graduated from high school and decided to get a job at Giant Eagle. She started with us in January 1995 and has been a loyal and dedicated Team Member for more than 26 years! She enjoys working for Giant Eagle and enjoys the friendships she has built with the team over the years.
Muriel has great interactions with our Guests. They look for her in the store knowing that she is always willing to Step Up and help with whatever they need, whether it is bagging their groceries or carrying their order out to their vehicle. No matter the request, she always does it with a smile. Muriel is engaging and friendly and consistently wishing others a good day.
As Muriel's Store Leader, I look forward to seeing her smiling face each day. She is committed to doing things the right way, and her commitment to the customer and store is truly a pleasure to see. Muriel has many responsibilities and completes them all with pride. I speak for the entire store in saying that Muriel is a true asset to our team and to Giant Eagle. She is part of what makes shopping at our Sheffield Village supermarket so special."
- Donna, Store Leader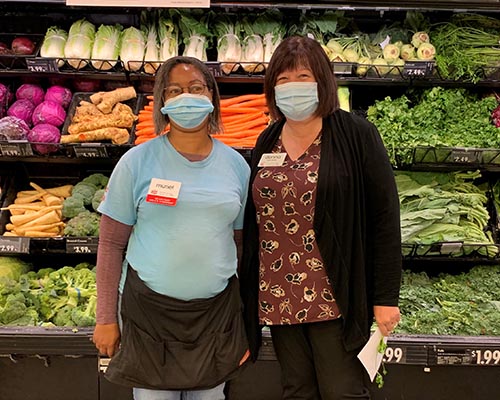 Check Out Opportunities at Giant Eagle

Our Abilities Business Resource Group (ABRG) aims to support and empower people who are differently abled by creating a barrier-free environment. We want all Team Members to reach their full personal and professional potential. We also support advocates, friends, and family members of those with different abilities.
​​​Giant Eagle has a history of hiring Team Members who are differently abled. In fact, for the past 30 years, we've been committed to, and are incredibly proud of hiring, training and supporting these Team Members.
Our promise to provide meaningful roles has led us to build a network of support. Today, we have four community professionals working with us to help hire and assist a growing number of Team Members who are differently abled.
Some of our principle partners include:
Blind and Vision Rehabilitation Services, Pittsburgh
ACHIEVA, Pittsburgh
New Avenues to Independence, Cleveland
Goodwill, Columbus
To date, we have hired more than 250 Team Members as a result of these liaisons and specialists, and we are planning for many more!
Learn More About Our Commitment to Building an Inclusive Workplace