MEET MOZELLA, CASHIER AT THE HARBORCREEK GIANT EAGLE IN ERIE, PA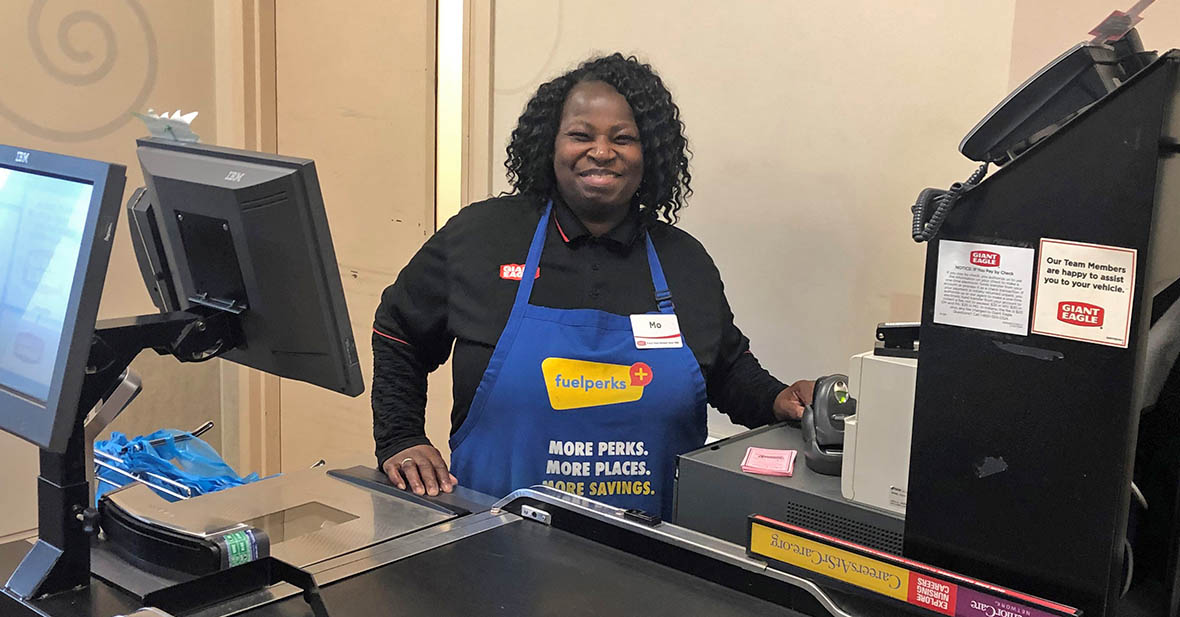 This week's #TeamMemberTuesday is featuring Mozella, Cashier at the Harborcreek Giant Eagle in Erie, PA! Mozella has been a Giant Eagle Team Member for more than 22 years, and her favorite part is getting to know our guests. She's a treasured member of the Giant Eagle family! Get to know more about Mozella here.
How did you come to work for Giant Eagle?
I started working for Giant Eagle in November 1996. I'm going on 22 years with the Company. My first position was in Prepared Foods, where we made pizzas and sandwiches and stuff like that. I was in that position for a little while before I came over to the Cashier role on the Front-End. I've been in this position ever since.
What made you think of Giant Eagle as a possible place of employment?
I love people, and I wanted to be able to interact with the public. When I first started with Giant Eagle, I was shy, and I didn't talk much, but now after 22 years, I can't stop talking.
Why have you chosen to stay with Giant Eagle?
I choose to stay with Giant Eagle because I really like being around people. I like my fellow Team Members and my managers. Over the course of 22 years, I've never had any problems. Everyone is so friendly here, and I don't want to go anywhere else.
What do you love most about your current role?
I love interacting with our guests. Sometimes they open up to me during our brief interactions and sometimes they don't, but for the most part, they love to talk to me. I can tell that some of them just need somebody to talk to, and they share a lot with me. I feel like I'm part of their extended family.
What are you most proud of?
I'm most proud of the relationships I've built with the customers. I've gotten to know a lot of them on a first name basis. I always tell our new Team Members that if you take the time to interact with our customers and get to know them, they'll come in to see you more. They'll share their stories and sometimes they're not in a good place, or you can feel that they're going through something difficult. I try to talk to them or give them a hug, just something to make them happy for a moment.
"I love interacting with our guests. I can tell that some of them just need somebody to talk to, and they share a lot with me. I feel like I'm part of their extended family."
- Mozella, Cashier at our Harborcreek Giant Eagle