MEET MEGAN, CONFIDENTIAL HR COORDINATOR (CHRC) AT THE PINE TOWNSHIP MARKET DISTRICT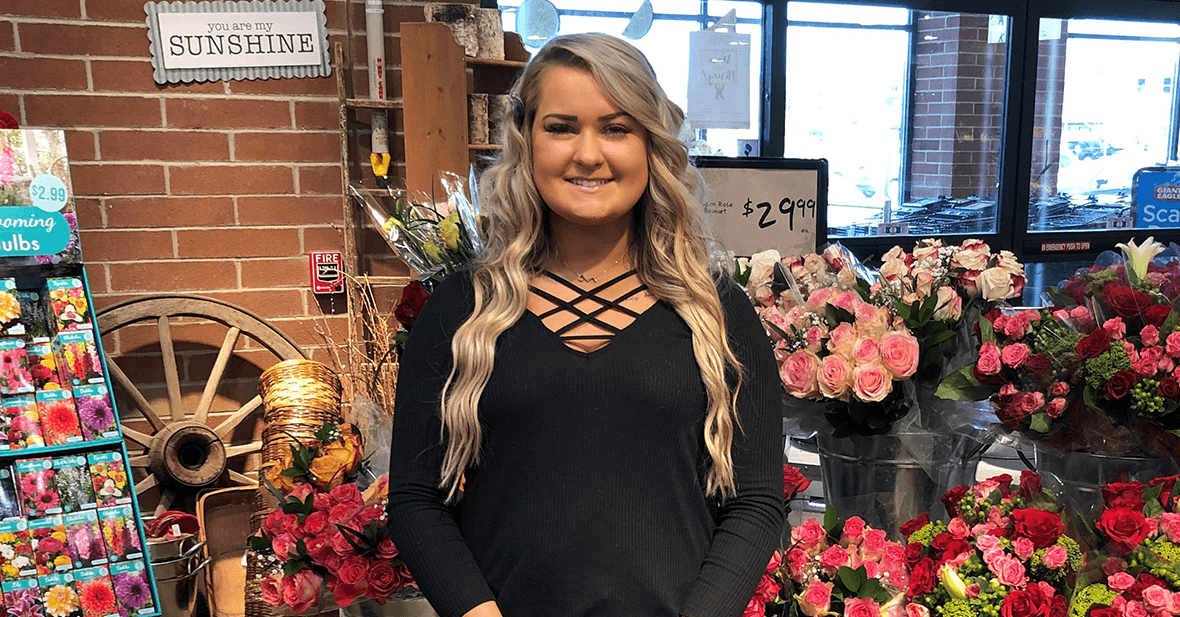 This week's #TeamMemberTuesday is featuring Megan, Confidential Human Resources Coordinator (CHRC) at the Pine Township Market District in Wexford, PA. Megan joined the Giant Eagle team as a Pharmacy Technician and eventually decided to pursue her passion for HR and become a CHRC. Read more about Megan's career and her love for serving her fellow Team Members.
How did you come to work for Giant Eagle?
I've been with Giant Eagle since 2015, but the Company has been a part of my life since I was a child because my father works for Giant Eagle, as well. He's been with the Company for 28 years. I was starting my freshman year of college and moving out on my own, so I was looking for a part-time job. I lived in Irwin at the time, and he mentioned there was a Giant Eagle right down the street, so I decided to give it a shot. I applied for a part-time Pharmacy Technician role and I got that. I worked in the Pharmacy for about two years in three different pharmacies as a technician. I met so many awesome people in every store.
I was studying Human Resources in college, so when I found out about the HR Coordinator roles in the stores, I was instantly interested. In 2017, I applied for the Confidential HR Coordinator position at the Allegheny Towne Center Giant Eagle in Braddock Hills. I was there for about six months and then I was transferred to the Pine Township Market District and I've been here ever since. I never thought in a million years I'd be here today, so it's super cool. I'm very grateful that Giant Eagle believed in me.
Why have you chosen to stay with Giant Eagle?
I've chosen to stay because I really love what I do. We all have our good and bad days, but the positives far outweigh the negatives. The feedback I get from the Team Members is awesome! I get to be a part of changing their lives, so it's very rewarding.
What do you love most about your current role?
I love that I get to interact with the Team Members daily. It's very rewarding that I get to help them in any way that I can. I also love bringing on new hires. I get to be the first face that they see and help them learn about Giant Eagle and their positions within the stores.
What was the moment you knew you'd made the right decision to work here?
I think being able to see my dad's career progress throughout Giant Eagle. He's an Executive Store Leader at the Shadyside Market District. He started off in a similar way as I did. He was a part-time Cashier and moved up to a Night Crew Leader and further up in the Company. The growth that is available to us, as Team Members, is awesome. I really enjoyed watching that take place and I hope to do the same one day.
What was your best day at work?
My best days are usually days that I'm running an orientation with new hires. I like seeing all the new faces and telling them about Giant Eagle and what they can do here.
What's something that happened that can only happen here?
I've worked for three other companies in my work experience and with Giant Eagle it feels like an extended family. Everyone works together as a team. We all have supervisors, but at the end of the day, we're all just together as a team. I think that's very unique about Giant Eagle.
Have you had anyone you consider to be a mentor play a role in your career? How have they influenced you?
My dad has definitely been a mentor to me. Being able to see what he's done in his Giant Eagle career has inspired me. He has talked me through anything I need and has been a great support system for me.
Also, when I was training to become a CHRC, Brittney, who is also a CHRC, was a huge help. If I have any questions, I know I can turn to her.
What makes Giant Eagle a great place to work?
I'd have to say the growth opportunities here. It's a great place to start a lifetime career. The Company genuinely cares about it's Team Members and wants to see everyone succeed.
I'd also say the fact that everyone works together as a team. Your fellow Team Members feel like an extended family over time. It's nice to know I have people here that want to support me and want to see me advance my career at Giant Eagle.
What values are important to you at a job? How do you experience those values here?
I hold myself to the highest standards. I look to the Company's Core Values in my daily work and always try to keep them front of mind. The Leadership Promise is also something that I try to implement whenever possible. The Leadership Promise is to always be a leader when you have that chance. There are certain circumstances that you must take a step back but if you can step up and be a leader, you need to do that.
What work are you most proud of?
I'm proud of how far I've come. I started out at the bottom and I'm working my way to the top. I still have a way to go and I'm working on that, but I'd like to eventually become a Store Leader. I'd like to get into the Store Leader Development Program. I do love HR, so maybe moving into a HR Business Partner role and when I'm ready, expand into the Store Leader side of the business.
Is there anything else you would like people to know about Giant Eagle?
Giant Eagle is an awesome Company to work for. Everyone must start somewhere and if you start at the bottom, just take your time and complete the steps you need to, to one day become a leader. The possibilities are here and there's an amazing support system of people who can help you grow your career.
"One of the many things that makes Giant Eagle a great place to work is the growth opportunities. It's a great place to start a lifetime career. The Company genuinely cares about its Team Members and wants to see everyone succeed."
- Megan, Confidential Human Resources Coordinator (CHRC) at the Pine Township Market District
Additional Photos From Our Visit