MEET LAWRENCE, PREPARED FOODS TEAM LEADER AT OUR McCUTCHEON & STELZER GIANT EAGLE
This week's #TeamMemberTuesday is featuring Lawrence, Prepared Foods Team Leader at our McCutcheon & Stelzer Giant Eagle! Lawrence has been a member of the Giant Eagle family for over six years and continues to emphasize the value of teamwork. His enthusiasm and culinary skills make him an integral member of the team.
What made you think of Giant Eagle as a possible place of employment?
I visited a few Giant Eagle locations in my area (Kingsdale Market District and Sawmill Giant Eagle) and would always appreciate the environment. In terms of the grocery store setting, it always gave off a better "feel" than other stores in my city. I come from a culinary background and was impressed at some of the stations and products being put out in the perishable departments.
Why have you chosen to stay with Giant Eagle?
The opportunity to advance was always clear when I joined the Company and remains today. I have been with the Company for six years and have had four promotions. I intend to work my way into senior management.
What do you love most about your current role?
I stay busy from start to finish of my workday. Time flies and for me that creates a work environment that I thrive in. Fast pace and something different daily are what keep me motivated.
What do you enjoy most about the Giant Eagle Company culture, and the specific culture at your store/department?
I love the size of the Company. It's not too big or too small, and I find it easy to talk to senior management if I need to, both at the store-level and Company-wide. When I reach out, I always get a response.
What is your favorite Giant Eagle memory?
My favorite memory/time is during Thanksgiving. In my Prepared Foods Department. We were SO busy. It was organized madness with how many orders we fulfilled on that Thursday in November.
How has Giant Eagle supported you in the past?
Giant Eagle supported me during my mother's battle with cancer. The Company could not have been more flexible with my schedule during such a difficult time in my life.
What three words would you use to describe Giant Eagle.
Engaging. Fast-paced. Fun!
What work are you most proud of?
My team. Without them, I would not be able to achieve what I have accomplished. I close out my meetings with something I say often, which is: "You guys and gals can do this (run the department) without me, but I cannot run the department without you". And I mean it! I cannot do it alone. Teamwork. Teamwork. Teamwork!
"The opportunity to advance was always clear when I joined the Company and remains today. I have been with the Company for six years and have had four promotions."
- Lawrence, Prepared Foods Team Leader
Check Out Opportunities in Prepared Foods Here
Check out more from our visit with Lawrence: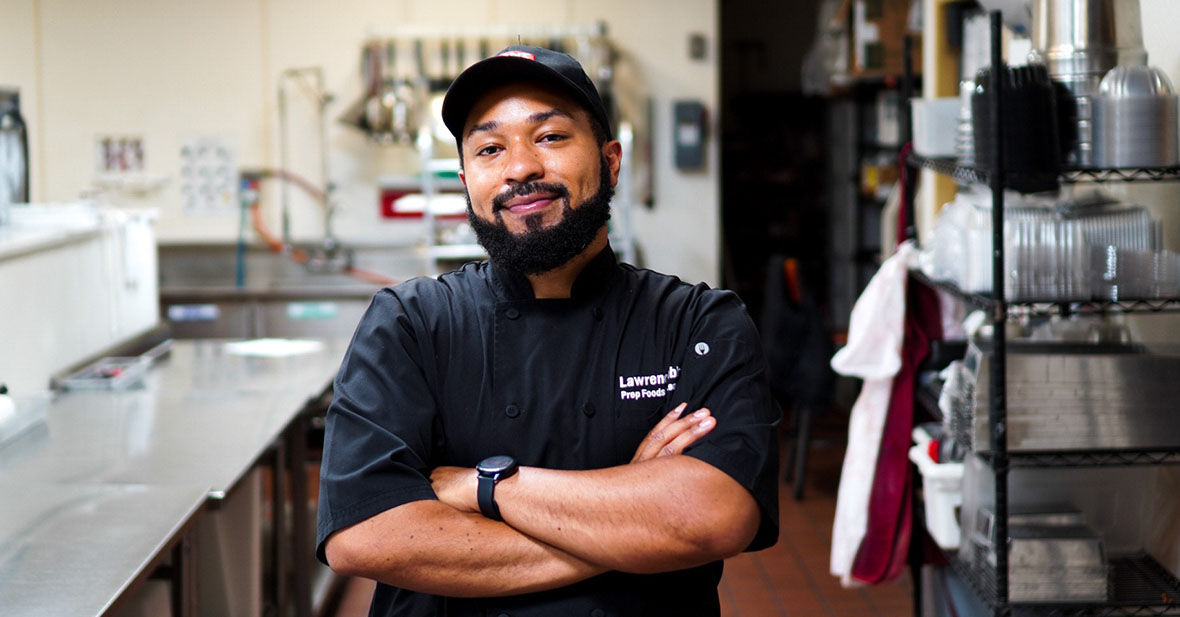 Lawrence, Prepared Foods Team Leader at our McCutcheon & Stelzer Giant Eagle