MEET JONATHAN, SENIOR DIRECTOR OF FRESH FOOD & BEVERAGE AT GETGO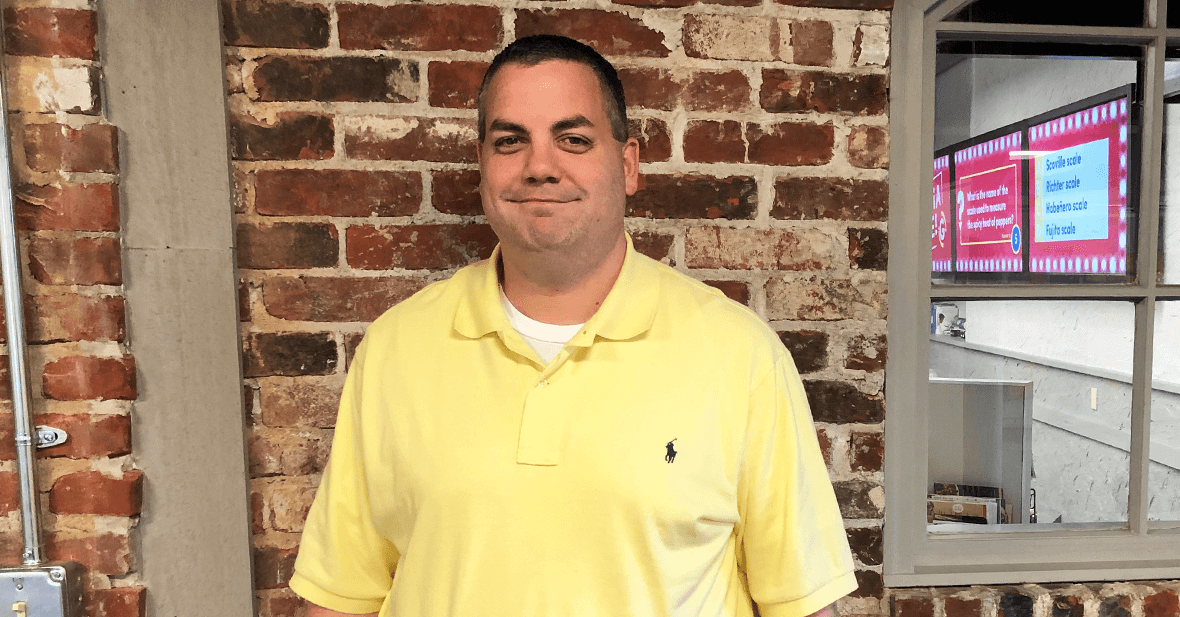 This week's #TeamMemberTuesday is featuring Jonathan, Senior Director of Fresh Food and Beverage at GetGo! Jonathan started out six years ago supporting Giant Eagle's Produce and Floral Departments before joining the GetGo team. He's passionate about providing the freshest, highest quality made-to-order food for our customers every single day and loves having the opportunity to get creative with the menu at GetGo. Get to know more about Jonathan here.
How did you come to work for GetGo?
I've been with GetGo for about two years as the Sr. Director of Fresh Foods and Beverage. Right now, I oversee anything that would be freshly made or fresh produced and would be the fresh equivalent at a supermarket. Overall, I've been with Giant Eagle for six years. My first four years, I worked on the Produce and Floral teams. I was the Director of Produce and then the Director of Floral before I came over to GetGo.
What made you decide to transition from Giant Eagle to GetGo?
It's been interesting being at GetGo because it's where we see a lot of growth and excitement with new stores. It was an opportunity for me to grow personally. I had expressed an interest in GetGo and wanting to do more. The opportunity came up with GetGo and I got to meet with Polly, EVP and General Manager of GetGo. I felt like she was someone I could continue to learn and grow from, so that was how I ended up here.
What made you think of Giant Eagle as a possible place of employment?
I had known about Giant Eagle. I grew up back and forth between Northeast Ohio and south Texas. My parents divorced when I was young, but from being in the area, I knew about Giant Eagle as a company. My dad is also from Pittsburgh. Before I came to Giant Eagle, I was looking for a company that was a family-owned and well- established. And honestly, Giant Eagle reached out to me about the opportunity in Produce and asked if I'd be interested. For me, this is the closest I've been to home since I was 18 years old. It was really exciting to move closer to home and closer to family, while getting to work for a family-owned Company.
Why have you chosen to stay with GetGo?
I think I've stayed for a couple of reasons. First, it's the people I work with. We have a Company filled with people who work hard and want to do a great job and those are the kind of people you always want to be around. The other part is the leadership of the Company from Laura Karet on down. They have this vision and goal of being the best at what we do. It's an exciting place to be. Whether it's growing a business line, growth in the supermarket or growth in the convenience business, when other companies are looking to see where they can cut costs and do more with less, Giant Eagle is always looking for opportunities to grow. It's refreshing to be a part of that.
What do you love most about your current role?
I'm very blessed to work with a great team. What I like best is being able to bring new items to market and to surprise and delight our customers. At GetGo, one of the things we are known for is a new drink or a crazy new sandwich or something along those lines, so I'm fortunate to have a great team that works with me to help develop those ideas. I like seeing it come to fruition in the stores and seeing customers say how much they like the new ideas.
What was the moment you knew you'd made the right decision to work here?
I would say in my personal life it's great because I'm so close to family. My brother recently had a child and I got to be there when the baby was born. My dad had a procedure and I was able to be there to help him out with whatever he needed. From a Company standpoint, I go back to looking at how everyone else is looking to downsize, and Giant Eagle is asking-how do we grow? Working for a Company like that, where I've been able to grow in my career three times in three new roles, solidifies Giant Eagle as an industry leader and a place where people want to work.
Have you had anyone you consider to be a mentor play a role in your career? How have they influenced you?
Along the way, there's been a lot of good people that I've worked with. Joe Hurley, who isn't here anymore, took me under his wing and showed me the ropes as I was coming into Giant Eagle. He walked me through my first time in the boardroom and my first time in the Leadership office.
After Joe, I'd say Dave Rajkovich, when he took the role of Vice President of Produce and Floral really helped me grow and navigate within the Company. He took the time to make sure that people within the organization knew that I did a great job.
Finally, I'd say over the last two years working for Polly has been an amazing experience. She is such a dynamic leader. I've probably learned more in two years working with her than I have in the last ten years. I certainly have learned what it's like to work in the convenience industry quickly because she has a ton of experience there. Those are the three people that have really helped me along the way.
What values are important to you at a job? How do you experience those values here?
The two values that are the most important no matter where you are at, are integrity and trust. I think you can teach someone how to build a display and run a cash register, but you don't teach integrity and trust. To do that, you must do what you say you're going to do, and people must believe you. The second you lose either of those two things, not only are you not a good Team Member, you're also not an effective leader. Integrity and trust are the two core values you must have to be in a leadership position.
What work are you most proud of?
Over the last year and a half, I'm really proud of what we've accomplished at GetGo from a food and drink standpoint. When I came two years, we said we wanted to be more of a sub shop but now we want to be more than a sub shop. I'm proud that we've launched a Made-To-Order Salad and Chicken programs, fruit smoothies, and great chicken sandwiches. We've gotten to a place where we are more than a sub shop. We've been nationally recognized three times in the last 14 months for new items that we've put together. For me, that's the cool thing! Just about everywhere you go now, everyone has a waffle breakfast sandwich, but we were first, and we do those kinds of things, all the time. We're willing to push the envelope and boundaries of what good food is, and then we're able to execute it in the stores, which is a lot of fun.
Is there anything else you would like people to know about GetGo?
GetGo is not just a gas station and not just a convenience store. From the inside of the store, fuel is very important, and our fuel team does a great job. We want you to see GetGo as a restaurant and then realize that we also sell gas. We don't want to be a gas station that you eventually realize also sells food. When you think about a gas station's food, you usually think about a roller grill and hot dogs and sandwiches with a 20-day shelf life, but that's not who we are at GetGo. We have great-to-go sandwiches that are made fresh every day. We use fresh ingredients because of our partnership with Giant Eagle. For me, I want people to think of GetGo as a smaller, mobile version of Giant Eagle. We have the same great food, high quality and expectations.
"We've been nationally recognized three times in the last 14 months for new items that we've put together. For me, that's the cool thing! Just about everywhere you go now, everyone has a waffle breakfast sandwich, but we were first, and we do those kinds of things, all the time. We're willing to push the envelope and boundaries of what good food is, and then we're able to execute it in the stores, which is a lot of fun."
- Jonathan, Sr. Director of Fresh Food & Beverage at GetGo
Click Here for Corporate Office Jobs
Additional Photos From Our Visit