MEET JIM, ASSISTANT STORE LEADER AT OUR PARMA HEIGHTS GETGO
This week's #TeamMemberTuesday is featuring Jim, Assistant Store Leader at our Parma Heights GetGo in Parma, OH! Jim spent many years working in the produce department at Giant Eagle and recently made the transition to the GetGo team. His passion for learning and teamwork is what keeps our guests happy!
How did you start working at Giant Eagle?
I started right out of high school, so it was a part-time job for me at first, but it quickly became a career. I started in 1992 as a Produce Clerk. Then in 1994, I became a Produce Team Leader. Over the years, I worked in three different stores as a Produce Team Leader. I moved to Cleveland and was a Grocery Team Leader there for a little bit. Then I worked on a corporate project for about a year. After that I was a Grocery Team Leader again, and now I am at GetGo. I have worked all over the Cleveland market.
When did you decide to make the move to GetGo?
I came over to GetGo about a year and a half ago. I thought, "Well, GetGo is growing, there are good opportunities here," so I applied internally. I interviewed with our Regional Leader, Katie, and they started me out as an Assistant Store Leader in Brunswick. Then I moved to the Lakewood GetGo, and recently I moved to my current store in Parma Heights. I decided to go to GetGo because it is growing and there are a lot of opportunities for growth here.
Why have you chosen to stay with Giant Eagle and now GetGo?
I have always been treated well in all the stores I have worked at. The leaders and Team Members have always been kind. Also, our guests are a reason I have stayed, because I enjoy customer service. It is just a good career. I am also out and about and active all the time. I can't see myself sitting behind a desk all day. I like to be moving around.
Can you describe the workplace culture you experience in your location?
At GetGo, our culture is defined by teamwork. Teamwork with the Store Leadership, Crew Leads, the Kitchen team, and the Cashiers. We all work together every day to ensure our goals are met and we're taking care of every single guest.
How have Giant Eagle and GetGo supported you in the past?
Giant Eagle supports everyone in the Company. We are always looking ahead. We are always doing new projects, trying new things, and progressing. That is how I feel they support me, by rolling out new projects and initiatives, and new ways of doing things throughout the years. They have supported me in any role I have had.
When I first started as a Produce Team Leader years ago, we didn't even have computers. The warehouses would call and ask what we wanted, and we would have to read order numbers out of a paper order book over the phone to them. The technology has really evolved.
"We all work together every day to ensure our goals are met and we're taking care of every single guest."
- Jim, GetGo Assistant Store Leader
Check Out Opportunities with GetGo Here
Check out more from our visit with Jim: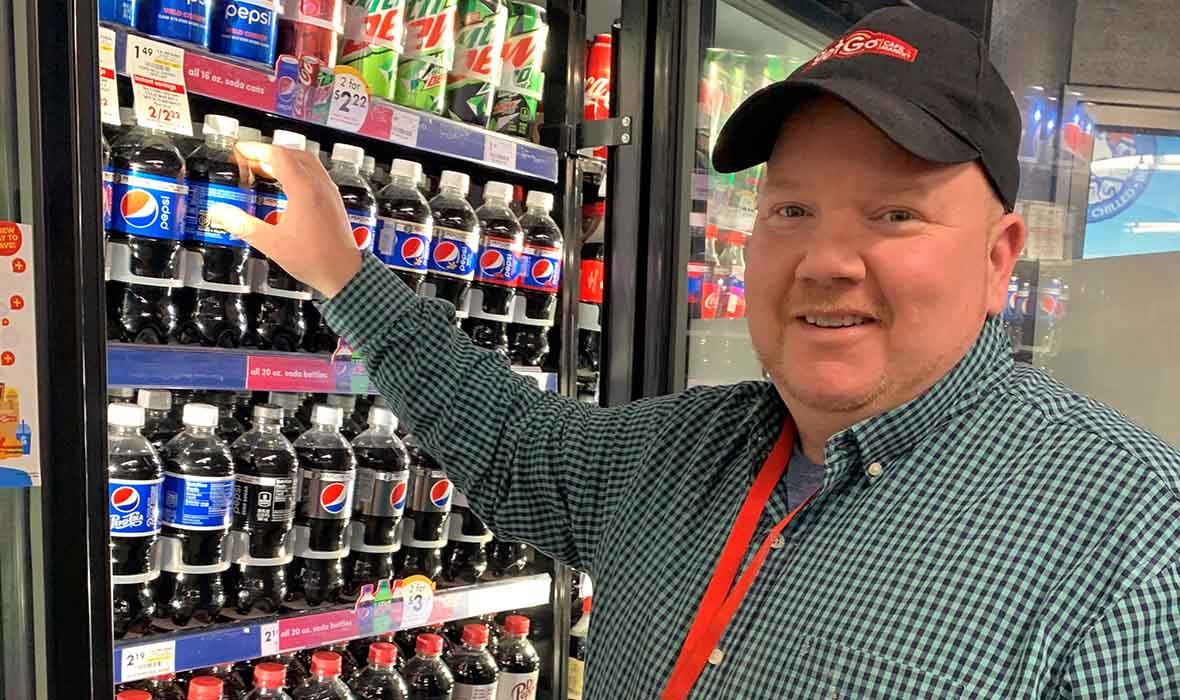 Jim, Assistant Store Leader in the Parma Heights GetGo