IT'S #TECHTHURSDAY! MEET DEBBIE, SENIOR IS APPLICATION MANAGER ON OUR SUPERMARKET TECHNOLOGY TEAM!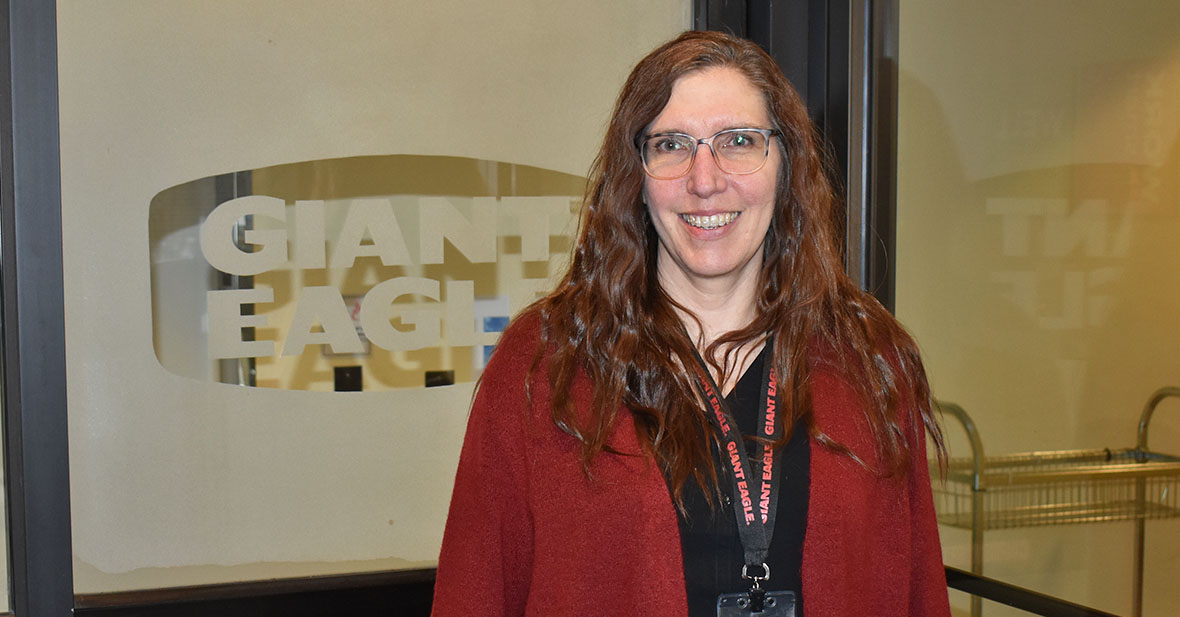 This week's #TechThursday is featuring Debbie, Senior IS Application Manager on our Supermarket Technology Team! Debbie started working for Giant Eagle in our supermarkets while she was in college and has been a part of the Giant Eagle family for over 25 years! She now leads many of our point-of-sale (POS) projects in our retail locations.
What led you to a career in IT?
I don't have a background in IT, I was in the right place at the right time. I started working for Giant Eagle in a supermarket location in the video department while I was in college. When I graduated and was working on my master's degree in art therapy, I became unsure that it was the career for me. At that same time, Giant Eagle offered what they called the "career web." I took a test, participated in some interviews and was chosen to become part of a team and trained in IT. I was placed on the EFT team who was in the process of changing from using satellites communication and that was the first project I worked on.
Can you describe some current (or recent) projects you've worked on?
One of my recent projects was the implementation of the income OTC network cards, which is kind of like an FSA card. It's a health care supplemental benefit card which means plans can give their members easier access to over the counter items. We offer it as a point of interest for our guests, but it also gives us a lift in incremental sales. It was a multi-vendor project, so there was a lot of coordination that had to take place. This was launched a few months ago in our supermarkets.
Another recent project I worked on was the Quotient direct project, which was all about e-coupons. We used Quotient for our e-coupons prior to the project but in a very limited way. The implementation kept us very limited in the types of offers and number of offers we could do. This project helped to cut out a middle piece and now we go directly from point of sale to Quotient. Now we have the capability to offer simultaneous offers on two different products. We can also do multi-use per e-coupon now. This also launched a few months ago.
The most recent project my team has been involved in was the move to eliminate plastic bags. We worked to put up the prompts in the registers to ask how many paper bags or reusable bags the guest is using and then either award those perks or charge the $.10 per paper bag.
What is your favorite thing about working in IT/eCommerce?
One of the things I love about my job is that we get hands on experience with the equipment the stores use. We even have a lab set up here at the office with all the equipment that gets used in our retail locations.
Also, I love the variety of work that I do and that I am always learning and growing. There's always change happening or new technology available and I get to be involved with and help figure out and implement. I get to come to work and have a different experience every single day. I can't imagine going to work and doing the same thing every day.
Have you won any recent awards inside or outside of Giant Eagle?
In 2018, I was named one of Progressive Grocer's "Top Women in Grocery". My team nominated me for this award for implementing the acceptance of chip cards in our stores. (Read more about this award HERE)
I also was recognized at Giant Eagle's 2019 Annual Awards for my work on the fuelperks+ program and the Ricker's acquisition
What is your favorite thing about working for Giant Eagle?
The people and the fact that Giant Eagle has a culture that empowers you to do things. I feel like I can come in and have the freedom to make decisions and that's okay and is supported at every level.
Also, I really love the flexibility that we have. I have people on my team that want to come into the office every day, but I also have Team Members that want to work from home a few days throughout the week. We even have Developers that have labs set up at their house. They don't always have to be onsite to do their job, so I think the flexibility is a big thing. I can't imagine a lot of companies offer having a lab in your house.
A "Fun Fact" about Debbie:
My family and I are avid Disney fans. We took our first family trip to Disney World in 2012 and have been back every year, sometimes twice a year. We love that each year is full of new things to do and explore and we love to talk park tips and tricks. Our hope is to get out to Disneyland one of these days.
"One of the things I love about my job is that we get hands on experience with the equipment the stores use. We even have a lab set up here at the office with all the equipment that gets used in our retail locations."
- Debbie, Senior IS Application Manager