MEET DAVID, GETGO TEAM MEMBER IN GREENSBURG, PA!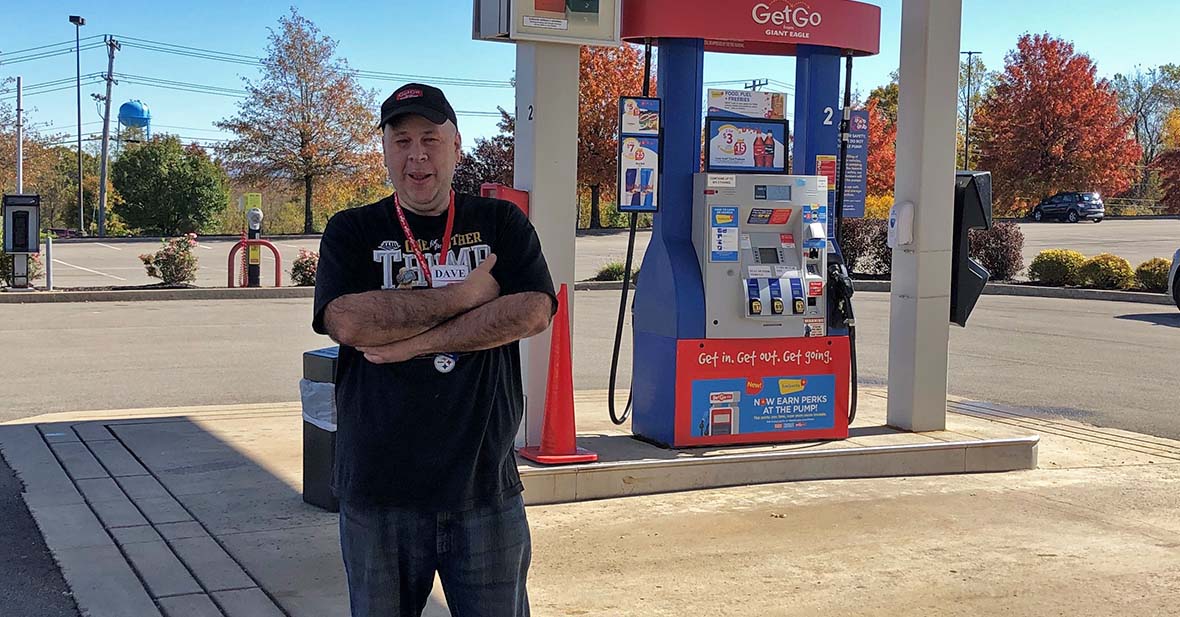 This week's #TeamMemberTuesday is featuring David, GetGo Team Member in Greensburg, PA! David has been with Giant Eagle and GetGo for more than 30 years! He's always looking for an opportunity to put a smile on someone's face and consistently goes above and beyond for our guests and his fellow Team Members. Get to know more about David here!
How did you come to work for GetGo?
I started out as a Lot Attendant with Giant Eagle more than 30 years ago in 1989. Then one of the Leaders saw how I was always trying to speak to our customers and trained me as a Cashier. After that, a position opened in the Video Department, and I love movies, so I asked if I could be transferred to that Department. I did that for a few years. After we closed the Video Department, I went back to a Cashier position. Next, I ended up training with GetGo, and spent some time working at both Giant Eagle and at GetGo before I decided to stick with only GetGo. I've been at GetGo for about 12 or 13 years with the pad site in Hempfield Township near Greensburg.
What do you love most about your current role?
I love being able to communicate with people. I enjoy making our customer laugh and smile. I know everyone has a rough time sometimes, but that's why I like making people smile. I've had my own fair share of health issues, but I show up every day laughing and smiling.
What do you love about GetGo?
I love working with my fellow Team Members. We're like a small family. We all have our own families but then we come to work, and we have our Giant Eagle family or our GetGo family. I have a lot of friends that I've met through working here, and we hang out outside of work all the time, as well.
Also, the interaction with the customers makes it a great place to work. I've come to know a lot of our customers personally, which is awesome. I love people and I love my job. I wouldn't have been here for 30 years, if I didn't love my job!
What was your best day at work?
There was one day that I had three different people come up to me and tell me that seeing me here makes them smile and they appreciated my cheerful attitude. They said they always look forward to seeing me here. It was incredible that all three said it during the same day and it really made my day!
"Fun Fact" about David:
No matter who I work with, there's always something to talk about. We never have a dull moment. I'm a goof ball, and I love telling jokes and being silly. We feel like a family here at GetGo!
"There was one day that I had three different people come up to me and tell me that seeing me here makes them smile and they appreciated my cheerful attitude. It was incredible that all three said it during the same day and it really made my day!"
- David, Team Member at the Hempfield GetGo
Check out some more photos from our visit with David: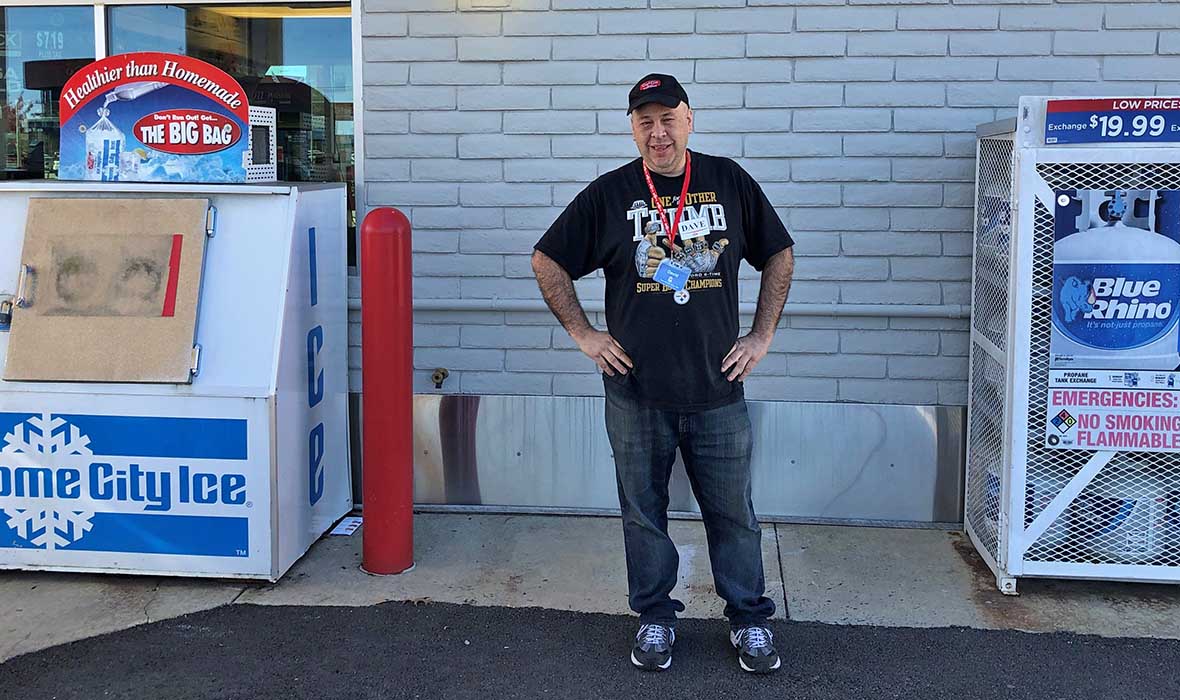 David, GetGo Team Member at the Hempfield GetGo in Greensburg, PA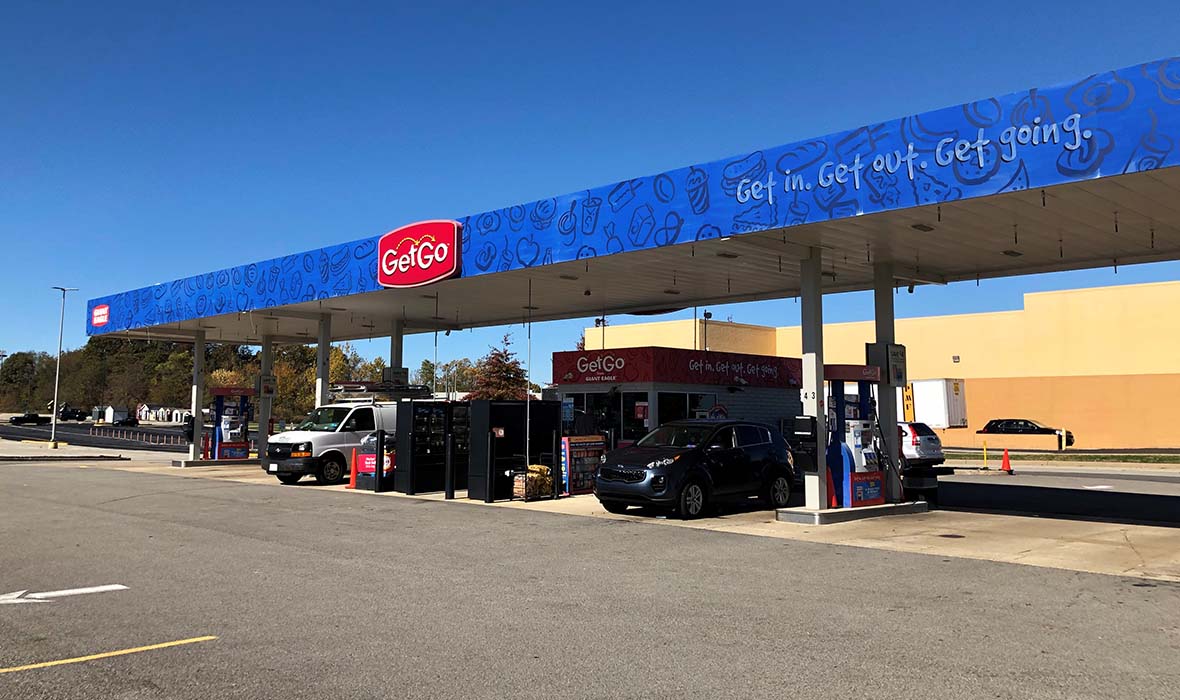 Hempfield GetGo in Greensburg, PA