MEET DARLENE, RECRUITER II WITH GIANT EAGLE'S TALENT ACQUISITION TEAM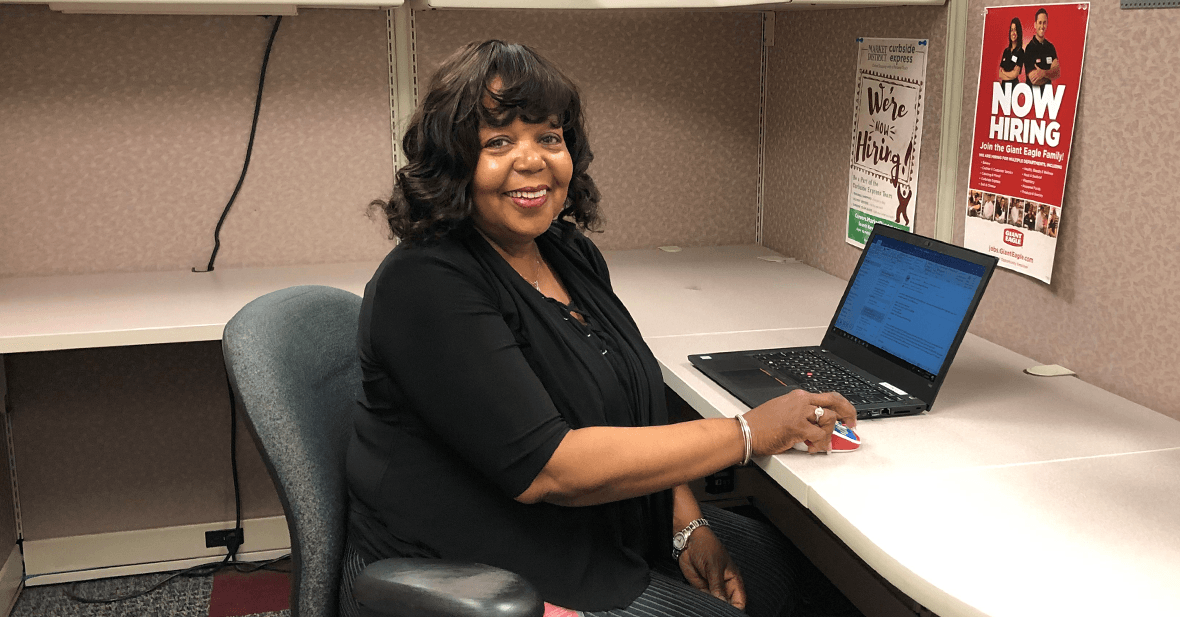 This week's #TeamMemberTuesday is featuring Darlene, Recruiter II with Giant Eagle's Talent Acquisition Team. Darlene has been a Giant Eagle Team Member for almost 43 years! She spent a great deal of time in our stores before moving into Human Resources, where she loves finding the perfect position for our job applicants. We'd like to congratulate her for her years of service! Get to know more about Darlene here.
How did you come to work for Giant Eagle?
I remember going into a Giant Eagle store when I was young with my parents, and I said, "I can work here one day." But when the time came to actually work for Giant Eagle, my uncle who worked at the warehouse said, "Why don't you apply to Giant Eagle?" and I said, "No thank you, I don't want to work for Giant Eagle." He was a little persistent and told me I should try it! So that is how I first started with the Company in high school.
I started out pushing carts. Then I just kept doing different positions throughout the store. I went from pushing carts to a cashier, baker, and then a cake decorator. I've worked in the front office/back office, floral, produce, overnight stock, and health and beauty.
Why have you chosen to stay with Giant Eagle?
The Team Members, the atmosphere, the positions, and the growth within the Company have all kept me here. The Company is always thinking "Ok, what is next?", which is great!
How long have you been with Giant Eagle?
This August marked 43 years with Giant Eagle. I've been here a long time.
What do you love most about your current role?
I love being able to help someone and recruit them for a position. I like letting them know what the Company has to offer and supporting them like my uncle supported me. When applicants tell me, they don't think Giant Eagle is a good fit for them, I tell them about the Company. It feels like I'm giving back, and I try to do that a lot.
What do you love about Giant Eagle?
I love the Team Members, customers, and the diversity within Giant Eagle.
What was the moment you knew you'd made the right decision to work here?
At this point in my career, when I think about the years I have spent with Giant Eagle it has gone so fast, and I still love this job. I think that tells you I have really made the right decision for my career.
What was your best day at work?
My best day at work was when I was promoted or when I first went into Human Resources. I didn't think about going into management, and I never wanted to go into management, but the Team Members at the store I worked at went to the Store Leader and said she would be really great in HR. I think that was maybe the best day because that was the start of my career.
What's something that happened that can only happen here?
I think the advancement within the Company. I believe a lot of other companies tell you there is advancement, but I am proof that you can really advance in the Company. Giant Eagle means what they say.
Have you had anyone you consider to be a mentor play a role in your career? How have they influenced you?
I have a few mentors. There are a few Team Leaders, and District Leaders. Like my first mentor was Al Pulice. He's the one who first decided to have me become the first Assistant HR Manager.
Then there are District Leaders like Gary Lichius, who has always offered me support.
There are quite a few mentors in my life. I have watched a lot of leaders, like Jeremy Shapira, who I work closely with, and Josh Shapira. Emiel Glaze is a mentor. I like how he speaks at events.
I have quite a few – even just my team. April Sexton has been a mentor to me. There's a lot of mentors, who I don't think realized they have been my mentor but I kind of step back and watch them. There are quite a few in the Company that always encourage me constantly.
I listen, observe and watch.
Sandy, Courtney, and Michael on my team, also mentor me. Even though I have been with the Company for 43 years, they have taught me different things. You can never stop learning. You can't have a job where you say I have been here this long, I know everything …. that doesn't work.
Do you actively participate in any Business Resource Groups? If yes, can you speak to your experiences and how the BRG improve the workplace?
Yes, I am in the Abilities Business Resource Group. I work with Mike Rymniak and Jeremy Shapira and I work closely with the Disability Liaison. Mike works with OVR and they find candidates and bring them to Mike. Then he finds a place for them in the stores for the students or adults, and I follow up with the CHRCs in the store if he's not getting any response.
I think he has more than 30 hires. He is doing well. With the other group, I work with Courtney and then we attend different functions where we receive referrals.
I believe we have a goal of 10 referrals for the year and I think we just had our 9th referral so we just need 1 more. We help place candidates and will contact HR at that store or at corporate and try to see if we can get the candidate into a position. Its great what Giant Eagle does to support our Team Members that are differently abled.
What values are important to you at a job? How do you experience those values here?
Integrity. Honesty. You are who you say you are, especially with a company. When you are going out and promoting a company, the company must stand for what you're saying. The Team Members make the Company who and what we are. If you bring in people and they are talking bad about the Company, then you're not going to grow. You must be who you say you are. Honesty and integrity are very important.
What work are you most proud of?
I'm most proud of the work I do with our Team Members that are differently abled, as well as the work I do as a Recruiter where you find candidates' positions and let them know there's growth within the Company.
"I believe a lot of other companies tell you there is advancement, but I am proof that you can really advance in the Company. Giant Eagle means what they say."
- Darlene, Recruiter II with Giant Eagle's Talent Acquisition Team
Additional Photos