MEET CHRIS, GETGO RICKER'S TEAM MEMBER AT FORT BEN GETGO IN LAWRENCE, IN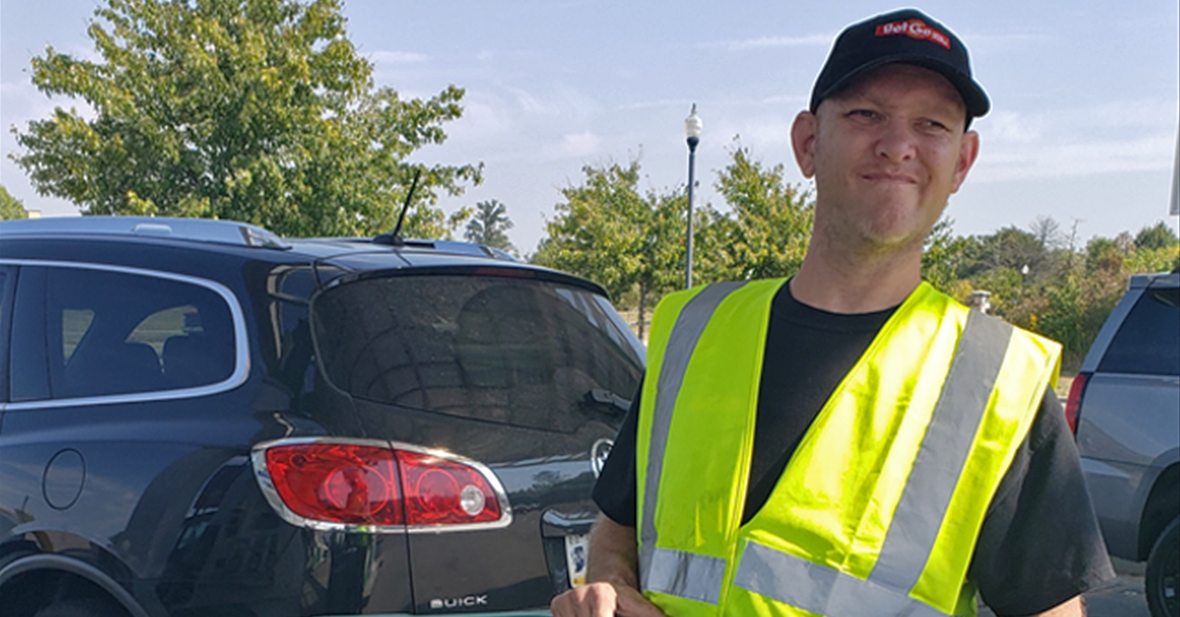 October is National Differently Abled Employment Awareness Month (NDEAM) and at Giant Eagle and GetGo, we are so proud to call our Team Members who are differently abled a part of our family. The primary message of NDEAM is "Inclusion Drives Innovation" and we truly value the perspectives and innovative ideas that this month's featured Team Members bring to our Company.
This week, we share the story of GetGo Ricker's Team Member Chris.
Simply speaking to Chris on the phone, it is clear that positivity is second nature to him. So it only makes sense that in his 7 years of work with Ricker's and GetGo, he recounts the perks of his job easily.
When asked about the highlights of his job, Chris quickly responded "the people." And continued on to say that he enjoys seeing regular customers, especially the local police and military who always stop to talk. During his shifts, he serves as a jack-of-all-trades when it comes to cleaning; and while sweeping the lot, taking out trash, and keeping the bathrooms tidy, Chris is grateful for the camaraderie of his team. He says that everyone works well together and even looks out for him at times – he recalled an instance where a customer offered him a snack and his Store Leader reminded him that it had too much sugar (Chris is diabetic)!
In addition to the skills he's learned on the job, Chris credits his family with teaching him early on that customer service is not just a task, but a way of life. He remembered being told that "even if it's not in your job title," service with a smile is always essential and helps to bring more customers to your store. When he's not on the job, you can find Chris preparing for and participating in the Special Olympics; he's just finishing up bowling season and basketball season will be in session soon.
Perhaps most striking about Chris is his commitment to "paying it forward" – he said that when he is praised at work for a job well done, he makes sure to share that positive energy with his team. When he hears customers complimenting an item in the café, he makes sure to either share with them who made it, or will tell that fellow Team Member about the compliment. We are thrilled to have Chris (and his generous spirit) on our team!
"The highlight of my job is the people. I enjoy seeing regular customers, especially the local police and military who always stop to talk."
- Chris, GetGo Ricker's Team Member at Fort Ben GetGo
Click to Read More About Our Inclusion & Diversity Efforts
Thank you, Chris, for everything you do!