Meet Chef Tom, Development Kitchen Manager at GetGo Cafe + Market
This week's #TeamMemberTuesday is featuring Chef Tom, Development Kitchen Manager at GetGo Cafe + Market! Chef Tom is the visionary behind the creative and delicious made-to-order food offerings at all our GetGo Cafe + Market locations! His passion for creating unique, high-quality food is evident in everything he does. Chef Tom has been a Giant Eagle and GetGo Team Member for over 15 years and continues to "wow" us with his culinary creations!
How did you come to work for GetGo?
Giant Eagle is a really awesome company because there are so many different areas within the same umbrella, and I've worked in several of them. When I got to Giant Eagle, I was part of the team that helped to open the very first Market District. Community College of Allegheny County had a culinary school and they weren't using it for the summer, so we worked out of their kitchen all summer and developed all the menu items that initially became the first Prepared Foods Department. It was exciting to work with this team that could make whatever we wanted from scratch. I started out as a Sous Chef and helped to manage the day-to-day.
After that, I got promoted to the Prepared Foods Manager pretty quickly. I worked for two years at the Shadyside Market District and then two years at the Robinson Market District, so I sort of bounced around the Pittsburgh market as a Prepared Foods Team Leader. We move around different stores often, but a new set of eyes coming into the store really gave us this opportunity to make some impactful changes and improvements.
At the time, my goal was to become a Store Leader, so I decided to move into a Group Leader role after that. I was at the Robinson Market District in that role for about one and half years. I was the Group Leader for our Fresh Departments, so I oversaw floral, produce, meat, seafood, and prepared foods.
When I was looking for my next step, I decided to go back into the kitchen for production. Our guests were our stores, and it was very technical. In a production facility, the main thing is consistency. I spent close to five years in the kitchen and really enjoyed that.
I was in that role when I got a call from GetGo. Every move I've made in the company has been because someone has called me and pushed me in a new direction. They offered me the role of Product Development Chef at GetGo, which was a brand-new position. At the time, we only had 40 sub shops and the menu was very limited. I moved to that new role and this is the longest I've been in a single role within the Company.
I get to be creative, but I also must be able to get the stores to be able to execute it. My vision must look great on a billboard and I must be able to purchase it at every GetGo that I visit. We've launched so many new things over the past four or five years. We probably launch four to five things every month. We always try to push the envelope. I also like doing the radio shows and getting to talk about the food.
Why have you chosen to stay with Giant Eagle and GetGo?
I have been with GetGo and Giant Eagle for over 15 years. The variety of options that are out there are awesome. If I was looking for a different opportunity, I could be a Buyer, a Category Manager, or even go back into the stores. As long as we keep opening new GetGo's, there are always new positions available or being created that may bring new challenges.
This role gives me the freedom to be creative. I usually go all out on the craziest thing I can come up with and then whittle it back to what is actually realistic but still a great product. I don't have much constraint on what I can or can't do. I know what the stores must work with, so within those limitations, I can basically come up with anything. There isn't anything stale in this role.
What do you love most about your current role?
I love going into the stores. I spent six hours in the Chippewa GetGo recently and had a great time! The Kitchen Lead told me he had a couple guests that saw me in some of our social media videos and they didn't believe that I was a real person. Most people think I'm just promoting GetGo, so I introduced myself and met these customers. I spent time with the Kitchen Lead and showed him some tricks, so it's nice to have that opportunity. It's the only way I'll know if what I had in my head is what happens in the stores.
I also have a lot of fun when Mikey and Big Bob from KISS-FM come into the test kitchen. When they're here, that's when I pull out all the crazy ideas that didn't make it to the menu. I love having people in the kitchen and giving them the opportunity to see what all goes into the items that end up on our menu.
What is your favorite GetGo memory?
One memory that sticks out was the "sub-cutting" event in Indianapolis with Adam Richmond. We attempted to break the record for the most people ever simultaneously, making a sub. The record was more than 6,000 and we didn't break it, but we had a great time, and we donated all the food to a local food bank, so it went to a good cause.
What three words would you use to describe GetGo?
Convenient. High Quality. Innovative.
Is there anything else you would like people to know about GetGo?
We want to "take the cons out of convenience." We've been saying that for a long time. I want the restaurant to be the focus. You come here for gas, but I want you to trust that when you come inside for food, it's going to be a great experience. We have something for everyone. Our customization really puts us above the competition.
"This role gives me the freedom to be creative. I usually go all out on the craziest thing I can come up with and then whittle it back to what is actually realistic but still a great product."
- Chef Tom, Development Kitchen Manager at GetGo
Click for Opportunities to Join the GetGo Team
Check out more from our visit with Chef Tom: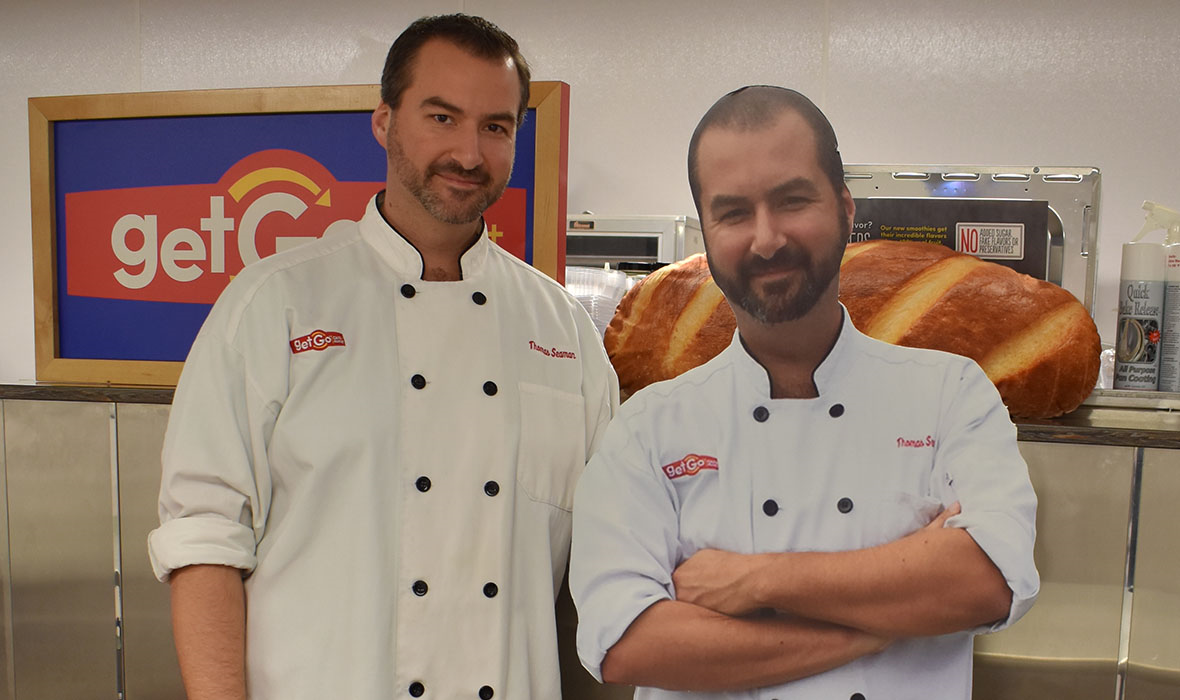 Chef Tom with his "stunt double"! ;)
Our GetGo Cafe + Market Headquarters in Pittsburgh, PA. Chef Tom works out of the test kitchen at the headquarters.