MEET CHARMAINE, RECRUITER AT GIANT EAGLE & AFRICAN AMERICAN BUSINESS RESOURCE GROUP MEMBER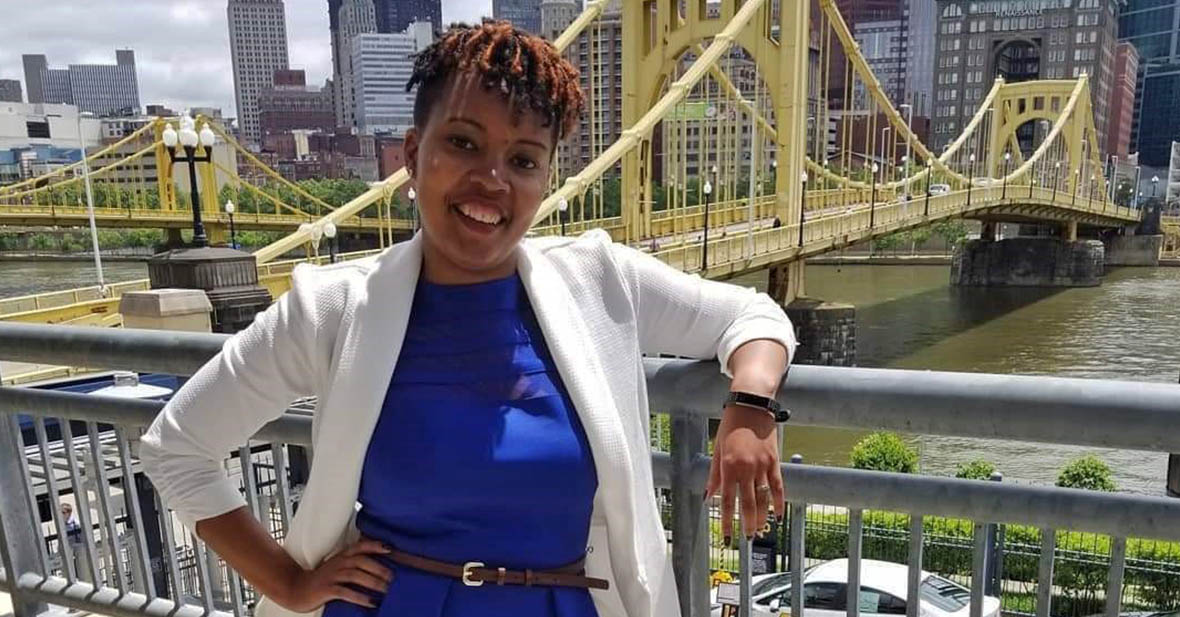 In honor of Black History Month, Giant Eagle's African American Business Resource Group (AABRG) will be leading a number of efforts to celebrate the many achievements and contributions that African Americans have made in our country, our history, and within our very own Giant Eagle family. As part of these efforts, we'll be showcasing the talents and accomplishments of some of our African American Team Members throughout the month of February. This week's #TeamMemberTuesday is featuring Charmaine, Recruiter on our Talent Acquisition team!
What do you like best about your work at Giant Eagle?
When I think about my work at Giant Eagle, there are two things that I like best. The first is the people. I've met a lot of amazing people in different departments who have quickly become friends. The culture here is overwhelmingly friendly and people are always willing to help.
The second thing I like best is the satisfaction of being able to take a candidate through the entire recruitment process and being able to make them an offer. It's a good feeling to not only help someone launch the next step in their career but to also help the Company fill a position that will improve both the Team Member and guest experience.
How do you see the African American Business Resource Group (AABRG) helping Team Members and Giant Eagle? How might you also make an impact on the AABRG and our Company?
I see the AABRG helping Team Members and Giant Eagle by serving as a place for African American employees to come together and develop a support system while also serving as an opportunity for our allies to learn more about our culture and how they can support equality and diversity, not just for African Americans but for all minorities.
I am looking forward to making an impact on the AABRG and within our Company by making connections and doing my part to make Giant Eagle an inclusive place not just for people who look like me, but for everyone.
What does it mean today to be African American? And what are you most proud of about your heritage?
Today being an African American means to embrace all of the diversity that is the richness of our culture from the different hues in our skin, to our body type, to the textures of our hair, our slang, our music, our food, and our history as a people.
How do you seek to educate and promote inclusion and diversity in your professional and personal life?
One of the ways that I seek to educate and promote inclusion and diversity in my professional and personal life is to encourage people to have difficult conversations. Whether we like to admit it or not, we all have unconscious biases and some of those biases can be exclusive or offensive. The best thing someone can do if they're told that something they did was exclusive or offensive is to apologize sincerely and seek to understand why it was hurtful and how they can learn from it to prevent it from happening again. It's easy to becoming defensive, especially when the hurt wasn't done intentionally, but it's most important to be empathetic and understanding.
What is something about your own family traditions and/or culture that you honor and value?
One of the things that I honor and value about my family traditions and our culture is how we incorporate music and food into so much of our time together…from singing holiday music while cooking Thanksgiving and Christmas dinner, to listening to Motown Classics while cleaning on Saturday mornings, to gospel music on Sundays, listening to RnB while running Saturday errands, line dancing at family reunions, and coming together over a meal in times of celebration and mourning…I love it all and have carried on these same traditions into adulthood with my own family.
What are your hobbies?
I am a newly wed, so one of my favorite things to do right now is spend quality time with my husband and our daughter while making memories and starting our own traditions. I also enjoy watching movies, photography, and spending time with my friends and family.