MEET BASSEL, GROCERY CLERK & INTERN LEADERSHIP DEVELOPMENT PROGRAM PARTICIPANT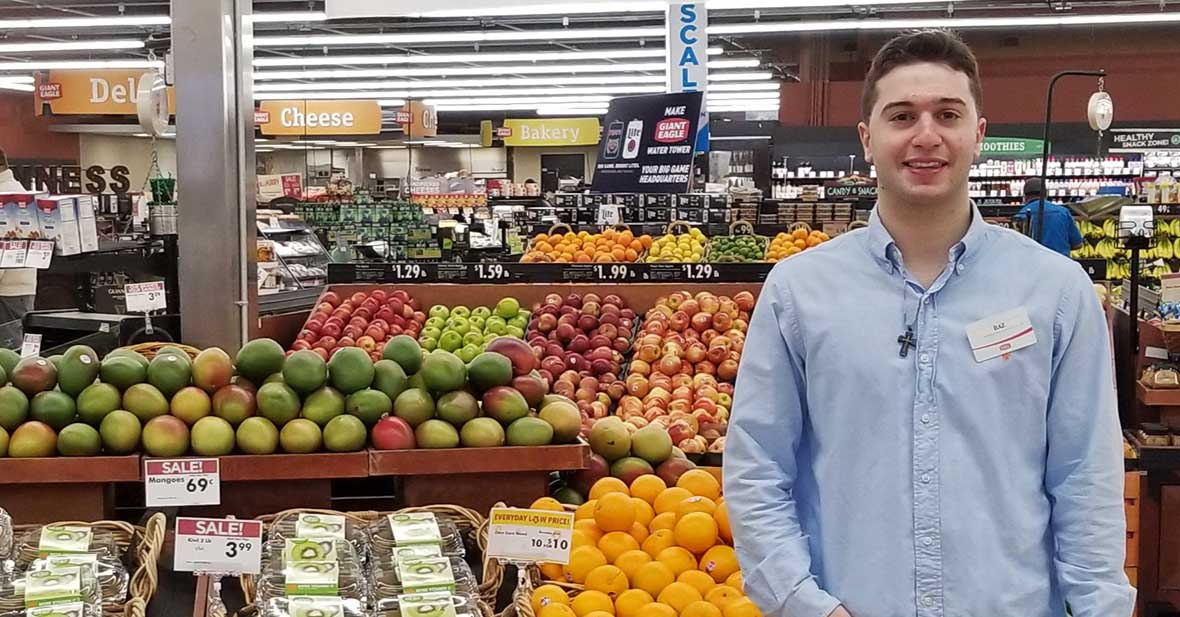 This week's #TeamMemberTuesday is featuring Bassel, Grocery Clerk & Intern Leadership Development Program Participant at our Watertower Giant Eagle in North Olmsted, OH! Bassel has quickly moved from a Produce Clerk to a Retail Operations Intern and is now taking part in our Intern Leadership Development Program. Bassel is always looking for new opportunities to learn and take on new responsibilities. We have no doubt he will see continued success in his future!
How did you come to work for Giant Eagle?
I started working at Giant Eagle 4.5 years ago; it was close to my house and I really liked the store that was near me. I applied and got the job in the Produce Department. I was working in the Produce Department for 2.5 years at the Watertower Giant Eagle, and then I started working dual-stores at the Fairview Giant Eagle. I started working in their Produce Department and then I got offered an internship from one of the Store Leaders that was training at the Watertower store. I completed the 10-week internship last summer. I'm now back at Watertower and am serving as Manager in Charge at night some days, and that is basically my Giant Eagle story in a nut shell. After the internship ended, Giant Eagle had offered me an Intern Leadership Development Program position, which is a 2.5-year program, and I accepted it. I am very excited about what is to come and to learn and grow within in the business.
Why have you chosen to stay with Giant Eagle?
I have chosen to stay with Giant Eagle for many, many reasons, but I feel like at Giant Eagle they develop people like no other company I have ever worked for. It's just nonstop "let's teach him this, let's teach him that." It's not just a high school job. It really can be a career, and it can be a lifetime thing. I started to realize that after the internship, this is something I am willing to do for the rest of my life so that's mainly why I am staying with the company. They develop their people and the Team Members are fantastic. Everyone has a smile on their face. You come into work, and people bring your morale up.
Can you speak to your experiences in Giant Eagle's Intern Development Program?
Fantastic. One hundred percent worth doing it. Outside of my own experiences, I've talked to a lot of people who also did the retail internship and it was eye opening to them, as well. They thought, "To sell a can of corn, you put it on the shelf, and you sell a can of corn," but it is so much more than that! The Intern Development Program gets you a foot in the door to retail. It's a great experience for Team Members to take. I loved it. It was fantastic.
What do you enjoy most about the Giant Eagle company culture, and the specific culture at your store/department?
What I enjoy most about the Giant Eagle company culture is everybody has a role. Everybody is important. Giant Eagle really stresses that each individual Team Member is very important to our Company thriving, which is why I love this Company and love the way they treat our Team Members. Our culture is what separates us from everyone else.
"The Intern Development Program gets you a foot in the door to retail. It's a great experience for Team Members to take. I loved it. It was fantastic."
- Bassel, Grocery Clerk & Intern Leadership Development Program Participant