MEET ANDY, FRONT END TEAM LEADER AT THE EDINBORO GIANT EAGLE!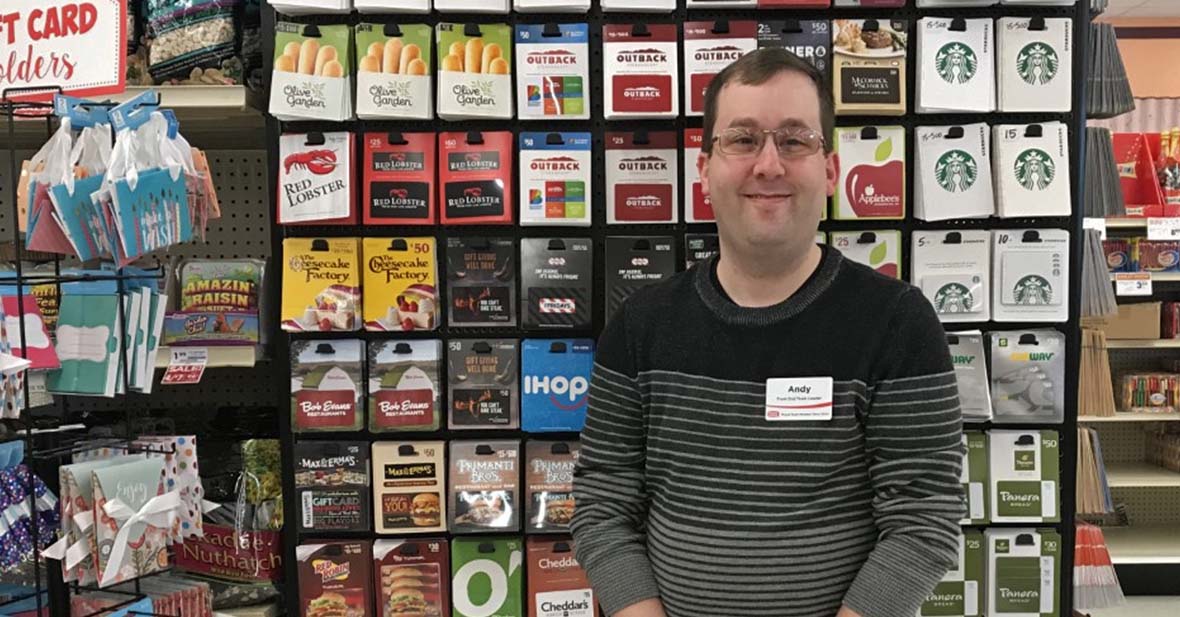 This week's #TeamMemberTuesday is featuring Andy, Front End Team Leader at the Edinboro Giant Eagle in Edinboro, PA! Andy has worked for Giant Eagle almost half his life, and his commitment to serving our guests and the community are unparalleled. He enjoys volunteering with Junior Achievement and guiding field trips through the store. We're thrilled he has decided to grow his career with us and can't wait to see what he achieves in the future. Get to know more about Andy here.
How did you come to work for Giant Eagle?
I grew up in Erie County, and I started out as a Cashier and Lot Attendant in 2004, so about 15 years ago. I've worked for Giant Eagle literally almost half my life. When I went away to college, I stayed on with the Company, seasonally. I started going to Point Park University and worked at the Township of Pine Market District. After I earned my master's degree, the Company offered me a full-time position. I was a File Maintenance Clerk for a few years, then I moved back home to the Erie area for a Front-End Team Leader position. I helped open the brand new Harborcreek store, and then I transferred back to Edinboro.
How have you become involved in the community?
With all the Giant Eagle's in the area, I try to be a liaison between our community partners. My former Store Leader was on the Board of Directors with Junior Achievement. He had to step down, and he sort of recruited me and help me get onto the board. A few years later, I've gotten really involved volunteering in the classroom, as well. I enjoy taking on new responsibilities and growing our presence in the community. I also go into all the different store locations in the area and recruit new volunteers and make sure the stores are helping to raise money and help us support Junior Achievement.
After a couple of years on the Board for Junior Achievement, I was recently appointed to the Executive Board by the new Chair. She appreciated the level of volunteerism and commitment that I've been willing to give to Junior Achievement. A lot of organizations are represented but not all have the time or put in the effort. I've tried to be committed to Junior Achievement by attending meetings and events to make sure that individually and as a Company, we're contributing. I really believe in their mission. Giant Eagle was awarded as the Outstanding Board Company. I was really excited that we won. The award recognized our collective efforts.
Just recently, Giant Eagle earned a second award. We fall into a larger Junior Achievement chapter known as Western PA out of Pittsburgh. Someone had nominated me for the Rising Star Award, which recognizes a young professional for contributing to the great cause of Junior Achievement.
Why have you chosen to stay with Giant Eagle?
Our strength as a Company is attractive. We're always changing and adapting and trying new things. I appreciate seeing the Company grow with different programs like Curbside and fuelperks+. What's always been most important to me is Giant Eagle's strong community relations efforts. I help guide field trips in the stores. We're involved in the Heart Walk, local food banks, Junior Achievement and United Way. We do a lot of great things in the community and give back. I enjoy being a part of that.
What do you love most about your current role?
I think the Front End can be the heart and soul of any store. I always tell new Team Members that we can turn around a customer's experience at the checkout, but we can also do the opposite. Pressure can be high sometimes, but I enjoy the challenge. I like meeting the expectations every day and setting the bar higher. In the Front End, we work with all the different departments and I work hand- in- hand with the other Team Leaders all the time.
What work are you most proud of?
I've worked in at least eight Giant Eagle locations. No matter where I go, I've been able to leave a positive impact. Recently, I changed stores after about 2.5 years, and I felt very appreciated on my way out, and I hope that continues. I really try to make an impact on individuals and on the group. I try to do more than the basic requirements of my job because I want to leave a long-term impact.
"I think the Front End can be the heart and soul of any store. I always tell new Team Members that we can turn around a customer's experience at the checkout, but we can also do the opposite. Pressure can be high sometimes, but I enjoy the challenge."
- Andy, Front End Team Leader