Shift Manager
Req # 256791
Employment Status Full time
Department Warehouse & Distribution
Location OK Grocery Administration - Corporate Office
Address 755 Beechnut Drive Pittsburgh, PA 15205
Date posted 08/11/2021
In this fast-paced, energetic environment, our warehouse Team Members are always working behind the scenes to keep our shelves full of the great products our customers want and expect. We're looking for Team Members who understand the importance of safety and working together as a team.
Giant Eagle's Transportation & Warehouse Department consists of five perishable and non-perishable distribution centers in Cleveland, OH, and Pittsburgh, PA — American Seaway Foods, Butler Refrigerated Meats, Fresh Foods Manufacturing, HBC Service Co., and OK Grocery Co. — all of which help us serve more than 5 million customers annually at over 400 retail locations in Pennsylvania, Ohio, West Virginia, Maryland and Indiana.
Success Profile
What makes a successful Warehouse Team Member?
Detail-oriented
Efficient
Flexible
Productive
Responsible
Team player
Benefits
Medical

May be eligible for Medical benefits based on hours worked and location.

Dental

May be eligible for Dental benefits based on hours worked and location.

Health and Wellness Programs

Life Resources and online Wellness Programs for Team Members and their families.

401(k)
Retirement Plans

Must be at least 21 years of age to participate.

Paid Time Off

May be eligible for Paid Time Off based on hours worked and location.

Team Member Incentive

Incentives based on attendance and performance. May be eligible based on position and location.

Own Brand
Discounts

10% off own brand products.

Competitive Wages

Rate of pay varies based on position and location.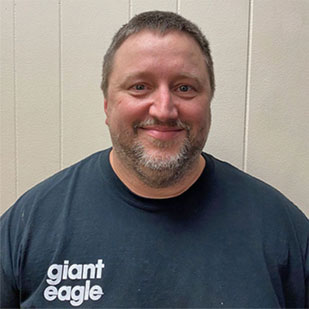 Terry,
Warehouse Selector & U.S. Navy Veteran
Giant Eagle has supported me financially. I was able to buy my own house, instead of renting and that feels wonderful!
Job Description
Job Summary
As a Shift Manager, you will manage distribution operations in a manner consistent with Company policies and procedures in order to cultivate a positive, engaged work environment with an emphasis on achieving production demands safely and efficiently in order to satisfy customer requirements.
Job Description
Experience Required: 5 to 10 years
Experience Desired: Five years experience in distribution operations in a supervisory / management capacity.
Education Required: Bachelors Degree
Travel Required: Regional - Daily, Less than 10%
Job Responsibilities
Actively promote an environment focused on safety, including a proactive and preventive focus on safety related issues pertaining to Team Members, products and equipment.
Monitor distribution center activities and immediately addresses safety issues and incidents.
Provide assistance to the Distribution Center Operations Manager by evaluating and recommending alternatives to work methods and procedures to continually improve the department and the operation.
Schedule distribution center Team Members and allocate job assignments to ensure production demands are accomplished in a safe and efficient manner.
Provide clear, definitive input and direction advocating constructive work processes, improved job knowledge, Team Member engagement and development for all distribution center Team Members on a shift.
Provide ongoing onboarding and training for newly hired Team Members by communicating Company expectations and constructive feedback.
Encourage commitment to Company values and goals by modeling professional behavior and fostering a long-term durable employment relationship.
Maintain reporting systems in order to provide distribution center management with accurate accounts of shift and production activities.
Monitor daily schedules and adjust staffing levels according to distribution center volume.
Maintain operational integrity of assigned shift — ensuring processes are effectively established, followed, monitored and optimized.
Engage counterparts and maintain communications with counterparts on other shifts to ensure continual, smooth operations.
Facilitate effective and timely communication to Team Members by being accessible, responsive and resolving issues in a timely manner.
About Us
At Giant Eagle Inc., we're more than just food, fuel and convenience. We're one giant family of diverse and talented Team Members. Our people are the heart and soul of our company. It's why we strive to create a nurturing environment that offers countless career opportunities to grow. Deep caring and solid family values are what makes us the one of the top work places for jobs in the Greater Pittsburgh, Cleveland, Columbus and Indianapolis Areas. From our Warehouses to our GetGo's, our grocery Stores through our Corporate home office we are working together to put food on shopper's tables' and smiles on their faces. We're always searching for the best Team Members to welcome to our family. We invite you to join our Giant Eagle family. Come start a lasting career with us.
Apply Now
Warehouse, Transportation & Manufacturing Opportunities
Our Warehouse, Transportation and Manufacturing Team Members serve more than 5 million customers every year, working to keep our supermarkets, GetGo's, and pharmacies stocked with the great products our guests expect. From our Warehouse Selectors to our CDL Drivers, and our Mechanics to our Distribution Supervisors, no matter your role, you will be surrounded by a dedicated team and supported by a company that helps turn jobs into careers.
No Recently Viewed Jobs here ...Yet
Please browse jobs on this site.
Then, you'll be able to see your recently viewed jobs here.
Sign up for Giant Eagle Job Alerts
Join our Talent Community and be the first to know about our job openings.