Class A CDL Driver Loader
Req # 253667
Rate of Pay $19.25
Department Warehouse & Distribution
Location OK Grocery Dry - Retail Support Center
Address 755 Beechnut Drive Pittsburgh, PA 15205
Date posted 07/15/2021
In this fast-paced, energetic environment, our warehouse Team Members are always working behind the scenes to keep our shelves full of the great products our customers want and expect. We're looking for Team Members who understand the importance of safety and working together as a team.
Giant Eagle's Transportation & Warehouse Department consists of five perishable and non-perishable distribution centers in Cleveland, OH, and Pittsburgh, PA — American Seaway Foods, Butler Refrigerated Meats, Fresh Foods Manufacturing, HBC Service Co., and OK Grocery Co. — all of which help us serve more than 5 million customers annually at over 400 retail locations in Pennsylvania, Ohio, West Virginia, Maryland and Indiana.
Success Profile
What makes a successful Warehouse Team Member?
Detail-oriented
Efficient
Flexible
Productive
Responsible
Team player
Benefits
Medical

May be eligible for Medical benefits based on hours worked and location.

Dental

May be eligible for Dental benefits based on hours worked and location.

Health and Wellness Programs

Life Resources and online Wellness Programs for Team Members and their families.

401(k)
Retirement Plans

Must be at least 21 years of age to participate.

Paid Time Off

May be eligible for Paid Time Off based on hours worked and location.

Team Member Incentive

Incentives based on attendance and performance. May be eligible based on position and location.

Own Brand
Discounts

10% off own brand products.

Competitive Wages

Rate of pay varies based on position and location.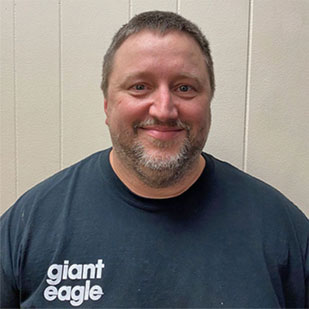 Terry,
Warehouse Selector & U.S. Navy Veteran
Giant Eagle has supported me financially. I was able to buy my own house, instead of renting and that feels wonderful!
Job Description
Job Summary
A Class A CDL Driver is responsible for the accurate, damage-free delivery of product via tractor trailers in an efficient and safe manner. Your work will help fill our stores' orders, meet delivery schedules and promote customer satisfaction.
Job Description
Experience Required: 1 to 3 years
Experience Desired: Basic knowledge of DOT regulations; One plus year(s) Class A CDL driving experience; City driving experience; Electric pallet jack experience; Electric pallet jack experience a plus
Education Required: High school diploma or equivalent
Certification or Licensing Required: Class A Commercial Driver's License (CDL), Must have no commercial DUI/DWI on record, Must have no personal DUI/DWI on record within previous 5 years.
Lifting Requirement: Up to 100 pounds
Travel Required: Regional - Daily, More than 50%
Age Requirement: At least 21 years of age
Job Responsibilities
Verify that the dock door and the trailer are safe and secured prior to unloading the trailer.
Have flexibility in scheduling and the availability to work the times, shifts, days and overtime needed to meet the company's production needs.
Meet and maintain established productivity standards.
Adhere to all company policies, procedures and safety rules – including the safe operation of equipment, following all company policies for the return and delivery process and helping to maintain a clean, safe working environment.
Ensure the proper Personal Protective Equipment (PPE) is utilized at all times.
Appropriately follow food safety procedures.
Perform other miscellaneous duties as needed and assigned.
Ability to read and speak English.
Ability to pass and maintain DOT medical requirements.
Drive tractor trailers in a safe and courteous manner.
Follow all local, state and federal driving laws and Department of Transportation regulations and promptly report all driving violations to company management.
Load and unload pallets, products and equipment using pallet jacks according to proper procedures.
Possess the ability to push, pull, lift and carry up to 100 lbs.
Build positive relationships with store personnel by working efficiently, assisting customers in the unloading process, communicating issues effectively and accepting feedback.
Provide excellent customer service by interacting in a professional, friendly and helpful manner while in the stores.
Communicate with logistics and warehouse operations personnel to efficiently facilitate the dispatching process.
Communicate with supervision regarding safety, equipment, damaged goods and any problems or issues that may arise.
Perform safety checks on equipment at appropriate times, including trailer temperature checks.
About Us
At Giant Eagle Inc., we're more than just food, fuel and convenience. We're one giant family of diverse and talented Team Members. Our people are the heart and soul of our company. It's why we strive to create a nurturing environment that offers countless career opportunities to grow. Deep caring and solid family values are what makes us the one of the top work places for jobs in the Greater Pittsburgh, Cleveland, Columbus and Indianapolis Areas. From our Warehouses to our GetGo's, our grocery Stores through our Corporate home office we are working together to put food on shopper's tables' and smiles on their faces. We're always searching for the best Team Members to welcome to our family. We invite you to join our Giant Eagle family. Come start a lasting career with us.
Apply Now
Warehouse, Transportation & Manufacturing Opportunities
Our Warehouse, Transportation and Manufacturing Team Members serve more than 5 million customers every year, working to keep our supermarkets, GetGo's, and pharmacies stocked with the great products our guests expect. From our Warehouse Selectors to our CDL Drivers, and our Mechanics to our Distribution Supervisors, no matter your role, you will be surrounded by a dedicated team and supported by a company that helps turn jobs into careers.
No Recently Viewed Jobs here ...Yet
Please browse jobs on this site.
Then, you'll be able to see your recently viewed jobs here.
Sign up for Giant Eagle Job Alerts
Join our Talent Community and be the first to know about our job openings.