Custodian
Req # 272597
Rate of Pay $13.50
Employment Status Full time
Department Warehouse & Distribution
Location Freedom Road Warehouse - Retail Support Center
Address 2500 Lovi RD Freedom, PA 15042
Date posted 01/27/2022
In this fast-paced, energetic environment, our warehouse Team Members are always working behind the scenes to keep our shelves full of the great products our customers want and expect. We're looking for Team Members who understand the importance of safety and working together as a team.
Giant Eagle's Transportation & Warehouse Department consists of five perishable and non-perishable distribution centers in Cleveland, OH, and Pittsburgh, PA — American Seaway Foods, Butler Refrigerated Meats, Fresh Foods Manufacturing, HBC Service Co., and OK Grocery Co. — all of which help us serve more than 5 million customers annually at over 400 retail locations in Pennsylvania, Ohio, West Virginia, Maryland and Indiana.
Success Profile
What makes a successful Warehouse Team Member?
Detail-oriented
Efficient
Flexible
Productive
Responsible
Team player
Benefits
Medical

May be eligible for Medical benefits based on hours worked and location.

Dental

May be eligible for Dental benefits based on hours worked and location.

Health and Wellness Programs

Life Resources and online Wellness Programs for Team Members and their families.

401(k)
Retirement Plans

Must be at least 21 years of age to participate.

Paid Time Off

May be eligible for Paid Time Off based on hours worked and location.

Team Member Incentive

Incentives based on attendance and performance. May be eligible based on position and location.

Own Brand
Discounts

10% off own brand products.

Competitive Wages

Rate of pay varies based on position and location.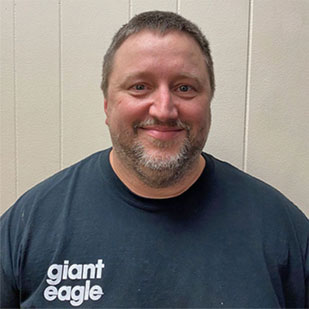 Terry,
Warehouse Selector & U.S. Navy Veteran
Giant Eagle has supported me financially. I was able to buy my own house, instead of renting and that feels wonderful!
Job Description
Job Summary
MONDAY thru FRIDAY. Two shifts available: 7:00 am & 2:30 pm. PM shift receives an additional $2.00 per hour for the second shift start time. Custodians are responsible for various sanitation duties and custodial services. The Custodial Team keeps our environment looking its best each day and that it is clean and maintained in a safe and professional manner.
Job Description
Experience Required: 0 to 6 months
Education Required: No High School diploma required
Lifting Requirement: Up to 100 pounds
Age Requirement: At least 18 years of age
Job Responsibilities
Always maintain safety as a top priority in all aspects of work.
Complete custodial and maintenance duties as required for the assigned location. These tasks can include, but are not limited to, cleaning, sweeping, mopping, scrubbing floors, trash removal, sanitizing floors, and maintaining the interior and exterior of the building.
Ensure that the required areas of the building are safe and properly for all Team Members, guests, and products.
Follow all instructions regarding the use of chemicals and supplies.
Always adhere to Company safety guidelines.
Possess the ability to push, pull, lift and carry up to 100 lbs.
Be able to safely and comfortably use all required equipment for the assigned location.
"
About Us
At Giant Eagle Inc., we're more than just food, fuel and convenience. We're one giant family of diverse and talented Team Members. Our people are the heart and soul of our company. It's why we strive to create a nurturing environment that offers countless career opportunities to grow. Deep caring and solid family values are what makes us the one of the top work places for jobs in the Greater Pittsburgh, Cleveland, Columbus and Indianapolis Areas. From our Warehouses to our GetGo's, our grocery Stores through our Corporate home office we are working together to put food on shopper's tables' and smiles on their faces. We're always searching for the best Team Members to welcome to our family. We invite you to join our Giant Eagle family. Come start a lasting career with us.
Apply Now
Warehouse, Transportation & Manufacturing Opportunities
Our Warehouse, Transportation and Manufacturing Team Members serve more than 5 million customers every year, working to keep our supermarkets, GetGo's, and pharmacies stocked with the great products our guests expect. From our Warehouse Selectors to our CDL Drivers, and our Mechanics to our Distribution Supervisors, no matter your role, you will be surrounded by a dedicated team and supported by a company that helps turn jobs into careers.
No Recently Viewed Jobs here ...Yet
Please browse jobs on this site.
Then, you'll be able to see your recently viewed jobs here.
Sign up for Giant Eagle Job Alerts
Join our Talent Community and be the first to know about our job openings.