A Strong Commitment to

Team Members Who Are Differently Abled

Giant Eagle has a history of hiring Team Members who are differently abled. In fact, for the past 30 years, we've been committed to, and are incredibly proud of hiring, training and supporting these Team Members.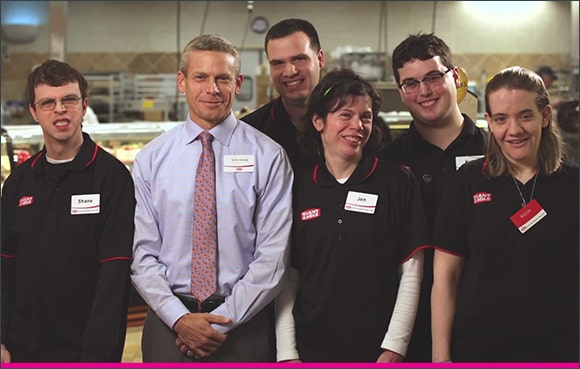 Hi I'm Laura Karet, I'm the Chief Executive of Giant Eagle. At Giant Eagle our mission is together we improve people's everyday lives and wellbeing. And to me that's based on two key things. One is a fundamental respect for people, and the second is the belief that, I often think of my grandmother when I think of this, that you can make the world a little bit better place than what you found it. Giant Eagle we have been committed to hiring people with a whole range of disabilities for over 30 years and it has been a really valuable part of what we do every day. We are committed to giving folks who have special challenges opportunities to contribute to making the world a better place every single day. I'm Katie, I have worked at Pine Creek Giant Eagle for 13 years. Hi, my name is Jen. I work for Giant Eagle. I pack groceries and I cheer people up. If they are in a bad mood, I tell them to start being in a happy mood. I work as a cashier, bagger, collect baskets, put stuff away, coupons, and clean registers. I like to make people happy, make them smile, and I also like to help people out to their cars and their carts. I think it's part of a second family working here. Eric has been a Team Member with Giant Eagle for 6 years. He and his parents moved to Pittsburgh from Tucson, Arizona. Eric is part of the maintenance team at the Monroeville Giant Eagle, and is responsible for cleaning the store. He takes great pride in his work and is well liked by everyone. I thought the other places he has worked, being that he does have a disability, just kind of left him alone. But since he has been here I have noticed a difference in his vocabulary so it makes me very proud. Like I say, I am just so happy he is here. It is a special place to work and everything. I am going to be working here as long as I can. I feel honored and proud to work for a company that gives everyone an opportunity to be a part of the team and to join the team and to be a vital part of the organization. Shane has worked for Giant Eagle for 9 years at the Pine Creek store as a bagger. His fellow Team Members, Supervisors, and Customers describe him as one of the most positive people they've ever known. Once in a while some of the people down in the HAPPY LINE? , we get together and sing happy birthday and the doo-op song. "Hey baby, Hey baby. Sing a little song. Hey baby. Hey baby. Sing a little song. Hey baby, Hey baby. One, Two. Tell me that you love me. Yeah." If you are having a bad day or something goes on, come see me here at Pine Creek Giant Eagle down at the Happy Line. At Giant Eagle, we will remain committed to hiring Team Members with disabilities. It's part of our common purpose, and it's reflected in our core values. We thank and appreciate all companies who are committed to hiring people with disabilities. And if it's not one of your current priorities, we hope that you will reconsider.
END OF TRANSCRIPT
Building Our Network
Our promise to provide meaningful roles has led us to build a network of support. Today, we have four community professionals working with us to help hire and assist a growing number of Team Members who are differently abled.
Some of our principle partners include:
Blind and Vision Rehabilitation Services, Pittsburgh
ACHIEVA, Pittsburgh
New Avenues to Independence, Cleveland
Goodwill, Columbus
To date, we have hired more than 250 Team Members as a result of these liaisons and specialists, and we are planning for many more.
Advocating for Advancement
Giant Eagle continually advocates for the advancement of our Team Members who are differently abled. For example, to better understand how to work with Team Members, customers and others who may be living with impaired vision, Giant Eagle held an education session for Team Members on challenges related to low vision or blindness.
In several Pittsburgh GetGo locations, we are offering competitive employment opportunities for people with more significant challenges in an effort to help them transition out of sheltered workshops.
In October 2016, in conjunction with National Disability Employee Awareness Month, Giant Eagle and the Abilities Business Resource Group participated in National Disability Mentoring Day, which involved partnerships with several area schools. Students visited Giant Eagle locations to see what it was like to work in our stores for a day.
Giant Eagle is very grateful for our Team Members who are differently abled and the many positive contributions they bring to our company and our business every day. We look forward to continuing these integral relationships.