Our Culture
At Giant Eagle, we are one family of diverse and talented Team Members. Together, we provide our communities with life's essentials, so our neighbors have the opportunity to thrive. Our people are the heart and soul of our company. We strive to live out our Core Values daily: Respect All, Think Team, See It Own It, Work Smart, Live Well, and Do Right, and create a nurturing environment that offers countless career opportunities to grow. As an inclusive workplace, we celebrate our differences, which makes us the one of the top workplaces for jobs in the Greater Pittsburgh, Cleveland, Columbus and Indianapolis Areas. From our grocery stores, pharmacies, and GetGos to our warehouses and offices, we are working together to help feed families with fresh, wholesome food, promote wellness, and genuinely care for our neighbors. We're always searching for the best Team Members to welcome to our family. We invite you to start a lasting career with us!
Purpose Beyond Profit Statement
We have replaced our Common Purpose with a new set of guiding principles that we refer to as our Purpose Beyond Profit Statement. Our Purpose Beyond Profit serves as both a mission and a vision statement combined, and in summary states: We are one Giant Eagle Family. Together, we provide our communities with life's essentials, so our neighbors have the opportunity to thrive. The entire statement is included below.
We believe access to safe, healthy food and medicine is an essential human right.
We believe EVERYONE deserves respect.
We believe future generations deserve a healthy planet.
And for those who commit to join our Giant Eagle family;
we will apply all our talents and gifts to this challenge, we will invent new solutions, we will create jobs and careers, we will feed our communities and together, we will create a better world!

Ever since our company was founded in 1931, we have been committed to serving others and improving our communities. Our deep commitment to respect all and care for our Team Members, guests, and neighbors will always remain. As we continue to evolve and grow as individuals and as one Giant Eagle family, our Core Values and Purpose must continue to inspire us, shape our culture, and speak to the world around us, which is why we have recently refreshed our values. The updated Core Values are included below.
respect all
We go out of our way to treat our guests and one another with kindness and dignity.
think team
We value different viewpoints and love working together as family.
see it own it
We keep our heads up, see opportunity and take action.
work smart
We find ways to simplify.
live well
We help everyone live a healthy, balanced life.

do right


We are ethical, giving, and good stewards of the world around us.
Our History
Giant Eagle began in the hearts and spirits of five men in Pittsburgh more than 85 years ago. They began our business as a small, local chain, characterized by innovation and a competitive drive. Under their direction and example, our company helped pioneer the first true supermarkets. And we're still led by the original families. Today, with over 200 locations, we meet the needs of our customers and communities throughout Pennsylvania, Ohio, West Virginia, Maryland and Indiana.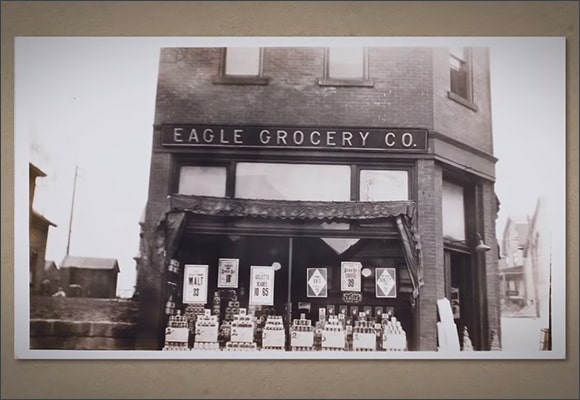 Passion. Hard work. Innovative mindset. Competitive spirit. The foundation of today's Giant Eagle was built upon these qualities. Qualities that made up the character of the men who started it all. In the early 1900s, five determined entrepreneurs (Benjamin Chait, Joseph Porter, Joseph Goldstein, Hyman Moravitz, and Morris Weizenbaum) set out to create meaningful work for themselves and to build a better life for their families and their communities. Four of the men (Chait, Porter, Moravitz, and Weizenbaum) immigrated to Pittsburgh from Eastern Europe. Goldstein was born in Pittsburgh's Lower Hill district. The Goldstein, Porter and Chait families opened a small company and called it Eagle Grocery. Over the years, that company grew steadily to 125 stores. In 1928, the family sold Eagle Grocery to the Kroger Company. As part of their arrangement, the three families agreed to stay out of the grocery business for three years. While Eagle Grocery was busy growing its chain of stores, two other families (Moravitz and Weizenbaum) had also been building their own successful store chain named OK Grocery. In 1931, recognizing the potential for even greater prospects and with a shared commitment to their customers, the five families (Chait, Porter, Goldstein, Moravitz, and Weizenbaum) joined forces and the first Giant Eagle store opened in Pittsburgh in 1936. In local Pittsburgh area neighborhoods throughout the 1930s and 1940s, Giant Eagle's popularity grew as both Giant Eagle Supermarkets and OK Grocery Food Stores. Being that this growth took place during the challenging times of the Great Depression and World War II, is a testament to the stores' value and commitment to customer service. As soldiers returned home and America found new prosperity, so did Giant Eagle. The five founders passed along their innovative spirit to the second generation of Giant Eagle leaders who continued their steadfast commitment to entrepreneurism and care for their workers and their communities. These leaders (Irwin Porter, Stanley Moravitz, Norman Weizenbaum, Saul Shapira, and Milton Chait) were responsible for leading Giant Eagle through monumental growth in the late 1950s and 1960s. During his 30+ years as chairman, Chief Executive Officer, and president, David Shapira (a third generation family member) along with Board Members: Gerald E. Chait, Edward Moravitz, Charles Porter, Norman Weizenbaum, Charles C. Cohen, Alan Guttman, and Farrell Rubenstein; positioned Giant Eagle as an industry leader and took the company from a local chain of 50 grocery stores in the early 1970s to an organization with more than 400 locations and $10 billion in revenue. Now, in it's fourth generation of family leadership, Laura Karet remains committed to serving our four loyal constituents: Our Team Members, Our Customers, Our Communities, and Our Shareholders, focusing on the company's long-term success and innovative growth. While there has been much growth and change over Giant Eagle's 82 year history, some things have remained the same. That sense of community and family, our company is still owned by the original five families who remain actively involved today. The Passion, Hard work, Innovative mindset, and Competitive spirit of our five founders is still reflected in our Giant Eagle family, our more than 36,000 dedicated and talented team members who work in our stores, retail support centers, and offices. In recognition of what these founding families have achieved, we should all take pride in the contributions we make daily to continue their inspiring legacy. Giant Eagle..
END OF TRANSCRIPT