Giant Eagle Bengaluru Global Capability Center
A Growing Global Team That Feels Like a Family
Since our founding in 1931, Giant Eagle is committed to serving others and improving our communities. As we continue to evolve and grow, our Core Values and Purpose continue to inspire us, shape our culture, and speak to the world around us. We are committed to investing in people, technology, and data to elevate our customer's experience across multiple touchpoints. As we continue to grow, we realize where we find talent needs to grow as well. We are currently undertaking a large organization-wide transformation exercise to make data and analytics drive real-time decision making, and that is where our team in India will help support our 400+ stores across distinct categories like grocery, convenience retail, and pharmacies. And, even though our new team is across the globe, you'll feel like one of our neighbors down the street because of our investment in tools and technology that allow us to have face-to-face interaction with everyone on our Teams.
You Support Our Stores and We Support You
Giant Eagle is where you can come for a job but stay for a career. It's a place where you grow, learn, and thrive on a team that feels like family. At our core are the values, purpose, and commitment every Team Member gives no matter their role. It also encompasses the freedom that comes from working in an environment where you are valued for who you are and expected to share and learn from those around you. We focus on supporting your whole self – from professional growth to living well. We provide a collaborative environment where you and your Team Members are encouraged to share ideas and work together – and that's true across all our corporate locations, including Bedford Heights, OH, Carmel, IN, Pittsburgh, PA, San Francisco, CA, and now Bengaluru, India! The Giant Eagle Team in India will enable Giant Eagle to further expand its internal capabilities in the areas of Data & Analytics, Engineering, Merchandising, and QA to name a few. Our Team Members in India will be relied on to help the Company generate better insight and accelerate our business strategy.
Who Are We Looking For?
We are looking for the brightest minds to push boundaries and bring leading-edge ideas to life. If developing solutions for inventory robots, groundbreaking eCommerce technology, and pharmacy robots sounds like your next challenge, then we are looking for Team Members who will let their creativity and ingenuity run wild.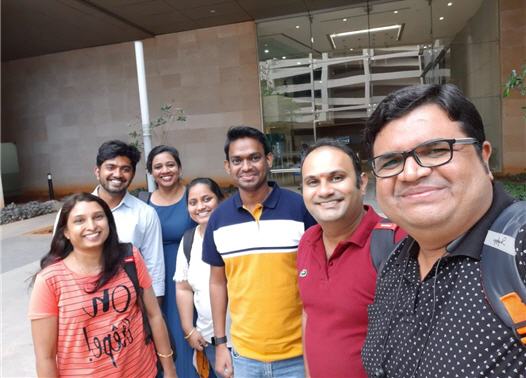 Why Join Giant Eagle India?
Business Areas We Are Hiring For
It's So Much More.

Grow. Learn. Thrive.

Giant Eagle is where you can feed your career. At Giant Eagle you are so much more than an employee. You are part of the Family.