Corporate
You support our stores – and we support you.
Just as we do for our customers, we go above and beyond for you. We see you as so much more than a corporate employee. Giant Eagle supports your whole self – from professional growth to living well. We provide a collaborative environment where you and your Team Members are encouraged to share ideas and work together. Because teamwork is the foundation for success here at Giant Eagle – and that's true across all of our corporate locations, including Bedford Heights, OH; Carmel, IN; Pittsburgh, PA (Lawrenceville and RIDC Park).
You're up to the challenge
Giant Eagle seeks people who can solve problems and motivate others to get results. If you know of a different way to go to market or a better way to make life simpler for our customers, tell us. We want you to try new things and challenge the status quo. We pioneered the "supermarket" concept decades ago. Thanks to people like you, we continue to reinvent ourselves, and the industry.
Join us now in one of these Corporate career areas:
Accounting/Finance
Human Resources
Marketing
Retail/Pharmacy Operations
Sourcing
E-Commerce
Information Technology
Merchandising
Risk Management
Distribution and Logistics
Legal
Real Estate and Store Planning
Safety/Risk Management
Department Spotlights
Marketing & Merchandising
Marketing and Merchandising are undergoing extremely rapid growth at Giant Eagle. Career advancement opportunities are available for entry-level and experienced professionals who thrive on high-energy, fast-paced work. Experience in grocery/food, retail or consumer packaged goods is a plus.
Explore Marketing & Merchandising Jobs
IT & e-Commerce
It's not just IT and e-commerce, it's so much more! From robots to self-scanning tools to mobile apps, our opportunities bring bright minds together to push boundaries in the supermarket, warehouse, pharmacy and convenience industries. Get more out of your career by joining a team that you can grow and thrive in. Apply today!
Giant Eagle Bengaluru Global Capability Center
Giant Eagle is undertaking a large organization-wide transformation exercise to make data and analytics drive real-time decision making – this is even more important in current times. We are looking for the brightest minds to push boundaries and bring leading-edge ideas to life. From developing inventory robots to groundbreaking eCommerce technology, Team Members who join our Team in India will be supported from day one so they can worry about one thing; launching something bigger than we could ever imagine to disrupt the supermarket, convenience retail, and pharmacy industries.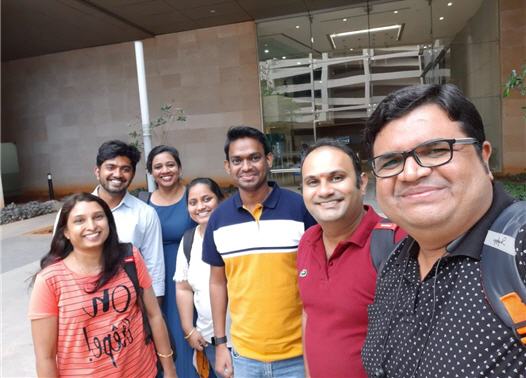 Giant Eagle Bengaluru Global Capability Center
Bhartiya Centre of Information Technology
Tower 2, 2nd Floor
Thanisandra Main Rd
Kannuru, Bengaluru, Karnataka 560064