2019 GIANT EAGLE ANNUAL AWARDS: YOUNG PROFESSIONAL RISING STAR AND INCLUSION & DIVERSITY LEADERSHIP AWARDS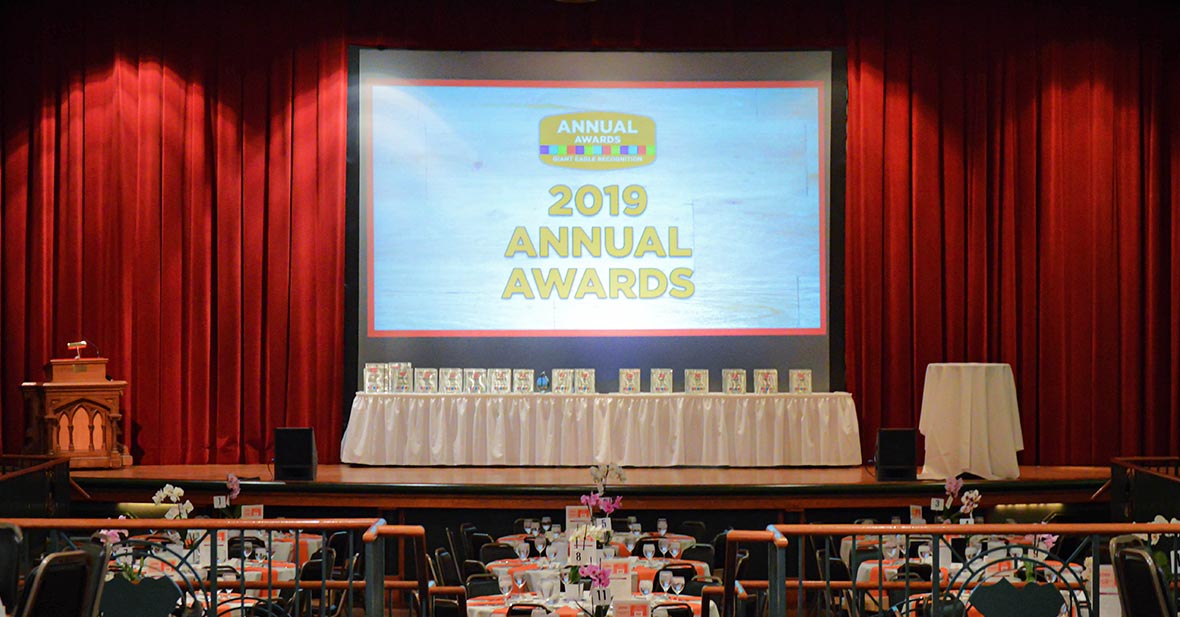 The Giant Eagle Annual Awards Program is designed to recognize Team Members and locations that deliver exemplary work throughout our Organization. At the end of each fiscal year, we pause to recognize and celebrate these many outstanding contributions.
We are proud to offer this Program that honors our Team Members who live out our Common Purpose: Together, we improve people's everyday lives and well-being and our Core Values: Be Kind, Think Team, Step Up, Work Smart and Live Well. We know that we are a better Company because of the collective efforts of our hard-working, dedicated Team Members who take the time to make a difference at work and in their communities.
Young Professional Rising Star Award
The Young Professional Rising Star Award went to three committed Giant Eagle Young Professionals that have made a difference in our Company over the past year.
Jessica Shoben was recently promoted to Executive Store Leader at the Robinson Market District. Prior to that promotion, Jessica was a Senior Dual Store Leader in the West Virginia market. In that role, Jessica achieved a safety result of zero DARTS in both stores, which means that no Team Member lost time off work due to an accident through 11 periods. Jessica's retail index results in one of her locations increased 5% vs. last year, exceeding the store's FY19 goal. Sales in both locations that Jessica was managing continued to increase during some of the most challenging times in the Retail Food industry. Jessica's commitment to consistent and reliable communication through daily huddles, weekly meetings, and postings have supported a positive change in morale and operations of both locations.
The second winner is Jennifer Hass, Director of Real Estate. Jen is responsible for the growth in our new GetGo stores. Not only has she built a large pipeline of new store projects, but she also was integral to the Ricker's due diligence and harmonization efforts, which added nearly 60 stores and sites to the GetGo portfolio. Jen is a key player in delivering on the real estate aspect of our five-year strategy. Jen is always "Thinking Team" while building a larger group of Team Members around her to help meet the goals. She also must work across disciplines with groups such as Construction, Design, Engineering, and Marketing to create a cohesive program to help take GetGo to the next level.
Our third and final awardee in this category is Christene Darr, Financial Manager, Sourcing. Christene played a key role in the vendor-focused Category Factory process. As the merchandising teams negotiated new funding deals with their vendor partners, Christene was tasked with finding the answer of how to account for all of the new deals, track their impact to the monthly financials and hold the Company accountable. As the Factory started, Christene created Term Sheets. These sheets were the records through which every negotiation that took place in the factory were documented. Christene met with each merchant, training them on the new process and documents, and then tracked every negotiated term sheet. Communication challenges presented themselves, but Christene collaborated across the Company and stepped out of her comfort zone to clarify the work and the potential of the factory. Christene's work ensured that the savings, cost changes and income hit our books correctly.
Congratulations to Jessica, Jennifer and Christene! Thank you for your many contributions to Giant Eagle and GetGo!
Inclusion & Diversity Leadership Award
This year's Inclusion & Diversity Leadership Award goes to our Team Members who comprise the Pride Event Team.
Steven Davies
Vincent Donofrio
Melinda Gaus
Brandon Howard
Kim Machi
Cory Schraffranek
Kimberly Shroyer
Susan Simpson
Stephen Soehl
Participating in Pride Events shows support for LGBTQ Team Members and customers and demonstrates Giant Eagle's commitment to be an inclusive and diverse Company. The Pride Event Team coordinated the Team Member-oriented Pride events for this year. We had record Team Member participation this year. For the first time, we hosted an event for our Team Members in Indiana. In Cleveland, we held a joint breakfast event for Team Members with our partners at Huntington Bank. We had marchers pass out candy and wristbands and the Team Members at our Robinson Market District put together "swag" bags for the Pittsburgh Parade participants.
Congratulations to our Pride Event Team, and thank you for your outstanding efforts!
Check out photos from the Awards Luncheon here: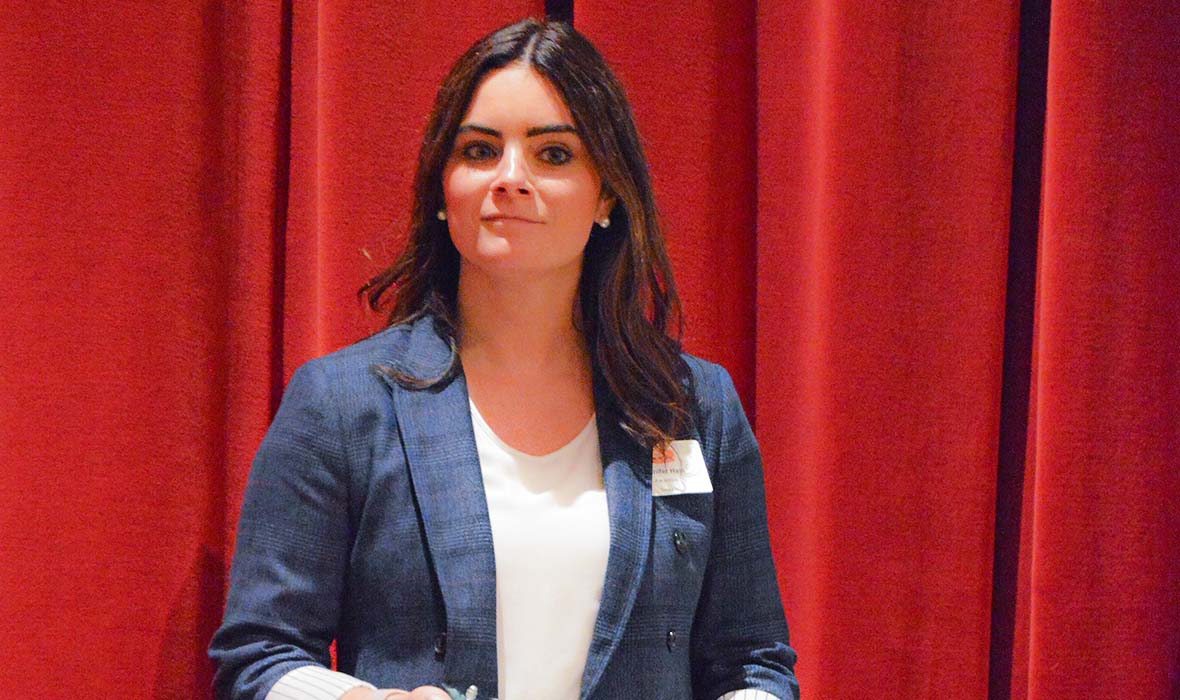 Jennifer Hass accepting her Young Professional Rising Star Award.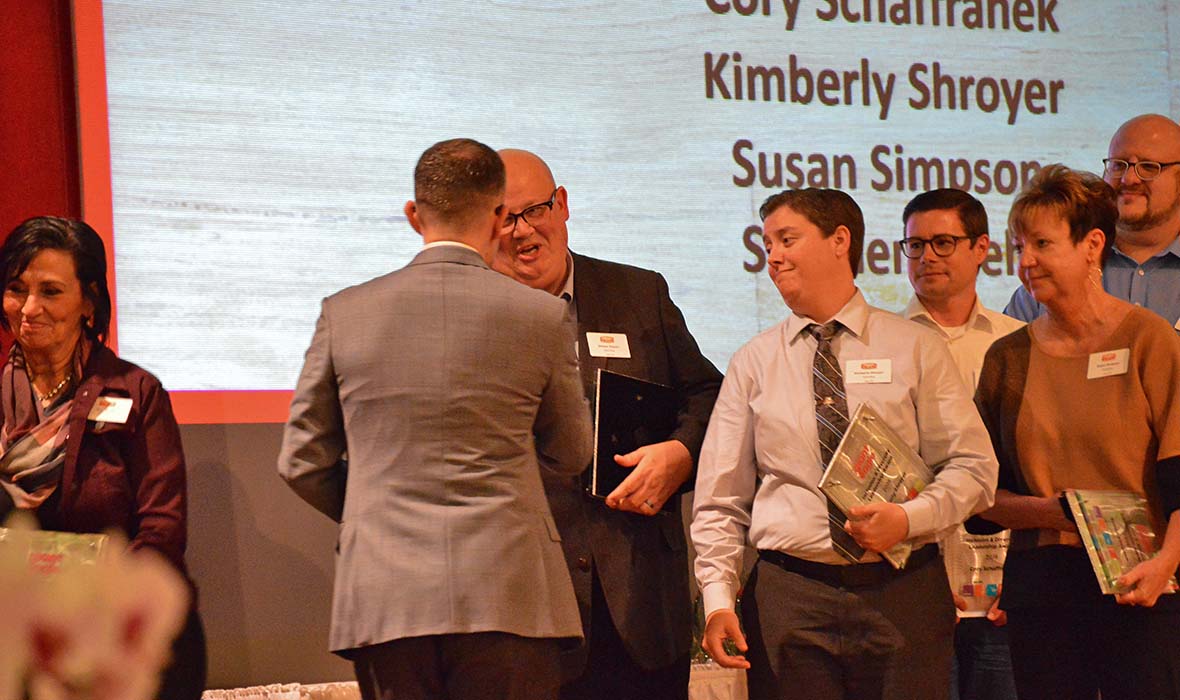 Jeremy Shapira, Strategy Manager, Inclusion and Diversity presenting the Pride Event Team with the Inclusion & Diversity Leadership Award.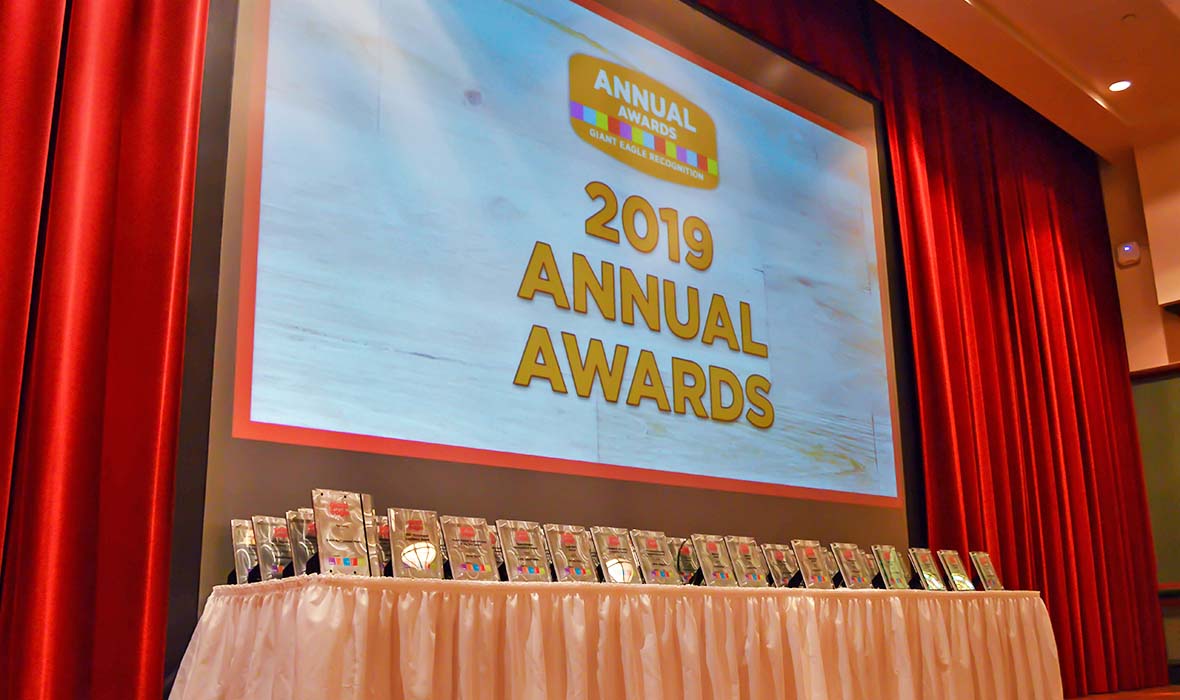 Giant Eagle's 2019 Annual Awards Program and awards table.