2019 GIANT EAGLE ANNUAL AWARDS: GUEST SERVICE TEAM MEMBER OF THE YEAR & FRIEDA G. SHAPIRA COMMUNITY SERVICE FOR INDIVIDUAL ACHIEVEMENT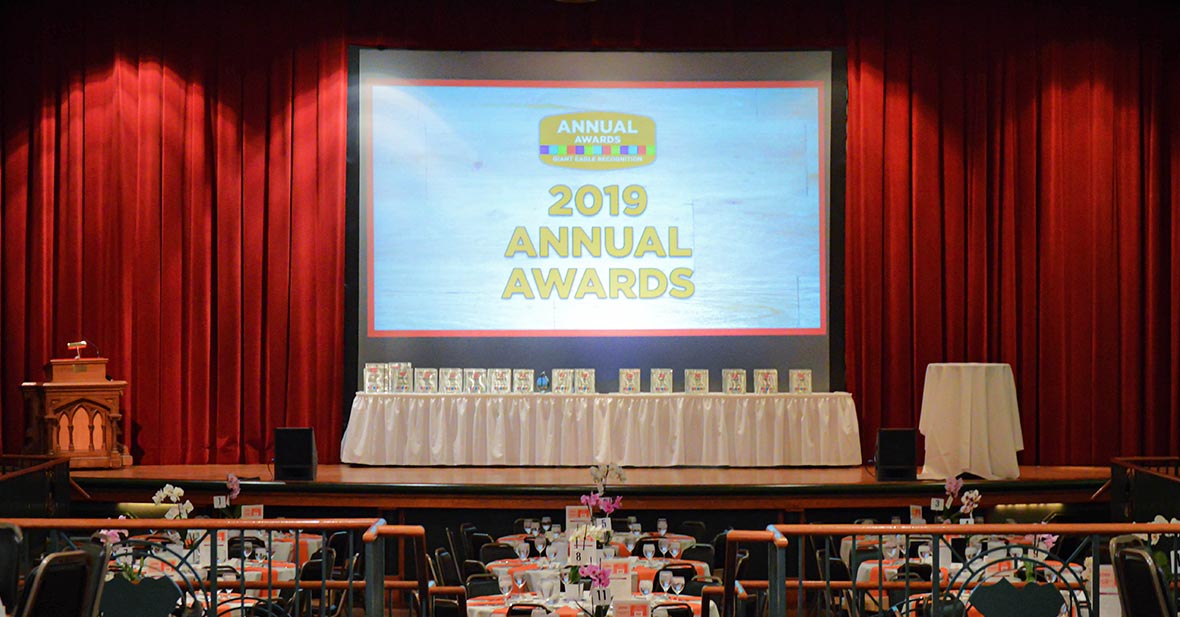 The Giant Eagle Annual Awards Program is designed to recognize Team Members and locations that deliver exemplary work throughout our Organization. At the end of each fiscal year, we pause to recognize and celebrate these many outstanding contributions. Be sure to stop back next week, as we'll continue to recognize a selection of this year's Annual Awards winners!
We are proud to offer this Program that honors our Team Members who live out our Common Purpose: Together, we improve people's everyday lives and well-being and our Core Values: Be Kind, Think Team, Step Up, Work Smart and Live Well. We know that we are a better Company because of the collective efforts of our hard-working, dedicated Team Members who take the time to make a difference at work and in their communities.
Guest Service Team Member of the Year
Our Guest Service Team Member of the Year is someone who is often referred to as a "pioneer" for going the extra mile to provide the greatest guest experience possible. Her day begins with a smile and a simple "Hello" to every Team Member and Guest she interacts with. Kim Machi serves as the Customer Service champion for Settlers Ridge Market District and is always coming up with clever ways to make sure service is the top priority and that it always comes before task. Kim's efforts have helped move the Retail Index 5% in the last two years. This is no small task. Kim is passionate about providing the greatest experience possible – to Team Members and guests.
Congratulations Kim! Thank you for all that you do!
Frieda G. Shapira Community Service for Individual Achievement
The Frieda G. Shapira Be Kind Awards were named after one of our founding family's late grandmother. Frieda G. Shapira cared deeply about her family, friends, and her community and was committed to serving others and making the world a better place. The Frieda G. Shapira Community Service Award for Individual Achievement was awarded to two individuals this year.
The first awardee is Adrienne Baldini, Director of Pharmacy Central Services. For the past three to four years, Adrienne has been the driving force behind the very successful Pharmacy Team Leader meeting basket auction raising money for the Team Member Care Fund. Typically, in September, the Pharmacy Team has their annual Team Leader meetings where they come together and celebrate successes of the past year, reveal the business plan for the next fiscal year and have some fun while supporting the Giant Eagle Team Member Care Fund. Each year it gets bigger and better. At the meetings, gift cards, merchandise and services are generously auctioned off. Last year, they raised more than $12,500! Adrienne coordinates this event and ensures it runs smoothly. In addition to her work in support of the Team Member Care Fund, Adrienne is a trusted resource for many within the Pharmacy team.
The second recipient is Mike Smith, Sr. Dual Store Leader in Cleveland. Mike's involvement in the community, not only in the last year, but during the last several years has gone above and beyond the expectations asked of a Store Leader or an executive. Not only has Mike demonstrated leadership within the communities in which he leads, but he has had a major impact on the total North division. Mike has championed the Junior Achievement Bowl-A-Thon for all three regions in the North for the past six years. Not only has he organized and been the champion for the cause regarding fundraising, Mike has dedicated countless hours to all four events each Spring. Mike has also dedicated his time to Junior Achievement Events outside of Giant Eagle. Just this past year, the collective events raised close to $30,000. This year Mike was also selected as the champion for the Harvest for Hunger campaign that took place this past Spring. His leadership efforts assisted in drawing in $980,000 that will assist in feeding 3,920,000 hungry men, women and children in North East Ohio. As a leader in the community, Mike "Steps Up" by embracing community involvement and delivering results for our partnering community organizations.
Congratulations to both Adrienne and Mike! We thank you for your commitment to serving others.
Check out photos from the Awards Luncheon here: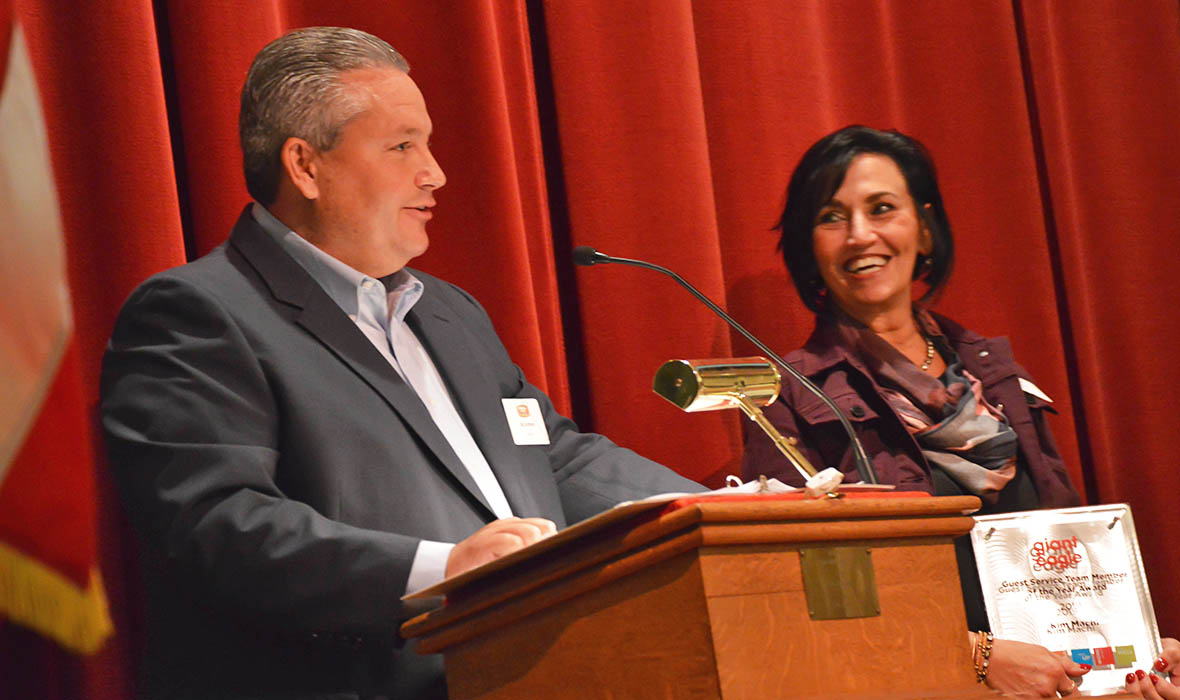 Bill Artman, Senior Vice President of Retail Operations, presenting Kim Machi with her Guest Service Team Member of the Year Award.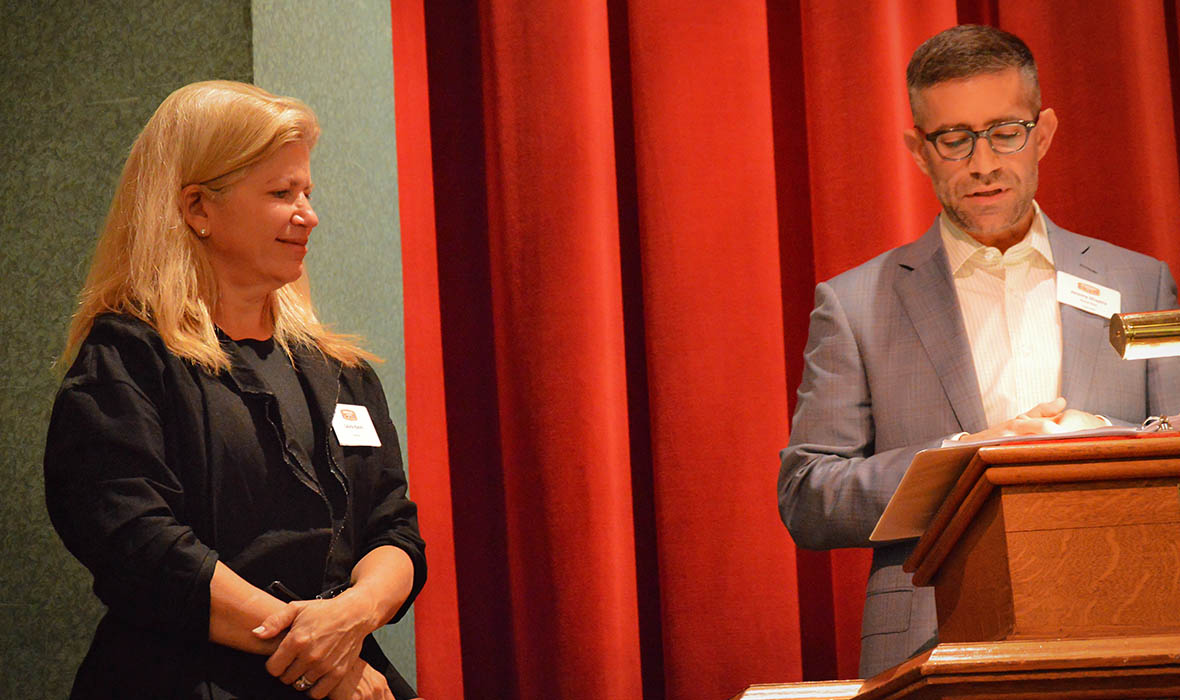 Laura Karet, President & CEO, Jeremy Shapira, Strategy Manager, Inclusion and Diversity, and Joshua Shapira, Area Operations Manager (not pictured) presenting the Frieda G. Shapira Community Service for Individual Achievement Awards.