2019 GIANT EAGLE ANNUAL AWARDS: CELEBRATING OUR TEAM MEMBERS' SUCCESSES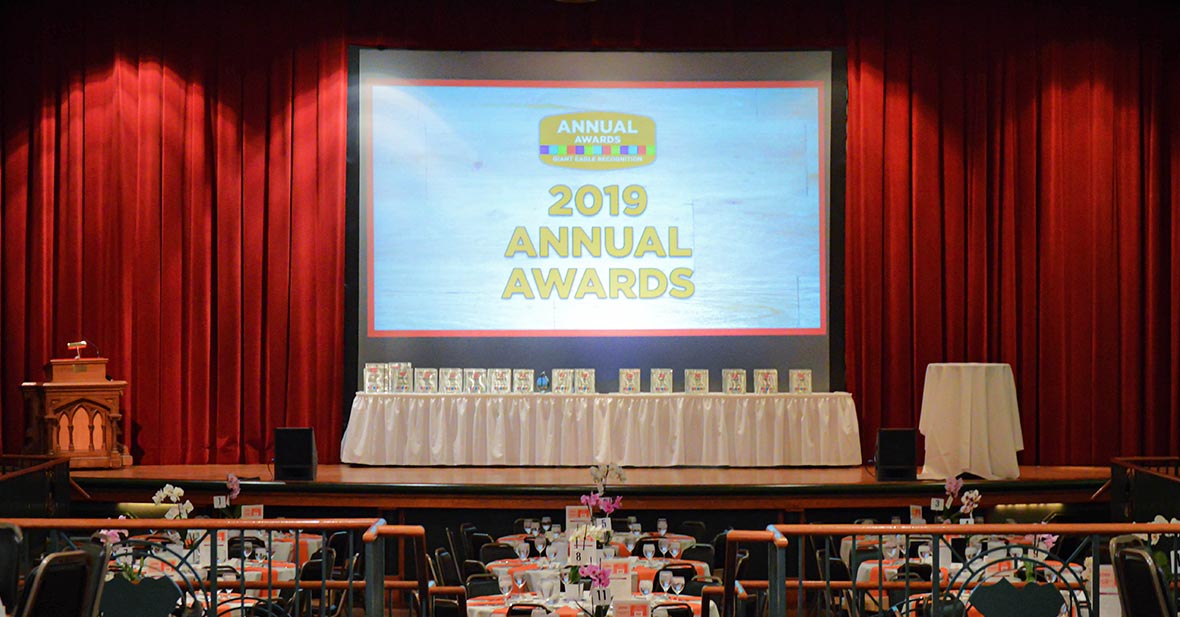 The Giant Eagle Annual Awards Program is designed to recognize Team Members and locations that deliver exemplary work throughout our Organization. At the end of each fiscal year, we pause to recognize and celebrate these many outstanding contributions. Be sure to stop back, as we'll be recognizing a selection of this year's Annual Awards winners over the next several weeks!
We are proud to offer this Program that honors our Team Members who live out our Common Purpose: Together, we improve people's everyday lives and well-being and our Core Values: Be Kind, Think Team, Step Up, Work Smart and Live Well. We know that we are a better Company because of the collective efforts of our hard-working, dedicated Team Members who take the time to make a difference at work and in their communities.
Team Member Development Awards
The strongest leaders are those who care about the development of their teams and the fellow Giant Eagle Team Members they mentor and guide. The Team Member Development Award recognizes those leaders that go above-and-beyond to strengthen our Giant Eagle family.
Our first honoree is Amanda Graaf-Kurta, Executive Store Leader at Market District #4086, Strongsville. During the past year, Amanda stepped up in countless ways to guide, develop, and mentor both Team Members and Team Leaders throughout our organization. Amanda is currently mentoring 9 individuals where she provides advice, feedback, and guidance for them to take the next step in their career. For the last three years, she has also stepped up to serve as a mentor for the Retail Internship Program. Within the last year, 9 Team Members and Leaders were promoted from Amanda's building.
Our second honoree is Tonya Anysz, Store Leader at GetGo #3438 and Regional Master Trainer. She devoted countless hours and considerable time over the past year teaching and training more than 8 Leaders to manage their own GetGo locations. She insists on active Development Action Plans, is focused on meaningful Success Dialogues, and is committed to the growth and development of her in-store Teams. This is evident by her strong growth and development score on the Team Member Point of View survey. Tonya serves as a positive role model Company-wide, as well as in the community.
Our final honoree in this category is Cory Schaffranek, GetGo Central OPS Specialist. Under Cory's leadership, 3 leads were developed and promoted to Assistant Store Leaders. Additionally, Cory taught numerous master university classroom training sessions to ensure that our Leaders were well-prepared to execute their new responsibilities. Cory also managed the Master Trainer Program in the interim for the first half of FY19 when GetGo was without a Training Manager. Finally, Cory created continuous development plans for our graduated trainees.
Congratulations to all the Team Member Development Award winners!
Top Safety Award Winners:
Supermarket
Brighton Heights Giant Eagle
Bolivar Giant Eagle
Shakespeare Street Giant Eagle
Chesterland Giant Eagle
Dover Giant Eagle
Waterloo Road Giant Eagle
The Strip Giant Eagle
Hayden & Cosgray Giant Eagle
Strongsville Market District
GetGo
Nagle Road GetGo
Belle Vernon GetGo
Rochester GetGo
Lyndhurst GetGo
Zionsville Whitestown GetGo
Post Road GetGo
Retail Support Center
Butler Refrigerated Meats
Operational Excellence Award Winners:
Pharmacy
Penn Township Giant Eagle Pharmacy
Supermarket
Fairview Park Giant Eagle
East Whittier Street Giant Eagle
Washington Square Giant Eagle
Biddulph Plaza Giant Eagle
Grandview Yard Market District
GetGo
Boardman Community Center GetGo
Ligonier GetGo
Titusville GetGo
Excellence in Guest Service Award Winners:
Pharmacy
Howe Avenue Giant Eagle Pharmacy
Marietta Giant Eagle Pharmacy
McDonald Giant Eagle Pharmacy
Supermarket
Edinboro Giant Eagle
Morgantown Giant Eagle
Harborcreek Giant Eagle
Stow Giant Eagle
McMurray Market District Express
GetGo
Richeyville GetGo
West Market Street GetGo
Zionsville Whitestown GetGo
Franklin GetGo
Congratulations to all the Top Safety, Operational Excellence, and Excellence in Guest Service Award winners!
Check out photos from the Awards Luncheon here: