MEET CHRIS, GROCERY TEAM LEADER & INTERN LEADERSHIP DEVELOPMENT PROGRAM PARTICIPANT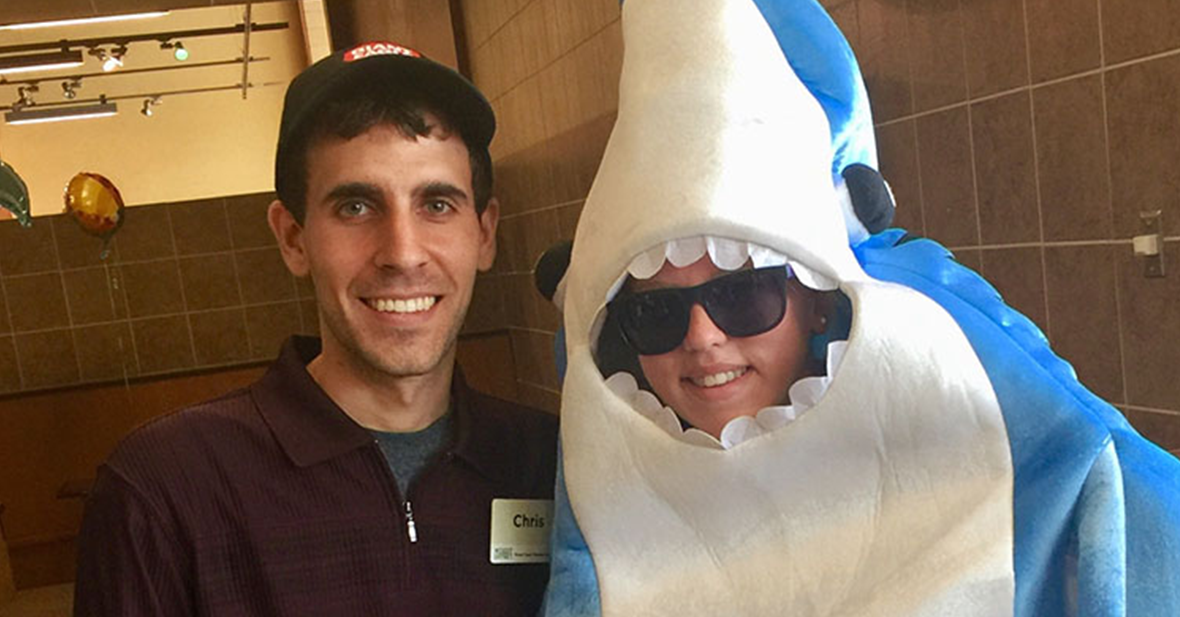 This week's #TeamMemberTuesday is featuring Chris, an Intern Leadership Development Program (ILDP) participant and Grocery Team Leader at our Watertower Giant Eagle. Chris joined Giant Eagle more than six years ago after deciding to return to school and complete his degree. He has since worked his way up within the Company and completed our Intern Development Program last summer. He has continued his professional development through our ILDP. Get to know more about Chris here.
How did you come to work for Giant Eagle?
I started working for Giant Eagle in 2013, so I've been with the Company almost six years. I've been in the Produce Department for most of that time at the Solon Market District. For the past six years, I have been working and going to school at the same time. I just graduated this summer. Giant Eagle has been very supportive of my schooling and flexible with my scheduling, which has been great.
Right now, I'm getting started in the Intern Leadership Development Program. I'm in a lot of the training courses right now, but my first assignment will be a Team Leader in the Grocery Department at the Watertower location. I'll be there for about 10 – 13 weeks. I'm excited to work in a new location. It's a little bittersweet to leave Solon, but I'm excited for the new experiences and new people.
Last summer, I graduated from Giant Eagle's Intern Development Program, which gave me a different perspective. I got to see the same things from a different vantage point and at different locations. I was able to make a lot of new contacts and connections throughout the Company. I also learned that I still have a lot to learn. I've been a produce guy for a long time. I got to see the bigger picture by being part of that program.
What made you think of Giant Eagle as a possible place of employment?
First, the Solon Market District was a huge store that I drove past every day, but overall, I chose Giant Eagle because it is a people-focused Company. I'd also say the advancement opportunities at Giant Eagle are a huge thing for me. Initially, I wanted to go back to school to get out of retail but my experiences here over the past 5-6 years have led me to build a career here.
Why have you chosen to stay with Giant Eagle?
There's a lot of reasons I've stayed. Giant Eagle has taken care of me and I've taken care of them. I've had very supportive supervisors. I've heard that saying that people don't quit jobs, they quit bosses. My supervisor at Solon was a key reason why I've stayed so long. He directed me towards the Intern Development Program and told me I'd be a great fit for the program and if I wanted to build a career here, it would be a good next step. I've never been held back. It would have been easy for him to want to keep me where I was because it was advantageous for him, but he instead, encouraged me to find additional opportunities to grow.
What was the moment you knew you'd made the right decision to work here?
My current situation. A lot of people don't know what they're next step is right out of college. I feel like I have the work experience in addition to my academic experience, which is a big advantage for me. I've seen things in practice rather than just reading about it in theory.
What was your best day at work?
I'm thinking of two days. The first was the grand opening at Solon Market District. It felt like a carnival. It was pretty cool to be a part of something like that. I had been with the Company for a few months and then migrated to the new store when it opened. It was a very collaborative and team-focused event. That was the most team-oriented achievement I've ever had. It felt like home to all of us.
The second day was part of the Intern Development Program. We did a ride day with our Regional Business Leader at the time. We walked the Solon Market District and kind of reflected on the growth I've made over the years. Now I'm in a situation where we walk the entire store and not just my previous what my responsibilities in produce. It made me realize I was a larger piece of the puzzle.
Have you had anyone you consider to be a mentor play a role in your career? How have they influenced you?
Brian Webber, Produce Team Leader at Solon Market District has been a mentor to me. Amanda Graaf-Kurta was the Store Leader that I was assigned to for the Intern Development Program and she also mentored me. We just clicked. I think we had the same brain. She's passionate for what she does. She is a perfectionist and she's not afraid to get her hands dirty. She works alongside her Team Members and manages her workforces from a relatable standpoint. A lot of time you don't see that type of management style. She did it in a way that makes sense to her and as a result, her fellow Team Members respect her.
What makes Giant Eagle a great place to work?
Our family culture makes us a great to place to work. If you're willing to put yourself out there, there are ways to grow. as a person and in your career.
What work are you most proud of?
I'm proud that Giant Eagle and I both work hard for each other. We've both put ourselves out there for each other, and that's how it's supposed to be. Nothing has gone unappreciated or forgotten.
Is there anything else you would like people to know about Giant Eagle?
It's a lot more than groceries. We're a one stop shop, and we affect a lot of people. We're responsible for what is on their plate every night for dinner and in their pantries. It sounds simple but a lot of what we do affects how people live in their homes and in our communities. Our stores can have anywhere from 100-300+ Team Members work for us. We're part of people's everyday lives and we are a family at Giant Eagle.
"Last summer, I graduated from Giant Eagle's Intern Development Program, which gave me perspective. I learned that I have a lot to learn still. I've been a produce guy for a long time, but I still have a lot to learn in the other departments. I got to see the bigger picture by being part of that program."
- Chris, Grocery Team Leader & Intern Leadership Development Program Participant