MEET JODIE: EXECUTIVE ASSISTANT AT GETGO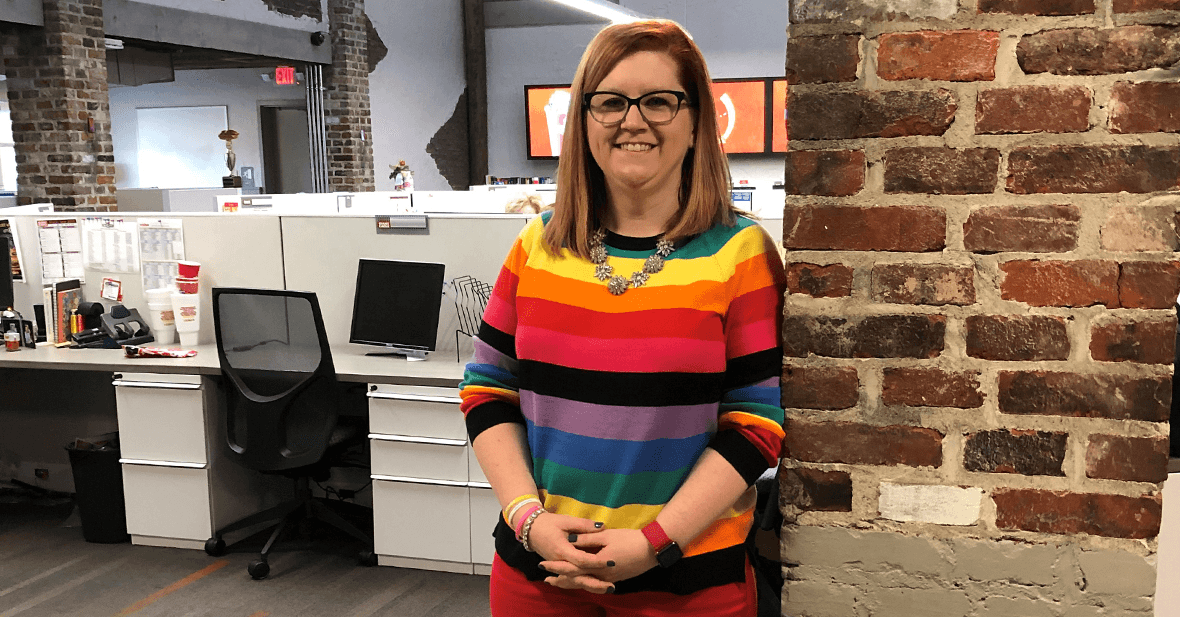 This week's #TeamMemberTuesday is featuring Jodie, Executive Assistant at GetGo. Jodie has been a GetGo Team Member for more than four years and in addition to her everyday tasks, she plays a significant role in keeping the GetGo Headquarters up and running. She's loves visiting our store teams in the field and manages GetGo's "Take Your Child to Work Day" each year. She's an invaluable asset to the team and we can't wait for you to get to know her!
Why have you chosen to stay with GetGo for over four years?
I feel like the crew here is kind of like a family. We are a small group and we're all together. These people are my friends outside of work, so I think that's a big reason why.
I take pride in my work wherever I am, so it's not uncharacteristic of me to stay in a position or with a company for this long.
What do you love most about your current role?
I love that no two days are the same. I don't have to come in and do the billing every day or do the same repetitive task every day. Working at GetGo keeps my job interesting. It is easy to come into work everyday when I know I won't be doing the same thing repeatedly.
What do you love about GetGo?
I love that the business is growing and I feel like that's an important part of job stability is that I'm working for a part of the Company that is growing so rapidly.
What was the moment you knew you'd made the right decision to work here?
I struggled a little bit in my first week because the person who was doing my position at the time was very flustered because this position wasn't ideal for her work style. She would have rather been the calendar and phone kind of person, where as I would rather do projects or dig into things and problem solve. The first day I went home, and I wasn't sure I had made the right decision, but then it hit me that I wasn't worried because I was worried, I was worried because she felt that way. After a few days, it hit me that "I've got this." I had been told how great of a job I was doing, and I knew I was going to be just fine.
What was your best day at work?
I lead our "Take Your Child to Work Day" each year and while it's a lot of work and it is a busy day, I enjoy seeing all the smiling and happy faces and receiving the thank you notes from the kids. It's very rewarding!
I also really like going out into the field and visiting with our Store Operations teams. Some of them know my name from emails that have been sent out. Polly likes for us to go out into the field this time of year because the summer season is our busy time. I like to visit with our store teams.
Have you had anyone you consider to be a mentor play a role in your career? How have they influenced you?
It feels like all the Administrative Assistants throughout the Company are a close-knit group of people. We all rely on each other for different things because we all have access to different areas of the business.
What makes GetGo a great place to work?
The Team Members here at GetGo are what makes it a great place to work. Everybody is willing to help each other out. It doesn't matter what your position is, we are all willing to help one another. Especially on a day like "Take Your Child to Work Day", no one is required to help but they all volunteer and help to make the day special. We had ten kids this year and everyone had a really good time!
What values are important to you at a job? How do you experience those values here?
I feel like the culture of a company is very important. I feel like I've been able to form a work family in all my positions in my job history so that's important to me.
What work are you most proud of?
I think keeping this building operating is something I'm very proud of, even though I do need help from folks at RIDC park in order to do that, but who would have thought we would have moved into an old Mexican restaurant and turned it into an office building.
Also, I helped move the GetGo team into this building. When I first came on board, we were in the process of making that transition, so I helped to move the team into this building.
Is there anything else you would like people to know about GetGo?
GetGo really embodies an entrepreneurial spirit. We're working hard and trying to significantly grow our area of the business each year.
"The Team Members here at GetGo are what make it a great place to work. It doesn't matter what your position is, we are all willing to help. Especially on a day like 'Take Your Child to Work Day,' no one is required to help but they all volunteer and help to make the day special. We had ten kids this year and everyone had a really good time!"
- Jodie, Executive Assistant