INTRODUCING BRE: SENIOR INDUSTRIAL ENGINEER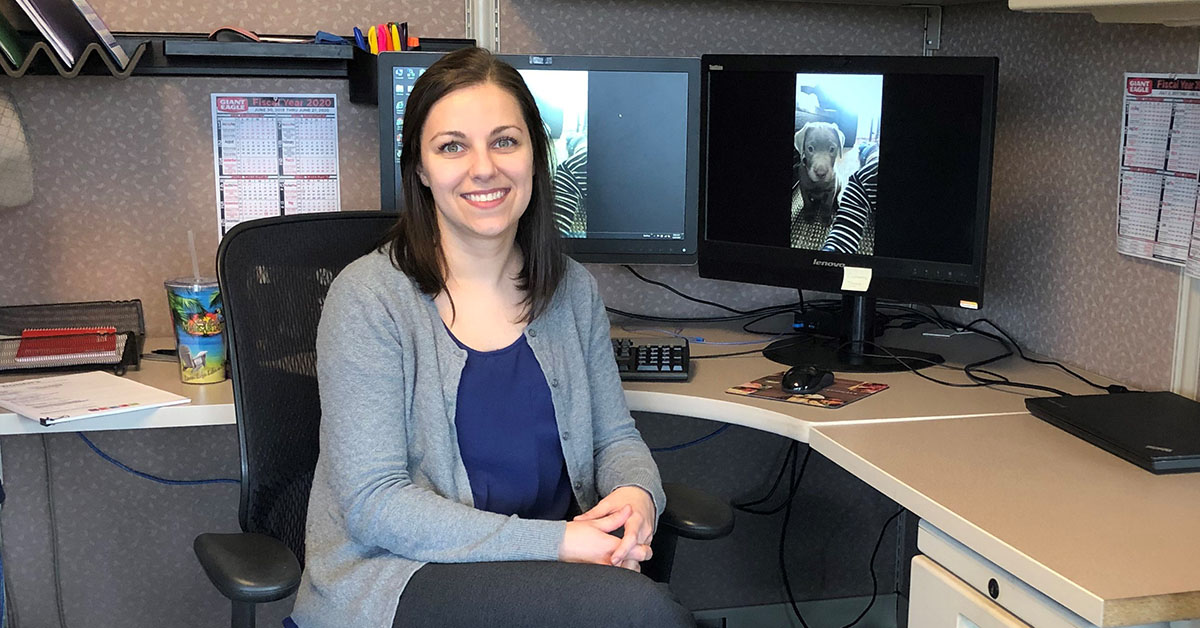 This week's #TeamMemberTuesday is featuring Bre, Sr. Industrial Engineer at Giant Eagle. Bre is a recent graduate of the Dale Carnegie Course and is passionate about process improvement and learning from others. She joined the Giant Eagle team more than three years ago and is also instrumental in supporting the Industrial Engineer Co-Op Program. Get to know more about Bre here.
How did you come to work for Giant Eagle?
I've been with Giant Eagle for three years. I was looking for a job change to get out of manufacturing, but I still wanted to be an Industrial Engineer, and Giant Eagle had several openings at the time. It was the perfect fit. I wanted to stay local in Pittsburgh, so it was great that I was already familiar with the Company and I could do what I studied in school.
As an Industrial Engineer at Giant Eagle, we deal mostly with labor management at store level. We're always making sure that our labor standards are correct and that is what we use to drive the hours at the stores. We're constantly doing additional ad hoc analysis to make sure that the different processes in the stores are as efficient as possible. If there's any training or follow-up that needs to happen, we have a team that goes out and makes sure that the stores know the correct process to make their jobs as easy as it can be, with all of the tasks that they have to do.
Why have you chosen to stay with Giant Eagle?
I've stayed mostly due to the growth opportunities. There are a lot of internal opportunities for growth with the classes they offer with our Learning and Development Department, but I also had the opportunity to take an external class with the Dale Carnegie Course. I appreciate the commitment that the Company makes to invest in our people ... and that is one thing that's surely kept me here.
The eight-week Dale Carnegie Course focused on enhancing relationships at work, communicating, and dealing with stress. I graduated on April 1, 2019.

What was your best day at work?
The day after I graduated from Dale Carnegie, my team was very supportive and congratulated me. They acknowledged that it was something that I accomplished outside of work. It was an exciting day for me. It made me very proud to be a Dale Carnegie graduate!
What's something that happened that can only happen here?
The community service project and the opportunity to choose where we want to volunteer is something that probably doesn't happen everywhere. For example, the Ronald McDonald House was our most recent event, but we've also volunteered at Animal Friends in Pittsburgh. I'd say having the choice of where we want to volunteer is unique.
Can you speak to your experiences with the Industrial Engineer Co-Op Development Programs?
We are getting back on track with hiring Interns and Co-Ops and keeping them on throughout the calendar year. As Industrial Engineers, we're always looking for other Industrial Engineers to bring on the team and introduce them to opportunities in Retail. We usually have them do 1-3 rotations so they can obtain more than a year of experience. We also use this as a Mentorship program, as well. It's more informal but it's so that they can get a realistic preview of what the work environment is like.
"There are a lot of internal opportunities for growth with the classes offered by our Learning and Development department, but I also had the opportunity to take an external class with the Dale Carnegie Course. The growth opportunities and Giant Eagle's willingness to invest in our Team Members is one thing that's kept me here."
- Bre, Senior Industrial Engineer